Bannon's Firing From Breitbart Should Be Considered, Sarah Sanders Says After Trump Book Fallout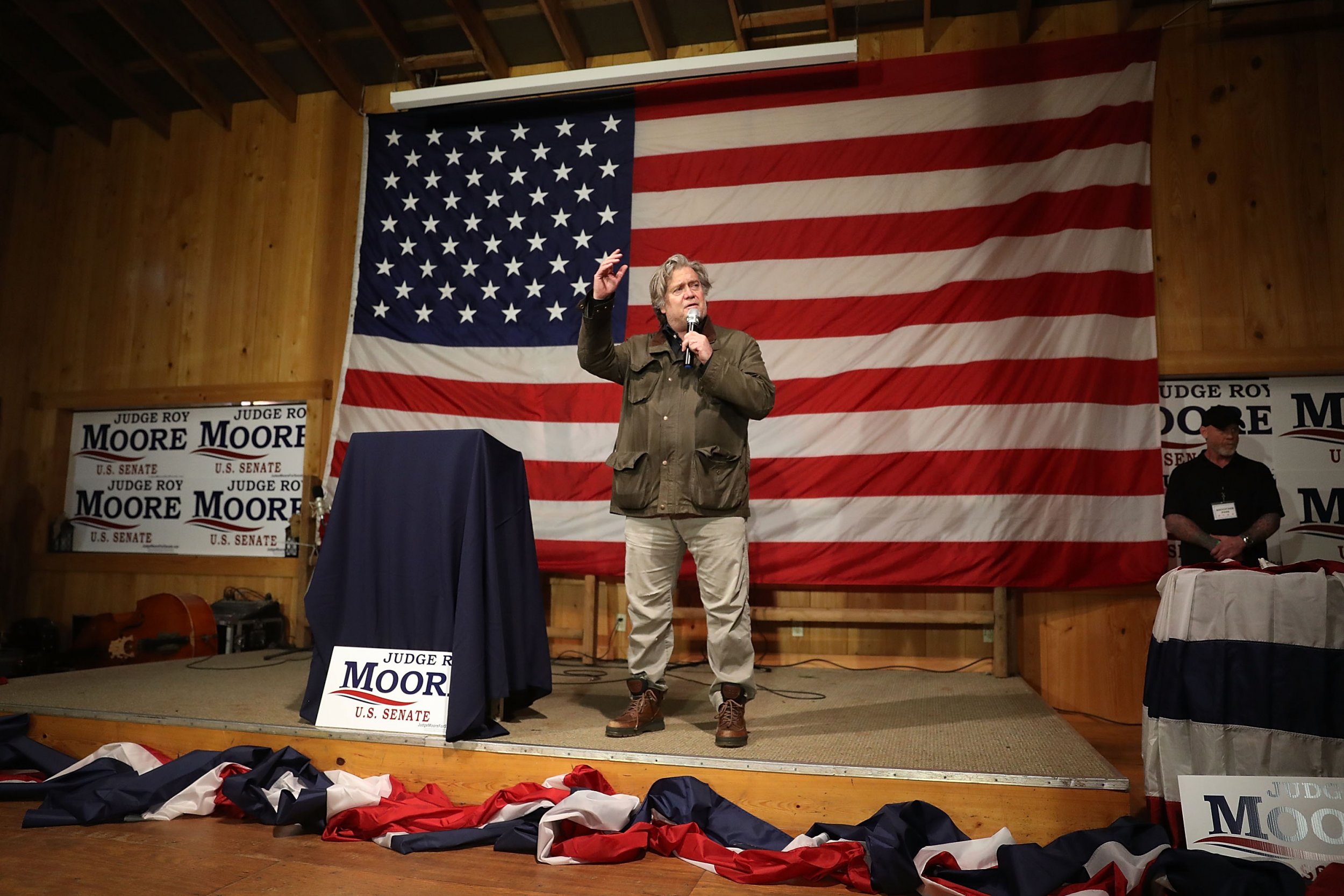 Breitbart News should consider firing executive chairman Steve Bannon after his salacious and widely-reported comments about President Donald Trump and the commander-in-chief's eldest son, White House Press Secretary Sarah Huckabee Sanders said Thursday during a press briefing.
As the Trump administration deals with blowback following Bannon's quotes in a new book, Sanders was asked if Breitbart should boot Bannon similar to the way she said ESPN should fire reporter and anchor Jemele Hill after she criticized Trump.
"I certainly think it's something they should consider and look at," Sanders answered.
Hill, who called Trump a white supremacist on social media and was eventually suspended by the sports cable network, sparked great controversy, with the president even called her out in an October tweet.
Bannon along with Breitbart were credited with helping Trump claim the White House by representing the desires of far-right, conservative outsiders around the country.
In author Michael Wolff's Fire and Fury: Inside The Trump White House, Bannon was quoted as saying Donald Trump Jr. was "treasonous" and "unpatriotic" for setting up and holding a meeting in June 2016 with Russians in Trump Tower.
In another excerpt of the book released on Wednesday, Bannon also appeared to question Trump's knowledge of politics and policy during an apparent dinner with late Fox News president Roger Ailes.
"He gets what he gets," Bannon supposedly told Ailes about Trump after the Republican shockingly defeated Hillary Clinton last year.
Trump and the White House diminished Bannon, who served as the president's chief political strategist and was a top campaign aide, and his role inside the administration. In a statement, Trump said the former Goldman Sachs executive "lost his mind" after the president fired him in August.
But Trump's pushback and denouncing of Bannon came Wednesday, and Bannon was reportedly going to issue a statement questioning Wolff's quotes but pulled back after the White House blasted him, sources privy to the situation told The Hill.
Bannon's comments and recent actions also may have lost him significant financial backing. Rebekah Mercer, a powerful and wealthy conservative political donor, reportedly pulled future funding of Bannon's projects after his failure in backing Senate candidate Roy Moore in last month's Alabama special election, The Washington Post reported Thursday.
Mercer and her family also are part-owners of Breitbart and poured millions into Trump's campaign.