Steve Bannon Says George H.W. Bush Is a 'Pervert' for 'Grabbing Girls' and 'Their Asses'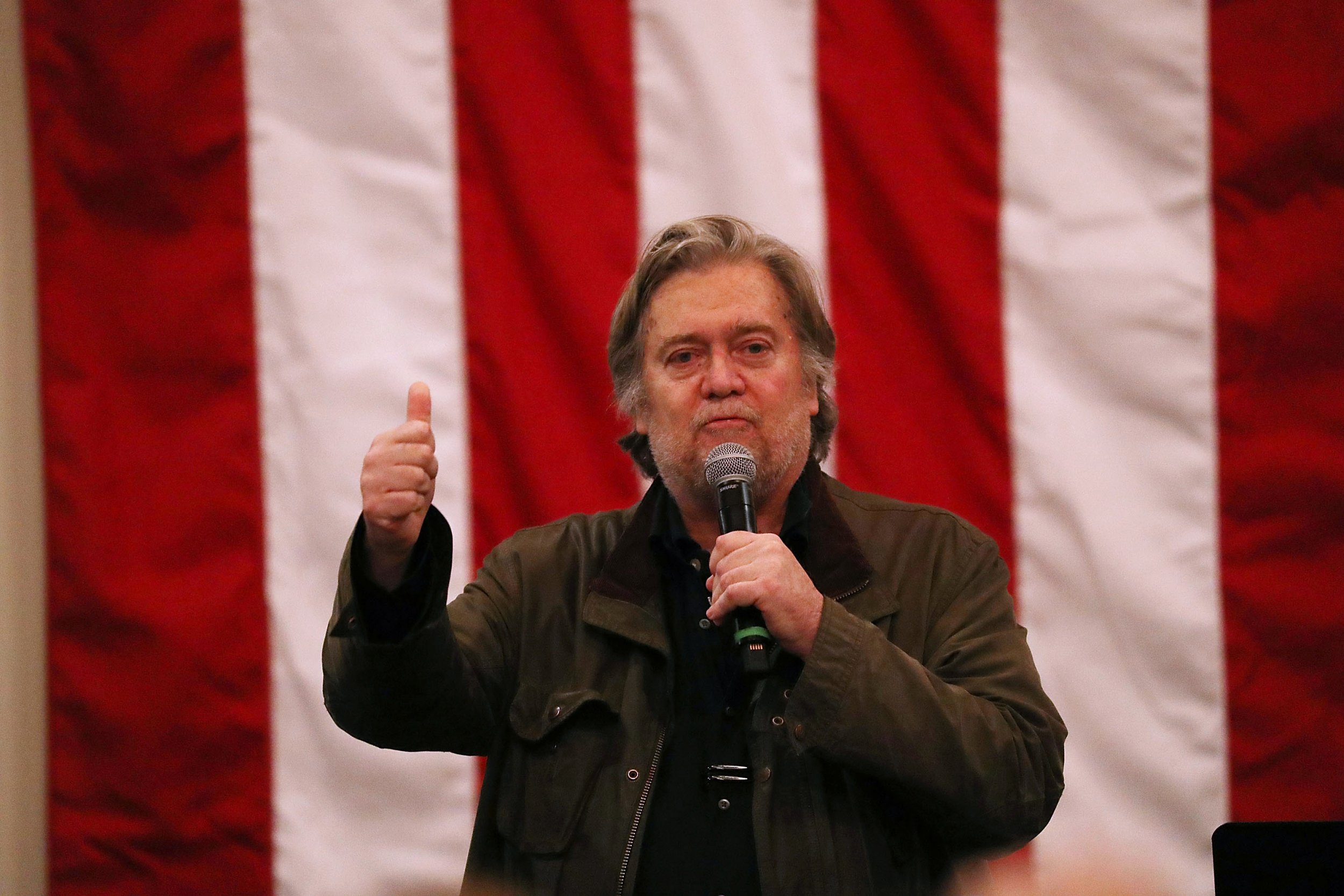 Steven Bannon, professional Republican Party instigator and former chief political strategist to President Donald Trump, blasted the Bush family and called former President George H.W. Bush a "pervert" amid allegations of sexual misconduct by the 41st commander in chief.
Related: Trump is "blowhard," "I don't like him," George Bush says
Bannon took umbrage with the presidency of George W. Bush, the 43rd president, and called out the elder Bush for criticizing Trump.
"The Bush presidency is the most destructive presidency in history. James Buchanan included. It's not even close," Bannon told Vanity Fair, comparing George W. Bush to the 15th president, who has been called one of the worst in the country's history.
Bannon went on: "And by the way. I haven't even gotten to 9/11. I mean, 9/11! Think about if 9/11 had happened on Trump's watch. We would have gotten 100 percent of the blame by the Bush guys. And they said, well, we just got here. What do you mean you just got here? That's what gets me about them coming after Trump. I really detest them. I mean, the old man is a pervert. He's a pervert. Grabbing these girls and grabbing their asses?"
In the past two months, seven women have accused George H.W. Bush of groping or grabbing them. He has since issued two apologies for his alleged misconduct, through a spokesperson who said: "To try to put people at ease, the president routinely tells the same joke—and on occasion, he has patted women's rears in what he intended to be a good-natured manner."
Both of the former presidents were critical of Trump in a new book titled The Last Republicans: Inside the Extraordinary Relationship Between George H.W. Bush and George W. Bush, in which the elder states Trump is a "blowhard" whom he did not like, and that he voted for Democrat Hillary Clinton in last year's election.
Bush the younger also said he was afraid he would be the last Republican president.
Bannon previously bashed George W. Bush last month during a Breitbart News Sunday radio segment and made the comparison to Buchanan.
"It says something about Bush that Bush is here attacking, once again attacking President Trump and being just as vitriolic as possible. I'll reiterate this: I think President Bush 43 will go down in history as the single most destructive in the United States—and I include James Buchanan in that, the president before the Civil War," Bannon said.
A former Goldman Sachs executive, Bannon has taken to championing outside Republican candidates since departing the White House in August. That includes former Alabama Senate candidate Roy Moore, who faced accusations as serious as child molestation before he lost to Democrat Doug Jones earlier this month.