On Trump Impeachment, Steve Bannon Thinks Nancy Pelosi Is a 'Master at Political Warfare'
The House of Representatives launched the first public impeachment hearing on President Donald Trump's alleged abuse of power Wednesday morning, despite adamant instance from Trump's supporters in Congress that the claims against him were baseless. Appearing on CBS News before the hearing began, former White House Chief Strategist Steve Bannon conceded that House Speaker Nancy Pelosi's handling of the situation has forced him to admit that she is more than adept at "political warfare."
Unlike some other former Trump administration officials, Bannon has proven himself to be a staunch defender of the president even though he is no longer a member of his cabinet. CBS reported that the former Breitbart News Network executive "has fallen in and out of favor" with Trump throughout the impeachment inquiry, which is based on allegations that Trump abused his executive power by asking Ukrainian President Volodymyr Zelenskiy to investigate Trump's political rival, former Vice President Joe Biden and Biden's son Hunter.
Pelosi formally announced the start of an impeachment inquiry into the president's actions at the end of September, following a whistleblower complaint against the president. Pelosi, along with Rep. Adam Schiff, has spearheaded the impeachment investigation, apparently earning Bannon's respect as a political opponent along the way.
"I disagree with her ideologically, but I think Nancy Pelosi is a master at political warfare," Bannon told CBS News. "I think, strategically, what she has done from their perspective is actually quite brilliant."
This is not the first time Bannon has been outspoken about Pelosi's long-term strategy regarding the impeachment inquiry. Late last month, Newsweek reported on a conversation he had with radio talk show host John Catsimatidis on The Answer in which Bannon said he thought Pelosi was "winning." He further said Pelosi's campaign to impeach the president was the "most sophisticated political warfare" and "the most sophisticated political disinformation campaign."
In the interview, Bannon appeared to subtly chide some who identify with him politically, saying that they are not defending the president from impeachment as earnestly as they should be.
"We need a sense of urgency which is not there today," Bannon said on CBS News. "On the left it is there."
Bannon has launched his own podcast about the impeachment inquiry and defending the president, War Room: Impeachment, which currently has 25 episodes.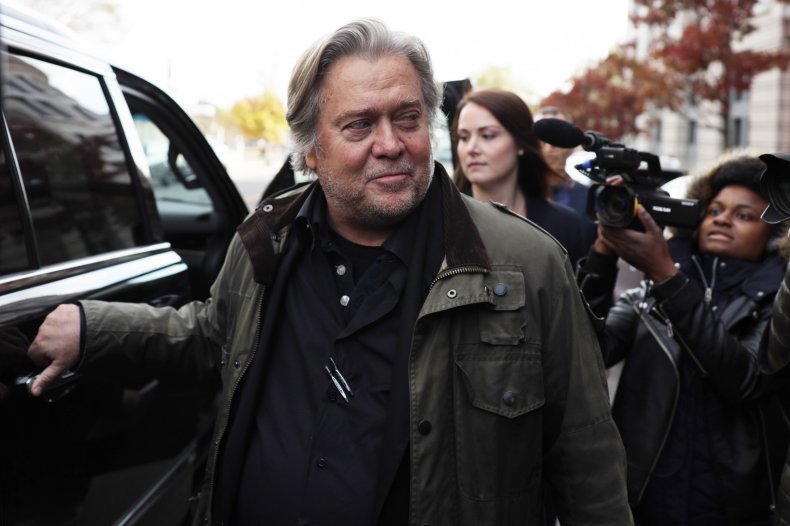 The former strategist told CBS that he thought the impeachment inquiry might prove to be "quite healthy" for Trump's 2020 reelection campaign—even going as far as to say that Wednesday's hearing "marks the unofficial start to the presidential campaign."
The impeachment hearing began on Wednesday, November 13, at 10 a.m. ET.