Everyone Who's Left Trump's White House Is Now Richer, Drinking Beer and Flying Private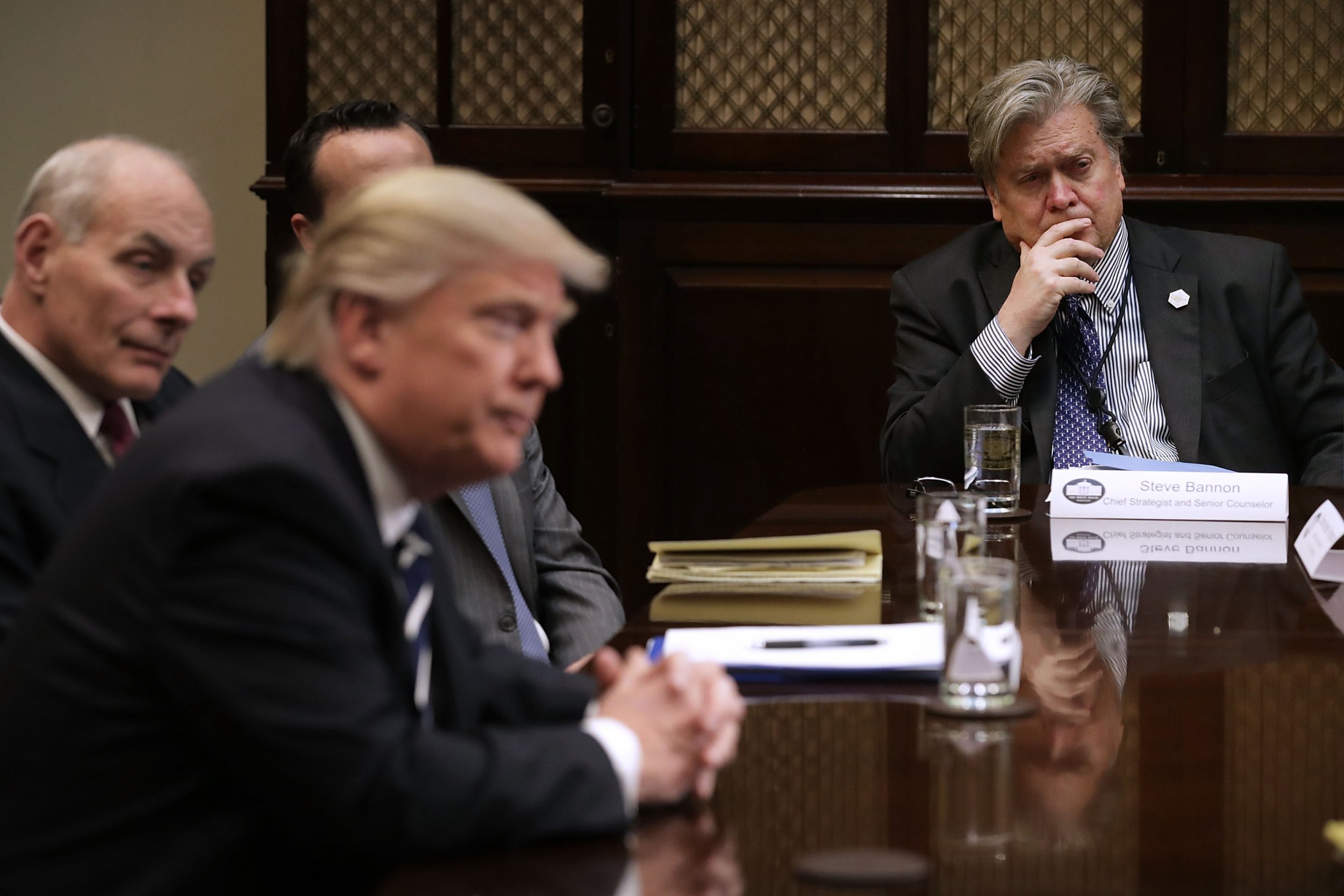 Steve Bannon, Sean Spicer and Reince Priebus are living the suite life now that they're no longer in the White House. Out from under President Donald Trump's metaphorical thumb, the trio is not only raking in the money from people who want insight into the Trump administration but also enjoying more basic pleasures—like beer.
A Politico story released Wednesday detailed the newfound freedoms being enjoyed by the former White House chief strategist, press secretary and chief of staff after departing the West Wing. Bannon, for example, said he's been exclusively traveling on private planes—which he probably couldn't have ethically done as a Trump aide (looking at you, former Health and Human Services Secretary Tom Price).
"Life after the White House, every day is a holiday," Bannon told Politico.
Bannon went back to work at his right-wing media outlet, Breitbart, after leaving the White House in August. But Spicer, who resigned in July, cozied up to Hollywood. He showed up at the Emmys and even appeared on Jimmy Kimmel Live to discuss his time in office, explaining that "your job as press secretary is to represent the president's voice...whether you agree or not."
Spicer told Politico he gets treated better now that he's not Trump's mouthpiece. He's hiring himself out as a consultant all over the country. Spicer's profile on the Worldwide Speakers Group website brags that he can give speeches on "The Trump Administration: Politics as Unusual," "An Objective Look at the Philosophies, People and Policies Making the News," "A Conservative Viewpoint" and "It's Called a Crisis for a Reason Damn It!"
Priebus, who left the Trump administration in July, has also been splitting his time between golfing and consulting. When he's not at the country club drinking beer—probably Miller Lite, if previous reports about his preferences are correct—he's charging organizations $50,000 to pick his brain. Priebus told Politico he's "providing strategic advice" on Trump-related topics.
"I'm always going to be a Trump fan," Priebus told CNN after resigning. "I'm on team Trump."
Late last month, Priebus announced he was becoming president of the law firm Michael Best & Friedrich. Trump congratulated him afterward, tweeting, "We're proud of you Reince!"
Bannon, Spicer and Priebus aren't the only ex-Trump staffers who have been busy lately. Anthony Scaramucci, who didn't last two weeks in his job as White House communications director, launched a media venture called the Scaramucci Post.
Sebastian Gorka, formerly a deputy assistant to Trump, recently got caught parking on the sidewalk in Virginia, though he's far better known for almost daily appearances on Fox News.
Of course, life after the White House hasn't been a day at the beach for everyone.
Michael Flynn, who was briefly Trump's national security adviser, is facing indictment in the ongoing investigation into Russia's meddling in the 2016 election. Campaign officials Paul Manafort and Rick Gates were already indicted as part of the same probe, and campaign adviser George Papadopoulos pleaded guilty to lying to the FBI about a meeting he had with a Kremlin-linked lawyer who promised "dirt" on Hillary Clinton.