Bannon Thought, 'That's Hitler!' When Trump Rode Golden Escalator: Author
Steve Bannon, the onetime strategist for former President Donald Trump, had once positively compared the then-New York real estate scion to Adolf Hitler, according to a new book.
Insurgency: How Republicans Lost Their Party and Got Everything They Ever Wanted, is authored by New York Times correspondent Jeremy Peters and chronicles the rise of Trump within the Republican Party. The book, published on Tuesday, offers a look into the mindsets of a number of close associates of the former president, including Bannon. Peters writes that, as Bannon saw Trump descending a golden escalator in 2015 to announce his candidacy for president, Bannon thought, "that's Hitler!"
Despite the former dictator of Nazi Germany typically conjuring up negative images, Peters writes that Bannon viewed the comparison in a positive light, invoking photographer, filmmaker and Nazi propagandist Leni Riefenstahl.
"He meant it as a compliment," Peters says in his book. "As a documentarian himself who had studied and admired Riefenstahl's work, Bannon saw some of her visual techniques in Trump's production."
One of Riefenstahl's films, 1935's Triumph of the Will, particularly stuck in Bannon's mind while watching Trump's escalator ride, according to Peters. The film contains excerpts of speeches from Nazi leaders, including Hitler.
"To create the illusion that Hitler towered over everyone around him as a figure of superhuman proportions, Riefenstahl would keep him tight in her frame, often placing him on a higher plane than his adoring subjects," Peters continued. "Bannon thought that Trump's entrance looked strikingly similar, and that he was witnessing someone with an uncanny sense for manipulating public perception."
"By choosing the escalator," Peters writes, "the cameras would have to follow [Trump] in one largely continuous shot as he descended past cheering fans until he reached the bottom."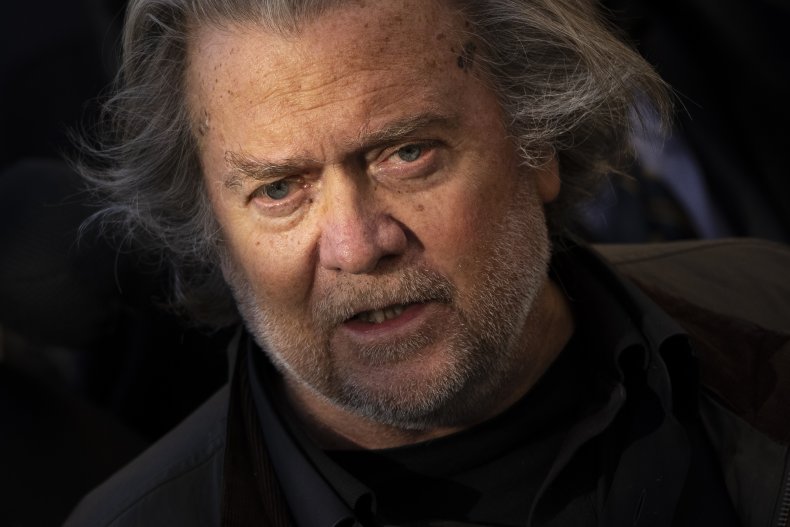 Peters conducted "interviews with over 300 people, mostly while Trump was still in office" to gather information for his book, according to Insider. An author's note in the book reveals that it was Bannon himself who recalled his comparison of Hitler and Trump to Peters.
This is not the first time that Bannon has been associated with Nazi imagery, and he has often been accused of antisemitism and racism throughout his time in the Trump campaign. Bannon was also the former head of Breitbart News, an outlet described by The New York Times as an alt-right racist publication.
Following the 2016 election, John Weaver, an advisor with former Ohio Governor John Kasich, tweeted that "the racist, fascist extreme right is represented footsteps from the Oval Office," in response to Bannon being named Trump's strategist.
Bannon has often pushed back on these allegations, however, and has continually stated that he is not antisemitic or racist. A number of his allies have also echoed a similar sentiment.
Jeff Kwatinetz, a film executive and Bannon's former investment partner, told The Hollywood Reporter in 2017 that "he's not anti-Semitic. I am absolutely positive that he's not anti-Semitic or racist. It is absurd."
"He has beliefs and stands by them. Those beliefs aren't based on racism, they're based on what he honestly believes is best for the world," Kwatinetz added.
Newsweek has reached out to Bannon's publicist for comment.