Bannon And Trump Had A Love Story For The Ages Before Breakup, Exclusive Radio Transcripts Show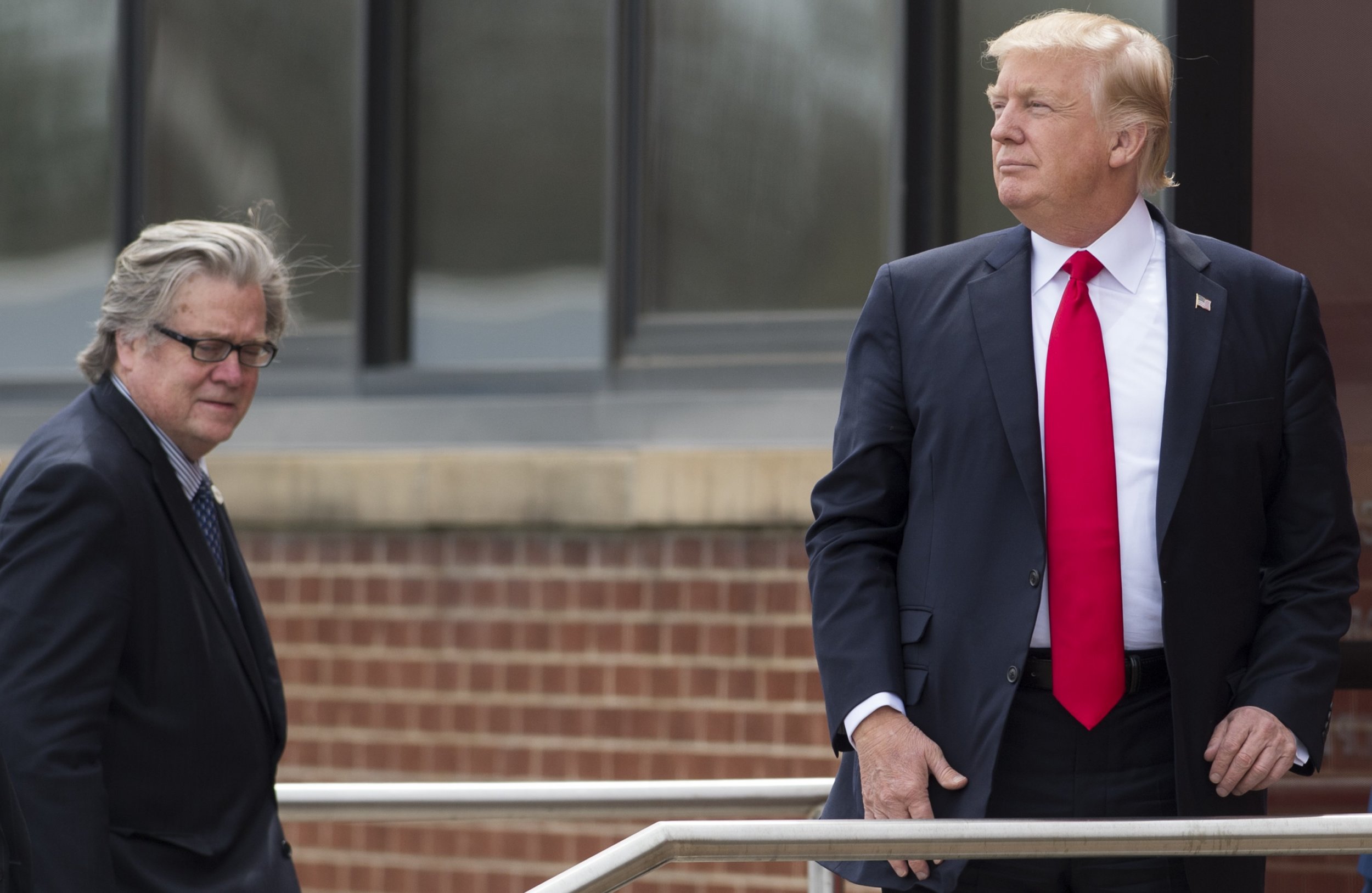 It's always sad to see true love die, and Wednesday's spectacular Trump-Bannon breakup was especially painful to watch, since there was a time—not that long ago—when the men were deep into a beautiful bromance.
The record of their long affection is etched into history—like the tales of Cleopatra and Marc Antony or Heloise and Abelard—in the form of two hours of Trump's calls into Bannon's Breitbart News Daily Show between late 2015 and June, 2016, when the Republicans nominated Trump to be president.
The transcripts of those calls are the poignant record of a masterful seduction by the grizzled, overweight, "alt-right" channeler of Donald Trump's narcissistic heart.
Sycophantly addressing Trump as "sir," Bannon pumped up the billionaire's ego, while whispering white nationalism and anti-globalist sweet nothings into his ear.
Bannon inaugurated his radio show on November 2, 2015, while Trump was rolling over the GOP field with his raucous and, at the time, coarse and crude campaign style.
Trump was Bannon's first guest. After letting Trump boast about the size of his crowds (a constant topic of their conversations), Bannon reminded Trump of Breitbart's early support of him—and how Bannon had paid the price.
"We were telling people all the time, I said, 'Look, this guy is, people are leaning forward in these audiences …,'" Bannon said. "Of course we were mocked and ridiculed."
He let Trump throw out some fake humility before taking credit for the huge audiences watching the debates on TV. "Look, I don't want to take credit for it, but I will."
Bannon agreed, and added that the Trump campaign deserved to be more involved in setting the terms for the debates. He tossed in some geopolitical metaphors, comparing the Republicans' "bad deals" with the television networks to foreigners ripping off America. "The same logic applies to China and Iran and throughout the world, the United States has been a punching bag."
When Trump complained that people don't believe how rich he is, Bannon cooed, "the big Trump."
Bannon also dropped the occasional big, fancy word—but clearly knew it was a bad idea to display too much of his book-learning, returning often to shared resentments. "Look, the media is the Praetorian guard of the permanent political class. All the consultants that come after you and Dr. Carson and Ted Cruz all day long, the permanent political class of consultants, they're all in bed together."
They talked foreign policy. Bannon compared Trump to one of the greatest presidents of the 20th century. "You know, you have this whole new concept of negotiating, like FDR. Right? I don't think we tell the Germans, 'Hey, here's what we are going to do.'"
They chatted about the Pacific Trade Treaty—which Trump killed early in his presidency—bantering about how China is going to "come in through the back door."
Bannon predicted the Chinese would fail, once Trump was in the White House: "Trump brings [that treaty] back to the Senate and gets his bilateral trade deal with Taiwan or with Japan approved by two-thirds of the Senate. .. and that's the way the founders wanted it."
Three days later, Bannon had Trump on the line again, introducing him with a new honorific: "Mr. Trump is one of the most successful real estate entrepreneurs in the history of the country."
They discussed a Politico story that alleged Trump had meetings with major conservative donors Sheldon Adelson and the Koch brothers—at a time when Trump was running a campaign without them. Bannon opined that Politico is "the worst" and warned Trump that Democrats were seeding the audience at widely watched Saturday Night Live tapings with people who might stand up and accuse Trump of being a racist.
On November 19, 2015, six days after the Paris terrorist attacks that left 130 dead, Bannon crowed that Breitbart "broke the news" about eight Syrians being apprehended in Laredo, crossing into the U.S, which Trump had tweeted out at 5 a.m.
"They're gonna come after us, for beheadings, they're gonna come after us gun battles, we have to be prepared for everything," Bannon said. Trump agreed that it very well could happen in New York City, criticizing the NYPD for halting surveillance of mosques.
"I think that's a terrible mistake," Trump said, ignoring a federal judge's order.
Whenever Trump rambled or veered off message, Bannon steered him gently back to what he really wanted him to say.
"Let's go to you as commander-in-chief," Bannon said in that same radio interview. "Walk the American people through it domestically and internationally."
He then restated something Trump said for maximum effect. "I guess what I'm saying is, you're not prepared to allow an enemy within, a fifth column within, to tear down this country," Bannon said.
"It's not happening because I'm going to be politically correct and I'm going to be such a nice person," Trump said. "And I am a nice person—but I'm a smart person and it's not going to happen."
Bannon signed off at that point. "Mr. Trump I appreciate you taking time. I know you're enormously busy."
In one of their final radio chats, in early May 2016, Bannon reminded Trump that House Speaker Paul Ryan had just refused to endorse Trump, announcing, "I'm just not ready," while Republican politicians across the U.S. were getting behind the unlikely front-runner.
"Was he trying to be insulting?" Bannon asked. "You got no heads-up, no staff-to-staff."
Trump replied: "I would say, you said it better than I can say it."
Three months later, Trump gave Bannon the opportunity to say many things "better" for him: he appointed him campaign manager.
It's been only a year since the inauguration, a moment they celebrated together. But now, kicked out like a starter wife for spilling the behind-closed-doors secrets, Bannon has shown that hell hath no fury like a Trump-whisperer scorned.
"When he was fired, he not only lost his job, he lost his mind," Trump said in a statement issued through the White House on Wednesday. His spokeswoman Sarah Huckabee Sanders suggested that the first couple of Trumpism had indeed moved from Washington to Splitsville.
The next day, a cease-and-desist letter confirmed it.
The full transcripts are online at www.factba.se.