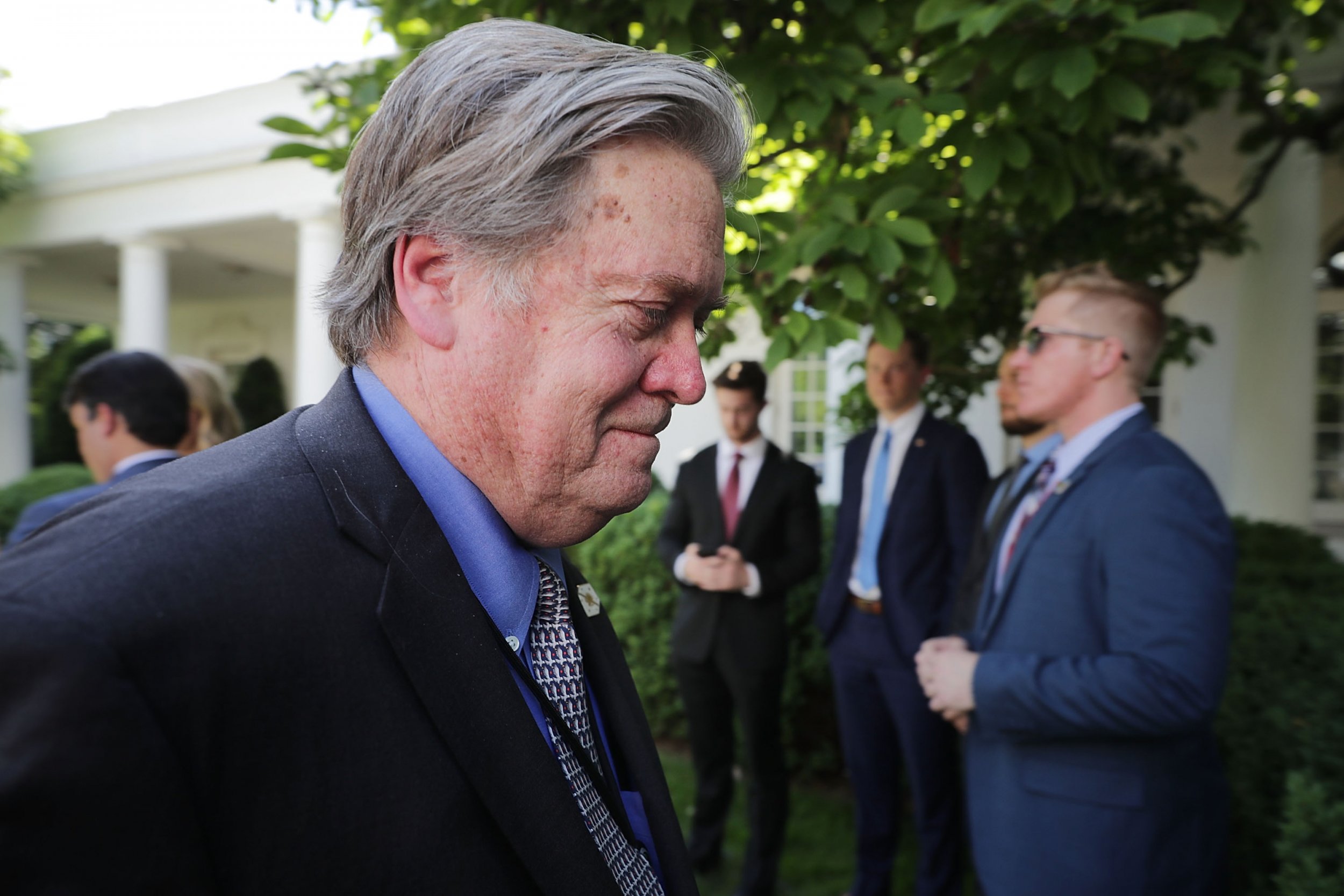 By Monday evening, the paroxysm of extremist violence at a Unite the Right rally in Charlottesville, Virginia, had been condemned by President Donald J. Trump, Vice President Mike Pence and Attorney General Jeff Sessions, not to mention a coalition of congressional Republicans and Democrats that included both conservative Texas Sen. Ted Cruz and Vermont socialist Senator Bernie Sanders.
But one voice was notably missing: that of Stephen K. Bannon, the White House chief political strategist who has been described as having a "mind meld" with the president, especially on issues of national identity, trade and immigration.
Related: Will Donald Trump fire Steve Bannon?
From Saturday afternoon until Tuesday evening, Newsweek sent more than a half-dozen requests for comment to Bannon, as well as to the White House press office and to two representatives of CapitalHQ, a publicity firm that reportedly represents Bannon. Those requests asked Bannon if he would condemn the violence in Charlottesville. Newsweek also asked how Bannon would describe his relationship to the groups that participated in Unite the Right.
Bannon did not respond to any of these queries. Nor did anyone else presumably authorized to speak on his behalf, suggesting that a media avoidance strategy was in the works.
The silence isn't surprising, since Bannon rarely talks (on the record) to the mainstream media, which he has described as an "opposition party" relative to the Trump administration. Many observers point to a seeming affinity between Bannon, a self-described "economic nationalist" who presided over far-right clearinghouse Breitbart News, and the extremists groups that descended on Charlottesville over the weekend to protest the removal of a Confederate statue.
After chaos swept through that town, the hashtag #FireBannon trended on Twitter, as both liberals and establishment conservatives called for the rumpled nationalist to be expelled from the White House.
On Monday, The New York Times reported that Bannon's status was embattled. He had "consulted with the president repeatedly over the weekend as Mr. Trump struggled to respond to the neo-Nazi rally in Charlottesville, Virginia. In general, Mr. Bannon has cautioned the president not to criticize far-right activists too severely for fear of antagonizing a small but energetic part of his base."
It was Bannon's influence, presumably, that led Trump to issue a tepid statement on Saturday afternoon, in which he said that "many sides" were responsible for the deaths and 19 injuries in Charlottesville. That statement was widely condemned, leading to a more forceful one on Monday, in which Trump more forcefully criticized Saturday's malefactors.
According to the Times, whose Maggie Haberman and Glenn Thrush, widely considered the best-sourced reporters on the Trump administration, his reticence in speaking out on Charlottesville has led to "new pressure from Mr. Trump's critics to dismiss Mr. Bannon," as he has "become a major liability."
It's impossible to say just how much Bannon identifies with the far right, if at all. Although he likes to portray himself as an above-the-fray intellectual, Bannon has been accused of anti-Semitism by an ex-wife, and he made an anti-Asian statement on his radio program. His favorite books are said to include The Camp of the Saints, an anti-immigrant French novel, and the works of Italian fascist Julius Evola. Bannon has reportedly disparaged centrist members of the Trump administration as "globalists" and "cucks," resorting to the kind of juvenile vitriol one doesn't often hear from a senior government official.
During a Wednesday press conference that was supposed to be focused on infrastructure, Trump took questions on Charlottesville. He said he had not consulted Bannon about how to respond to Saturday's violence and called him "a good man."
However, Trump would not offer his chief strategist the kind of unequivocal support that could credibly pass for job security. "We'll see," he said about Bannon's future prospects at the White House.