Steve Bannon Predicts Donald Trump's Downfall Once Investigations Into His Finances Prove He Is 'Just Another Scumbag,' Claims Book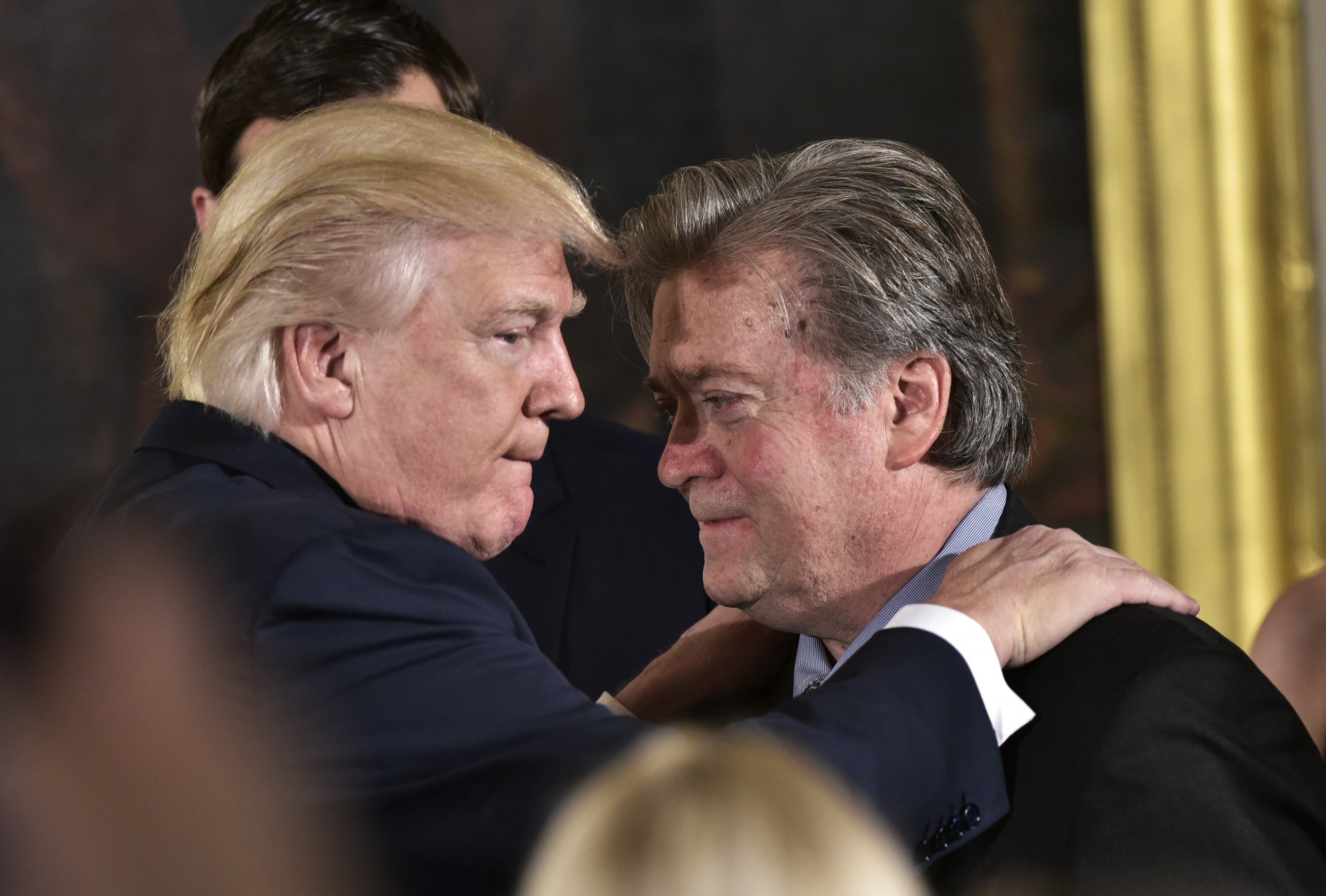 President Donald Trump's former senior adviser Steve Bannon allegedly referred to his old boss as a "scumbag" and suggested the various investigations into his financial history and real estate company the Trump Organization will expose underlying criminality.
The explosive comments reportedly feature in the journalist Michael Wolff's newest book Siege, which covers the second year of the Trump administration. Wolff's previous book Fire and Fury focused on Trump's first year, and was mired in controversy over its accuracy.
President Trump claims that the multiple investigations by an array of congressional, federal, and state authorities are politically motivated and a so-called "witch hunt" against him, his family and his allies, intended to overwhelm his administration.
Among the many authorities investigating Trump's financial dealings over the years are the House Financial Services, Intelligence, Ways and Means, and Oversight and Reform committees; the U.S. Attorneys' offices for the Southern and Eastern Districts of New York; and the New York Attorney General.
According to extracts of Wolff's Siege reported by The Guardian, Bannon said: "This is where it isn't a witch hunt–even for the hard core, this is where he turns into just a crooked business guy, and one worth $50m instead of $10bn. Not the billionaire he said he was, just another scumbag."
Citing special counsel Robert Mueller's sprawling Russian investigation, which passed on its evidence to multiple other probes, Wolff reportedly writes: "Trump was vulnerable because for 40 years he had run what increasingly seemed to resemble a semi-criminal enterprise."
But, The Guardian reported, Wolff then quotes Bannon as saying: "I think we can drop the 'semi' part."
The White House, the Trump Organization and Bannon did not respond immediately to Newsweek 's requests for comment.
Bannon co-founded the far-right publication Breitbart News. He later managed Trump's 2016 campaign before joining the White House as the president's strategy chief.
Trump fired Bannon in August 2017 amid reports he was unhappy with his controversial adviser, who clashed with others in the White House.
The president and Bannon have already clashed over Wolff's first book, Fire and Fury, in which the ex-adviser is quoted calling Donald Trump Jr.'s June 2016 meeting at Trump Tower with the Russians "treasonous" and "unpatriotic."
Bannon allegedly said Mueller would "crack Trump Jr. like an egg" and that the president's son should have called the FBI immediately when approached. He later claimed the treason comments were about Paul Manafort, Trump's disgraced former campaign manager.
Trump responded on Twitter: "Michael Wolff is a total loser who made up stories in order to sell this really boring and untruthful book. He used Sloppy Steve Bannon, who cried when he got fired and begged for his job. Now Sloppy Steve has been dumped like a dog by almost everyone. Too bad!"
Bannon is currently working to foment a nationalist and populist uprising in Europe through his organization The Movement, based in Brussels.