Bannon Is Taking on Trump in Alabama, but the Real 'War' Is for the Soul of the Republican Party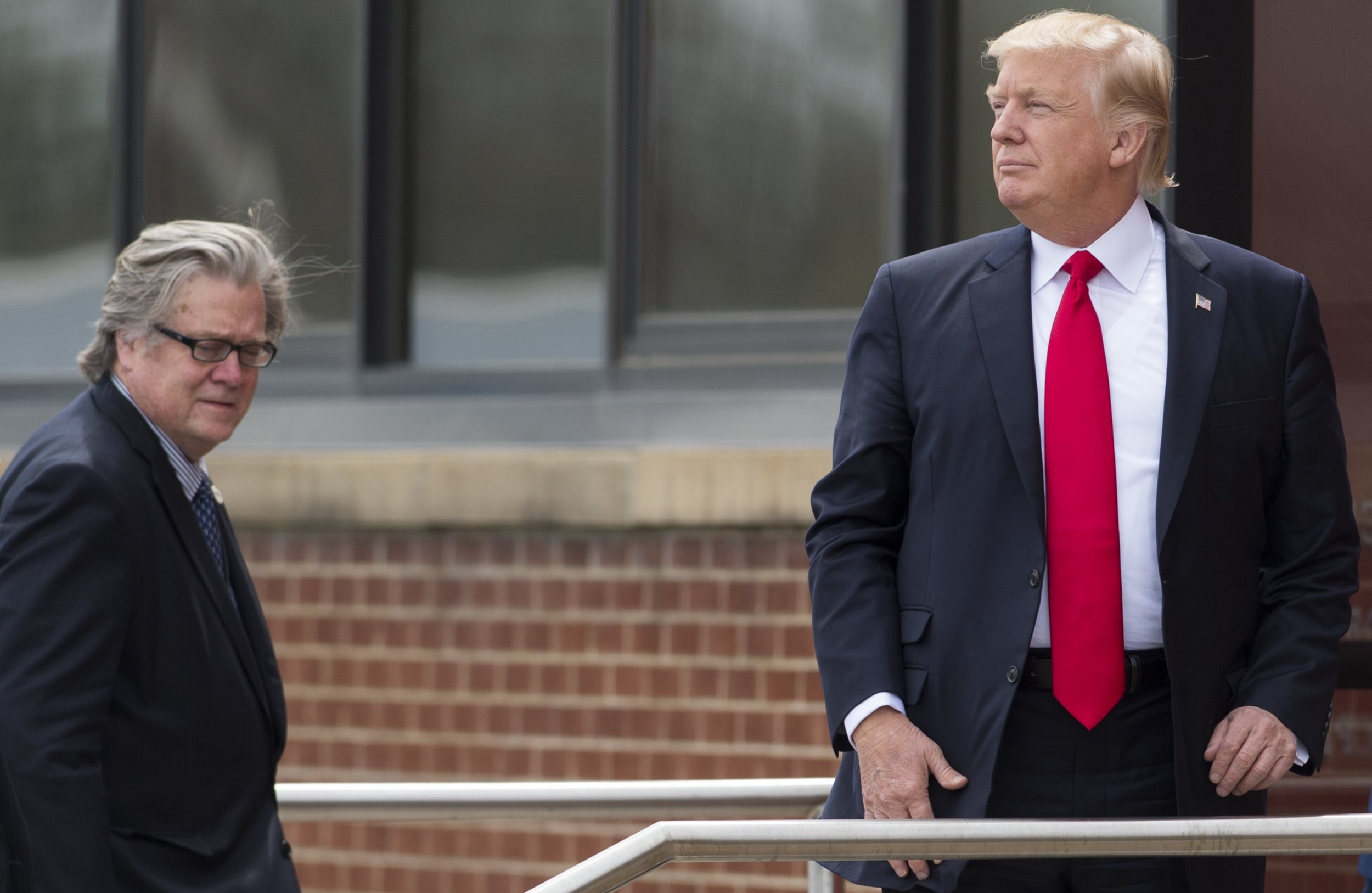 Following Steve Bannon's ousting from the White House two weeks ago, an editor at the publication he formerly ran, Breitbart, sent an ominous one world tweet: "War." Within hours Bannon was back at the influential far-right media company and within a week he had started to put that prophetic tweet into action. His chosen battleground was Alabama and a Senate race already teeming with national interest and subplots.
Related: Bannon's War: How Trump's Alt-Right Hero and Former White House Strategist Plotted His Revenge
At a closed-door meeting in Washington last week, Bannon told a group of influential conservatives to throw their support behind the anti-establishment, evangelical-favorite Roy Moore in the battle to earn the Republican nomination to take Jeff Sessions' Senate seat.
In doing so, he further entrenched Alabama as the latest scene of a proxy war over the direction of the Republican Party. And it puts the attention squarely on Trump as to on which side he will now swing. The president is for the time being aligned with Moore's opponent, incumbent Senator and establishment-backed Luther Strange. But, amid a deepening feud with his own party and reports that he is sneaking phone calls to Bannon, Trump's allegiance is far from secure.
That has become truer than ever with the Bannon and Breitbart machine aimed squarely at Senate Majority Leader Mitch McConnell. In Alabama, at least, Trump finds himself sitting uneasily in the McConnell camp, having surprisingly endorsed Strange earlier this month ahead of the GOP primary. A runoff between Strange and Moore will take place September 26.
"It plays into the whole point of the Breitbart guy and the Bannon-ites in the world who believe we have to get rid of more of these 'establishment' candidates' because they're the ones who are stopping results from getting done," Republican strategist and cable news political commentator Evan Siegfried, who recently authored the book GOP GPS: How to Find the Millennials and Urban Voters the Republican Party Needs to Survive, told Newsweek Wednesday. "And it's part of the bigger civil war that's been going on in what direction the party's going to go in."
Trump had been expected to stay out of a primary in which the three leading candidates, includingRepresentative Mo Brooks, had been falling over themselves to align themselves with the president in a state he won by almost 30 points last November. What exactly fueled Trump's entrance in the race, a move that one senior Alabama GOP official said made their jaw drop, has yet to be fully clarified.
Strange has largely been a loyal supporter of the president since he was controversially appointed to Sessions' seat by former Governor Robert Bentley, who soon after was ousted from office by a sex scandal, which Strange, as attorney general, was previously investigating.
McConnell had wanted Trump to come out in support of Strange, yet there was no suggestion that such action was forthcoming. And, in keeping with Trump's neophyte political career, the move didn't appear to be a part of any larger strategy. After all, just a day after his endorsement of Strange, Trump began his public slamming of McConnell over the Senate's failure to repeal and replace Obamacare.
In terms of the personas of the two leading candidates, Trump's decision to support Strange left many scratching their head, according to Steven Taylor, a professor of political science at Troy University in Alabama.
"In some ways Trump would be more naturally aligned with Moore," Taylor told Newsweek Wednesday. "They both do have this stylistically populistic kind of approach and also rhetorically do overlap on things like anti-establishment, shaking up things, that Washington is part of the problem and all that jazz."
As it is, Trump's support for Strange feels less than emphatic. The president's only message about the Strange since the primary was effectively to congratulate himself for his role in getting the senator into the runoff. And now, according to The Washington Post, Trump could back away from his support of Strange altogether as a further act of rebellion in his growing his rift with McConnell. Certainly, there is little expectation that the president will make a personal visit to Alabama on Strange's behalf.
Trump's stance is understandable. In a battle between one candidate, in Strange, who claimed it was a "biblical miracle" that Trump is president, and another, in Moore, who said he believes God put Trump in the White House, the president has nothing to lose whoever comes out on top.
"Any of these guys is going to be fine for Trump," Taylor added. "You look at Strange's voting record in the Senate, it's not like he's opposing what trump wanted. In terms of trump's agenda, such as it is, I don't think that it matters who wins as long as a Republican wins."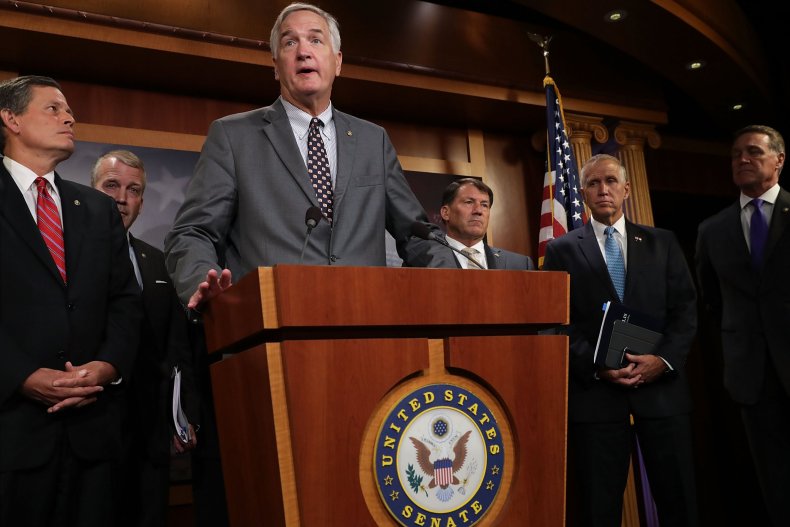 The Republican Party leadership cannot afford to look on at the race with nearly as much sense of ease.
In an overwhelmingly red state, the chances remain slim that Republicans will lose the Senate seat, even if Democrats are talking up their prospects, particularly if Moore, a controversial figure who was both removed and suspended in two spells as chief justice of Alabama's Supreme Court, wins. But the same is not true in other states, where there are similar contests brewing, notably in Arizona and Nevada, between traditional Republican establishment candidates and baggage-burdened fringe figures who Democrats would welcome the chance to take on. A Moore win would only add fuel to the anti-establishment flames.
"If Roy Moore can pull this off, it gives momentum and enthusiasm to that Bannon wing of the party, and it will embolden them to go after more and more and target people that they might not even be considering targeting right now," Siegfried said.
While in the White House, Bannon was evidently unable to convince Trump to back Moore. But, now let off the leash on the outside, his impact could yet prove far greater in Alabama in the coming weeks.
"Bannon's 10 times more dangerous outside the White House than in," Siegfried said.