Don't Read Too Much Into Steve Bannon Losing His NSC Seat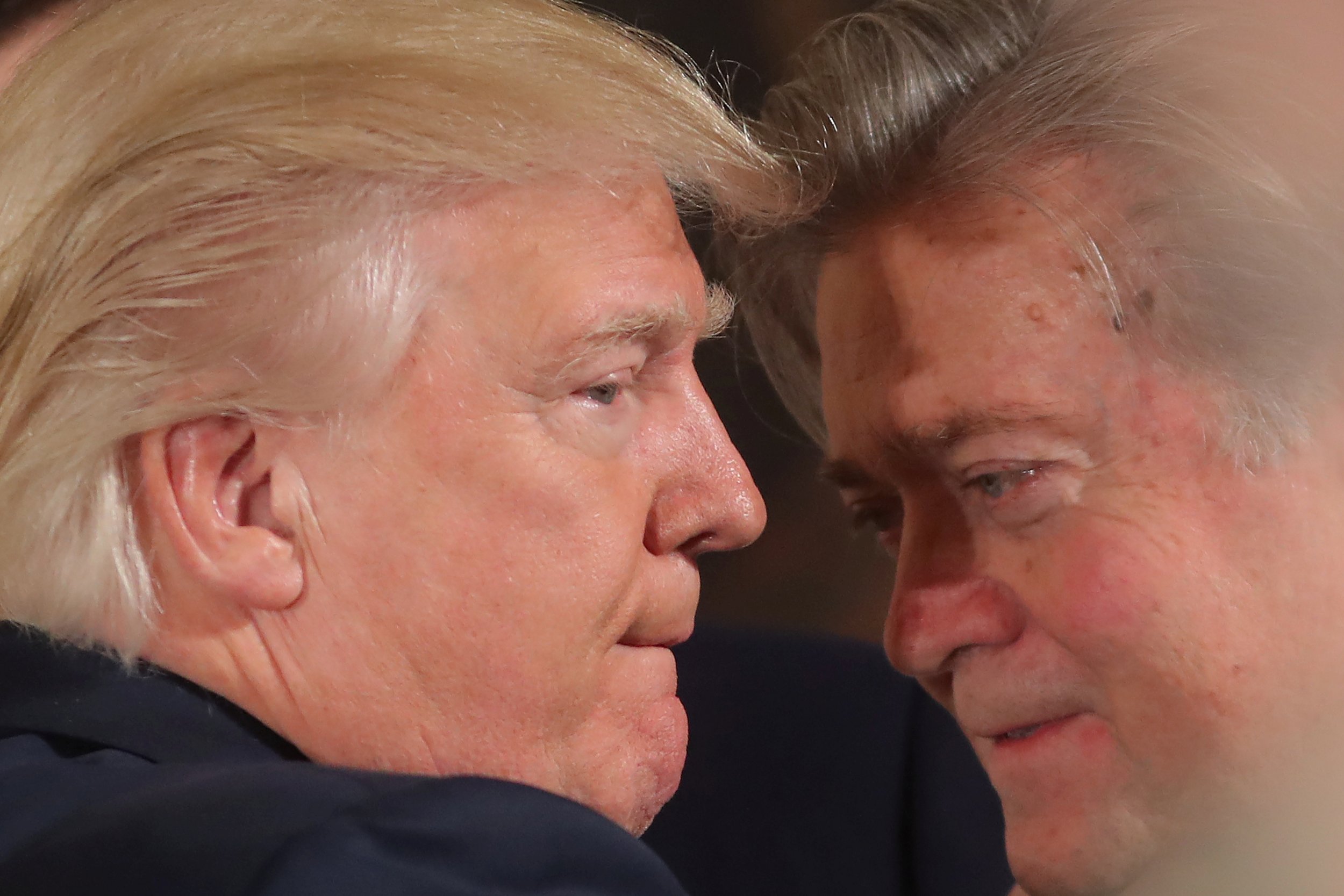 Seventy years ago this summer, Harry S. Truman's mother was sick in Missouri. The president was at Washington's National Airport in the middle of the night, readying to board the presidential plane—then known as the "Sacred Cow," not Air Force One—to fly home to see her. He delayed his flight by 17 minutes to sign the most significant military reorganization in the country's history, the National Security Act of 1947, which was rushed by police escort from the Capitol across Memorial Bridge to the airport. It was the law that created the Department of Defense, the new "Air Force" and the National Security Council (NSC).
White House adviser Steve Bannon's losing his permanent seat on the NSC isn't that big a deal In its 70-year history. It's not going to rank with, say, Henry Kissinger turning the NSC from a mere coordinating body into one that engages in direct operations—as it did during his negotiations to establish U.S. relations with mainland China in 1972. Bannon's loss is not an epic event, and it may not even prove that important in the history of the Trump White House. He could still attend some meetings.
So don't overstate the importance of this moment. As a White House aide with a broad portfolio and unclear powers, Bannon was bound to have his wings clipped at some point. His elevation to a permanent seat on the all-important NSC raised eyebrows this winter, especially when more typical members, such as the CIA director, were denied similar status. But in the weeks since then, Bannon's ally, Mike Flynn, was ousted as national security adviser, and the choice of his successor, H.R. McMaster—a more traditional military figure with none of Flynn's bizarre eccentricities—made it seem inevitable that Bannon's role on the panel could not remain the same. Now that's been made official.
But this could be a blessing in disguise for Bannon, who remains extremely powerful. He was never going to be able to reshape the national security state in his nationalist image, so he's better off for being jettisoned from a fight he couldn't win. Instead, he retains an important portfolio where he can be effective. He has Oval Office walk-in privileges—something he shares with McMaster, Chief of Staff Reince Priebus and counselor Kellyanne Conway—and the president is still guided by Bannon's nationalist themes: tough on trade, tough on immigration, wary of international organizations. None of that has changed. And as someone who has made money in entertainment and finance, Bannon has Trump's respect. Also, at 65 Bannon is close to the president's age, 70. That counts. They share a bond born of familiar touchstones. Most important, Trump believes that Bannon and Conway helped turn his campaign into a winning one. He hasn't forgotten that.
The challenge for Bannon as he goes forward with a more limited portfolio is the same one carried by Karl Rove in the George W. Bush administration or Dick Morris in the Bill Clinton White House: How do you keep a hand in everything without overextending yourself and pushing things too far? Morris and Rove, political Svengalis with deep interest in policy, saw no need to try to wrangle a seat on the NSC—something Bannon has now been spared. And they wisely avoided being placed in charge of specific initiatives, preferring instead to be advisers without portfolios. Now that Bannon's overreach has been ended, he has a chance to reset.
The best thing for Bannon would be for the president to secure a legislative victory. Bannon was all over the health care debacle—he was even laughed at by Freedom Caucus members when he tried to scold them into voting for the plan authored by the House Republican leadership and backed by the White House. Tax reform is an extremely heavy lift, but Trump's plan to overhaul the nation's infrastructure is doable, even if the president's embryonic ideas are overly weighted toward dubious tax cut schemes to get private industry to build roads and sewer pipes.
If the president's poll numbers remained mired in the 30s, Trump is going to be under increasing pressure to shake up his team. There's no chance he's going to fire his son-in-law or daughter. That leaves the ones he brought with him, including Bannon. Without the burden of the NSC, though, Bannon's chances of survival have gone up, not down.