Thousands of Animals Die As Fire Rips Through Kentucky Barn
More than 4,000 animals have been killed in a massive blaze that ripped through several barns in Greenup County, Kentucky, at the weekend.
WSAZ reports that the dead included more than 3,000 quails, 1,000 chukar partridges and 100 chickens.
A number of dogs are also reported to have been killed in the fire.
The fire broke out on Castle Marina Drive in Wurtland at around midnight on Saturday, according to WSAZ.
One of the barns involved in the fire, the Bonso Barn, was more than a century old, according to the family that owns it.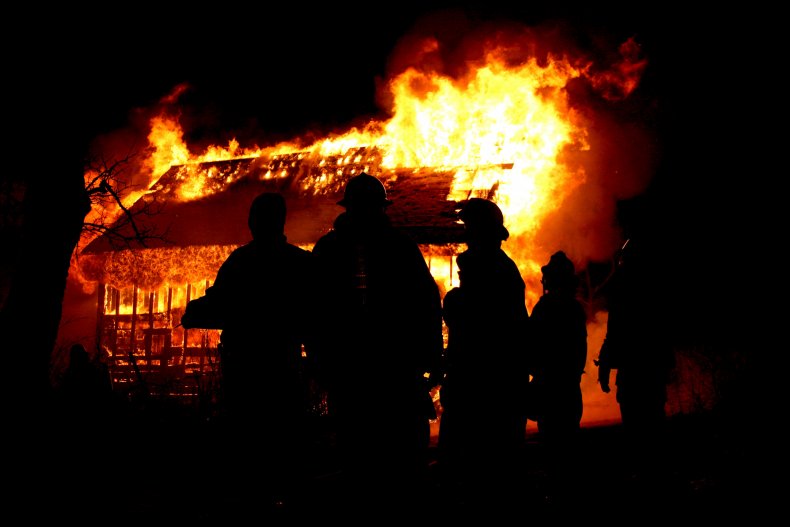 Neighbors said they were heartbroken at the loss of the Bonso Barn, which they described as an important part of their community.
Charles Worthington, who lives nearby, said he had worked at the Bonso Barn for more than 40 years and was devastated to see it go up in flames.
"I've got a lot of memories up there on it," he told WSAZ.
He added: "I had a lot of fun working up there, and I just get upset thinking about it."
Another neighbor, Kayla Wilburn, said she was woken shortly after the fire broke out by a family member who was calling to check that it wasn't their house that was on fire.
Wilburn lives across the field from where the fire broke out.
"I actually got a call from a family member at 1.20 in the morning and they were calling to make sure it wasn't our house on fire," she told WSAZ.
She described the sight of the fire as "unbelievable" and said it appeared as if the entire farm was on fire.
She added the flames traveled "probably 80 foot in the air" and that she could feel the heat from where she was standing.
Wilburn also said the destruction of the barns and the death of the animals was "a pretty big loss" to the area and would affect a lot of local families who relied on it as a source of income.
"I mean, that's a sole income for a lot of families in this area, and that was Bonso's biggest thing, hunting animals and farming," she said.
Crews from multiple fire departments responded to the scene of the fire, near U.S. 23, early on Saturday morning and worked to contain the blaze.
Fire crews then tore down the burned structures that remained.
The cause of the fire remains under investigation.