Bar Fires Employee Behind 'Catch the Virus' Promo After Losing Customers, Bands, Staff
A bar's recent COVID-related promotional stunt backfired, resulting in the loss of customers, staff and more.
On January 21, the Facebook page for the pirate-themed Vessel Taphouse in Lynwood, Washington, posted about an upcoming show where attendees could "catch the virus" and made reference to the Omicron variant of COVID-19, the Everett Herald reported on Friday.
"Come see the show, maybe catch the virus, or just stay home and whine," the post read. "Tickets 10 bucks or 6 with proof of Omicron positive test. Have you had enough???"
Whatever the intention of the now-deleted post was, the actual results were bad for the bar. Speaking to the Herald, owner Steve Hartley said that four employees quit as a result of the post, and three bands pulled out of scheduled performances for that weekend.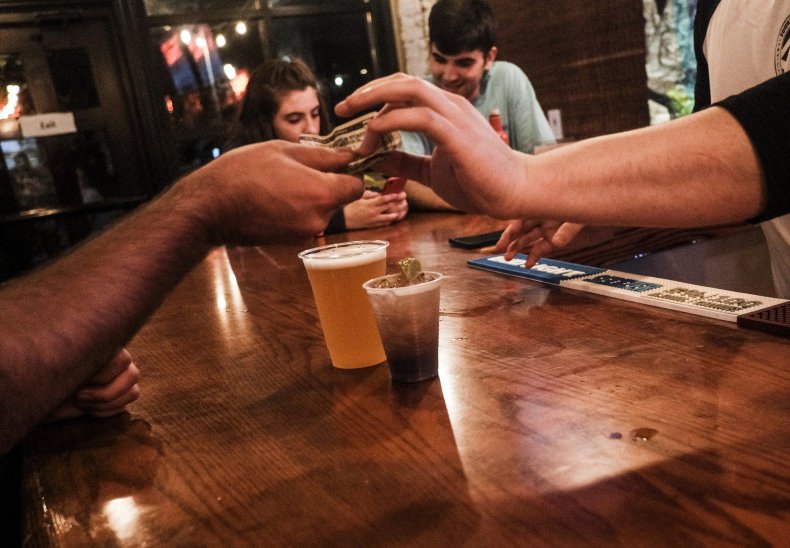 Hartley called the "catch the virus" post "an ill-advised attempt at humor." As a result of the poorly received post, the employee responsible for creating it has been let go from the Vessel Taphouse. Citing the "pretty nasty" response to the post online, Hartley has not revealed the identity of the employee.
"We were getting comments that we were trying to infect the public," Hartley told the Everett Herald. "Clearly we have no interest in that. People aren't going to come and drink if they get sick, and we know that."
On January 25, a post on the bar's Instagram page declared that the issue had been "handled internally" and said "[the] conversation [is] over."
One of the groups that pulled out of performing at the Vessel Taphouse was Atrocity Girl, a rock band based in Seattle. Following the post, the band took to its own Facebook page to explain its decision.
"After talking it over, we feel really disturbed this post was ever allowed to be made," the band posted. "We do not condone this behavior and do not think COVID is a joke... Catch our next safe show at Jules Maes Saloon next Saturday."
Based on guidelines set by Snohomish County, the Vessel Taphouse does not require proof of vaccination for patrons and will most likely continue not to do so unless local rules change. Speaking with the Everett Herald, some former employees said the bar followed local rules and did not encourage staff or customers to disregard them.
Lynwood is located in Snohomish County, Washington, roughly 16 miles north of Seattle. It is considered to be part of the greater Seattle metropolitan area.