Bar Owner Hailed by Fox News Allegedly Drives Into NY Deputy Trying to Arrest Him Over COVID Violations
The Staten Island "autonomous zone" bar owner previously praised by Fox News was taken into police custody on Sunday after violating COVID-19 restrictions again.
The co-owner of Mac's Public House, Danny Presti, was arrested for reopening the bar and then allegedly hitting a sheriff's deputy with his while fleeing the scene.
The New York City Sheriff's Office said deputies tried to take Presti into custody after observing customers entering the bar through an empty commercial space next door, according to NBC New York. The bar had recently been ordered closed and lost its liquor license over breaking COVID rules.
The Sheriff's Office said that, upon deputies identifying themselves, Presti fled the bar on foot, reached his car, drove into one of the officers and then continued driving with the injured deputy hanging onto the hood of the car.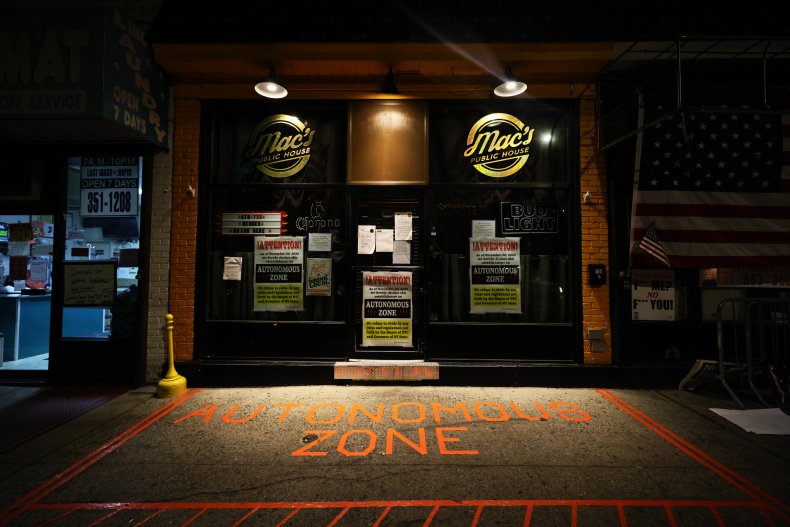 Deputies were able to stop Presti's car eventually and took the general manager into custody. The injured deputy was admitted to the hospital.
Mark Fonte, Presti's attorney, told the Associated Press he expected his client to be arraigned Sunday but had yet had the opportunity to speak with him.
The bar reportedly documented the night on its Facebook page, posting a video near the time of Presti's arrest, according to NBC New York.
"After a hard day's work, the sheriffs hid like snakes in the grass and waited till Danny left to finally go home and get some rest!" the Mac's Public House post said. "We will not back down! You have not scared us!! The world is watching and it's time for everyone to wake up!"
That post has since been deleted. Instead, the bar provided an update stating, "Danny was arrested after we closed and was getting in his car! 25 sheriffs in unmarked car swarm him like he is a violent felon who murdered someone! He just finished working an 18 hour day to provide for his family and save our establishment!!!"
Mac's Public House was the site of a large protest earlier this week after the bar was shut down and Presti was arrested for ignoring orders from the sheriff's department to stop serving customers. Presti claimed the bar was an "Autonomous Zone." Supporters of the far-right Proud Boys group were among the hundreds in attendance.
The bar, which is within an area of southern Staten Island with rising COVID-19 cases, was on Wednesday praised by Fox News' talk show The Five, which compared its autonomous zone to the one that came about during summer protests in Seattle: "One [autonomous zone] was pro-business, one was anti-police, but they get treated completely different... [In Seattle], people got shot. Here, people just took a few shots. But all of the sudden, the guy's arrested for that? It's sick."
Bill Neidhardt, a spokesperson for New York City Mayor Bill de Blasio, said Presti's actions showed a "disregard for human life" in a statement to Spectrum News 1.
"In both of these instances, whether it's flouting public health law or ramming a car into a uniformed deputy, this individual has endangered the lives of others," said Neidhardt.
The New York City Police Department didn't respond to Newsweek's request for comment in time for publication.
12/6/20, 4:46 p.m.: This story and headline have been corrected to reflect that Presti is accused of hitting a NY Sheriff's deputy with his car. He has not been convicted of a crime in relation to the incident.