Bar Owner Who Lost License Over Crowding Says Evidence Photo Was a Year Old
Michael D'Esposito, the owner of an Orlando bar, has pledged to fight Florida's recent revocation of the bar's license for it allegedly ignoring Florida's mandatory social distancing measures.
D'Esposito has accused government authorities of scapegoating his business for the local rise in COVID-19 cases and conducting an inadequate investigation that relied on a year-old photo recently posted by the bar on social media as proof.
On Monday, a state inspector found The Knight's Pub wasn't enforcing social distancing measures and suspended its alcohol license after contact tracing determined that 13 employees and 28 patrons connected to the bar had tested positive for COVID-19.
"My group and I are very discouraged and we feel like we are being scapegoated and victimized,'' D'Esposito told The Miami Herald. "There was no investigative work that went into this. I didn't even know we were being looked into until the news broke."
The bar owner said that his establishment reopened on June 5 and two days later, a customer called the bar to report that they had symptoms of COVID-19. The owner said he instructed employees who had been working during that two-day period to stay home and get tested.
The bar then operated again on June 8 with a reduced staff and closed after learning of a coronavirus outbreak at the nearby University of Central Florida. He says the bar has remained closed ever since.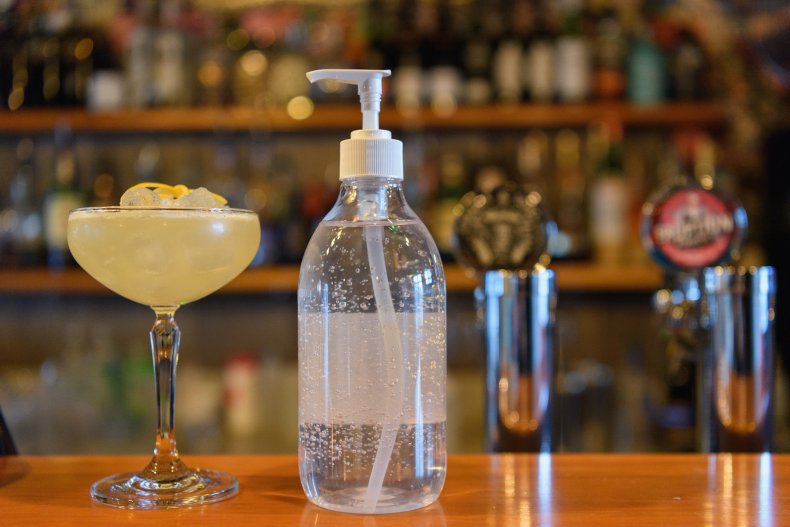 During the three days that the bar was reopened, D'Esposito says the bar limited its number of patrons, disinfected all surfaces and encouraged social distancing inside and outside of the bar.
However, D'Esposito said he now feels as if his bar is "being used as the scapegoat for all COVID-19 cases in the surrounding Orlando area."
A June 5 photo posted by the bar on Facebook showed at least 11 people in close proximity to one another without using facemasks. D'Esposito said that the photo was a year old and used to make the bar appear lively and fun.
Newsweek reached out to Florida's Department of Business and Professional Regulation for comment. This story will be updated with any response.
On Monday, Florida Republican Governor Ron DeSantis threatened to revoke the alcohol licenses of bars and restaurants that fail to follow mandatory social distancing measures meant to slow the spread of COVID-19.
DeSantis said that Halsey Beshears, Secretary of the Department of Business and Professional Regulation, would be "the grim reaper for business licenses" as her offices check companies for compliance.
The department told Newsweek on Monday that inspectors and law enforcement agents "are maintaining an enhanced, daily field presence" to conduct compliance checks on businesses. The department added that businesses who have their licenses revoked can be legally challenged.
Bar Owner Who Lost License Over Crowding Says Evidence Photo Was a Year Old | U.S.