'Bar Rescue' Host Jon Taffer Likens Unemployment Benefits to 'Hungry, Obedient Dogs'
Jon Taffer, the host of Bar Rescue, recently said that "a hungry dog is an obedient dog" while speaking about unemployment benefits in the U.S.
While appearing on The Ingraham Angle on Fox News, Taffer and host Laura Ingraham discussed Americans receiving unemployment benefits amid the ongoing COVID-19 pandemic, which Taffer said was "incentivizing people to stay home," instead of working.
"If you get $800 a week in unemployment benefits and you live with a partner who is also getting $800 a week in unemployment benefits, $1,600 a week, $83,000 a year for that household in unemployment benefits," Taffer said. "The median income in America is only $63,000. We're incentivizing people to stay home. What if we gave that additional unemployment benefits to employers to incentivize people to go to work?"
Ingraham then chimed in and asked what would happen if the unemployment benefits were cut off.
"Hunger is a pretty powerful thing," she said. "I don't mean physical hunger because people who truly are in need, need help. I'm talking about people who can work but refuse to work."
Shortly after, Taffer made similar comments and supported Ingraham's remarks by comparing the current unemployment situation to military dogs.
"I have a friend in the military who trains military dogs and they only feed a military dog at night because a hungry dog is an obedient dog," Taffer said. "Well, if we are not causing people to be hungry to work, then we're providing them with all the meals they need sitting at home."
"I'm completely with you Laura, these [unemployment] benefits make absolutely no sense to us, and on top of the impact of not getting employees and not being able to run our businesses, in my industry, meat prices are up 10 percent, chicken prices are up 15 percent," Taffer continued.
Taffer made somewhat similar comments earlier this year during an April appearance on Fox Business' Varney and Co. while speaking about restaurants and bars facing a shortage of workers due to enhanced unemployment benefits.
When asked by host Stuart Varney if the restaurant and bar industry will get back to normal by summer, Taffer said, that they can get back to normal "if – big if – we can get employees."
"The fact of the matter is the enhanced unemployment is causing the same problem you just talked about in the health care industry. We can't get our employees back. It's a crisis for us," Taffer said. "Customers are coming back....But if we don't have employees, we can't serve those customers. So now we're dealing with that."
Taffer has since expressed his regret over his choice of words.
"Regarding an interview I did yesterday, I want to sincerely apologize for using a terrible analogy in reference to the unemployment situation. That was not my intention and I greatly regret it," Taffer said in a statement sent to Newsweek. "My comment was an unfortunate attempt to express a desire for our lives to return to normal. I recognize this has been a challenging year for everyone, and I am eager for the hospitality industry to come back stronger than ever."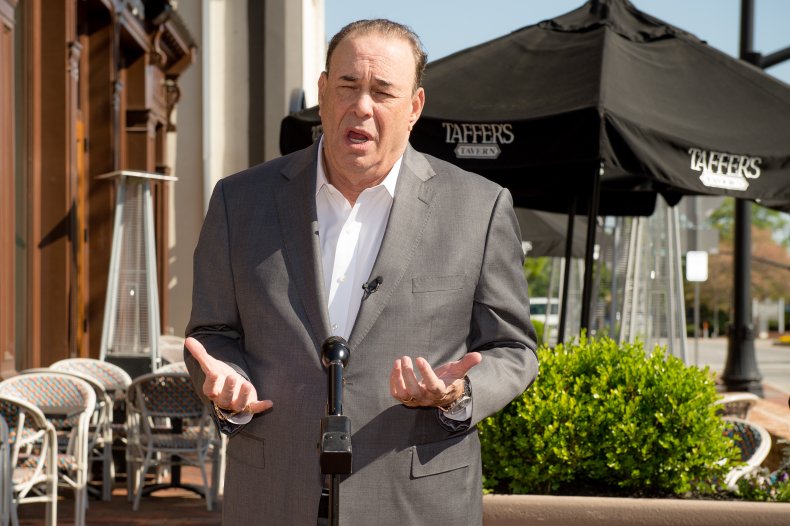 Updated August 13, 2021, 4:49 p.m. ET, - This story was updated to include a statement from Taffer.