Bar Shows Off Technique to Block Drink Spiking, Sparking Debate
A bar in the United Kingdom has gone viral with a video demonstrating its technique to prevent drink spiking, setting off a range of emotional reactions.
PJ's, a bar and nightclub in Warrington, England, has amassed 8.6 million views on a TikTok video showing how its bartenders helped protect their clientele. In the clip shared Saturday, a bartender took out a beer bottle alongside a tub of plastic bottle stoppers. She inserted a stopper into the bottle and stuck a straw through its tight opening.
"Stay safe at PJs," text overlay on the footage read. "Ask your bartender for cup and bottle stoppers."
In the comments section, the bar added that the stoppers were provided free of charge.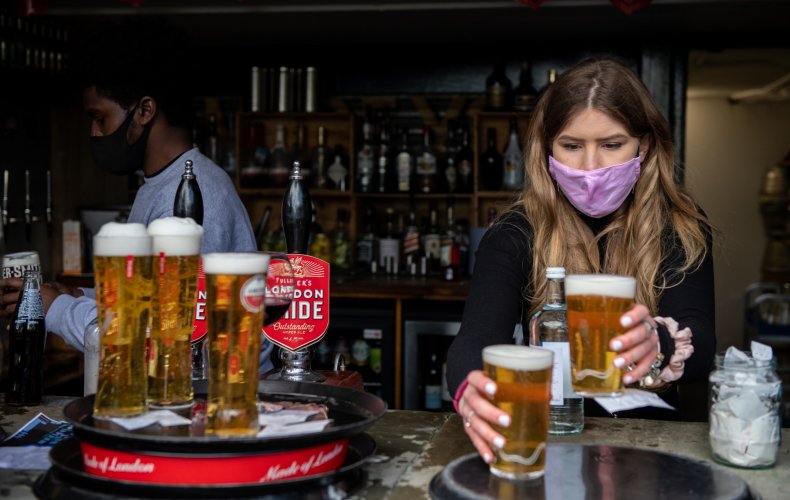 Last October, women across the U.K. organized a boycott of nightclubs and bars to protest a rise in drink spiking and drugging through needle injections. Between early September and early December 2021, the National Police Chiefs Council (NPCC) recorded 670 reports of injection spiking across the country.
According to a survey by British research firm YouGov in November 2021, one in nine U.K. women said they had been a victim of drink spiking. Another 8 percent reported that a family member had been spiked and another 12 percent said a friend had been spiked. One-third of the total surveyed women had either been drugged themselves or knew someone who had.
Below the clip posted by PJ's, comments ranged in emotion between gratitude, skepticism and gloom.
"These should be in all pubs and clubs across the world," said one viewer.
But dispersed among those who applauded the bar were some viewers who suggested the measure was insufficient.
"If you were to be spiked, couldn't you just pour the powder or whatever into the straw?" asked one skeptic.
"I worked as security at a bar for almost a decade," added another. "It's very rare to spike a drink you already have. It's when someone brings you a drink...it's also almost always someone you already know who does it."
Another cynic suggested that the method only worked when the bartenders could be trusted. "Until you realize it's the bartenders spiking," their comment said.
Despite this debate, most viewers agreed it was disappointing to live in a world where PJ's efforts were needed.
"It's so sad that this is what we have to do now, stay safe everyone," said a comment that summarized the despondent mood.
Newsweek reached out to PJ's for comment.