Barabbas, Jesus, Martin Luther King Jr. Invoked to Get Out the Vote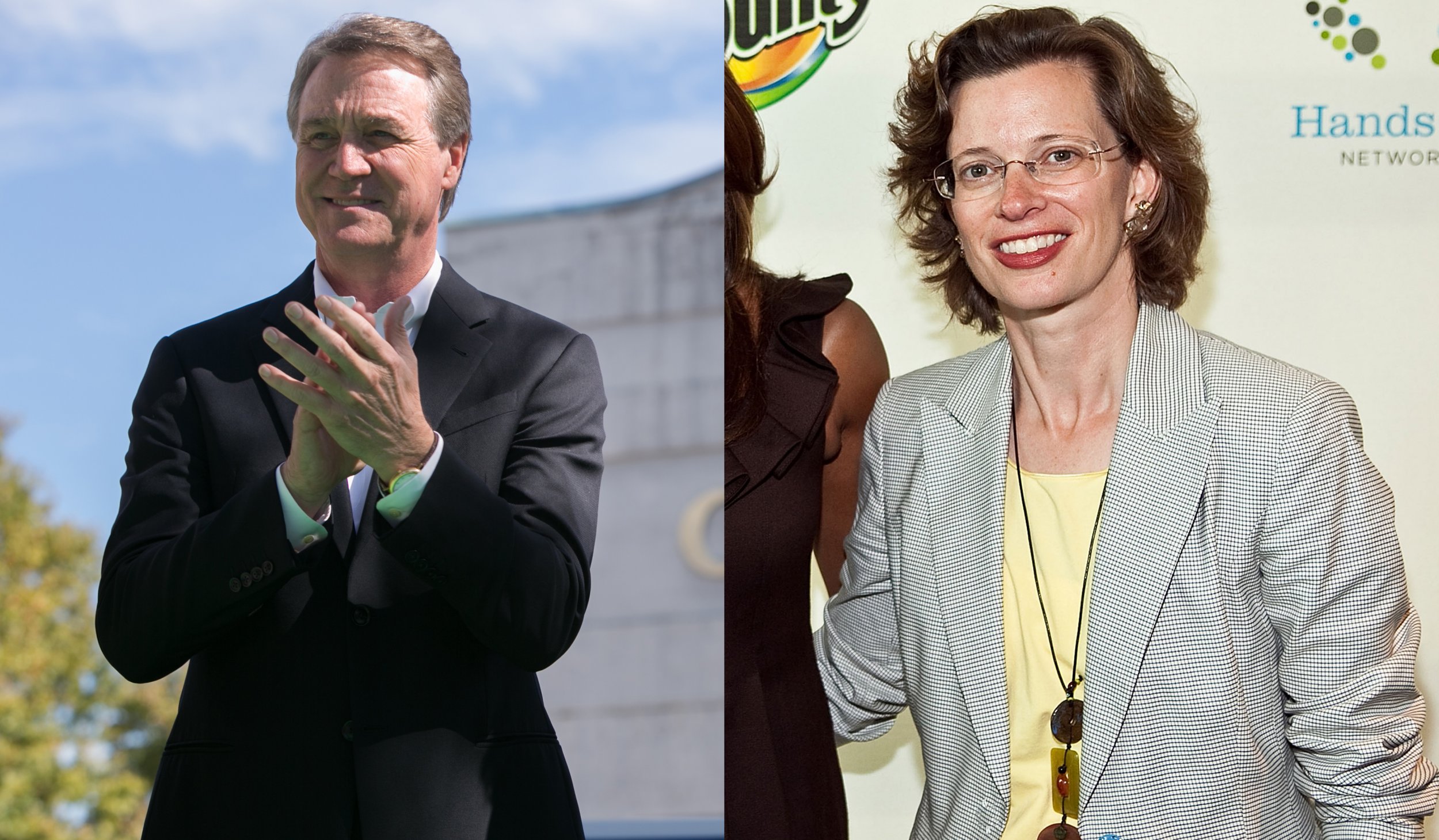 STONE MOUNTAIN, Ga — For his sermon on Sunday, Reverend Dr. Kenneth L. Samuel chose the story of Barabbas for what he saw as an historic day.
According to the Gospel of St. Mark, each year the people of Jerusalem were allowed to set free one prisoner condemned to death. "On this particular year, [Pontius Pilate] put one question on the ballot before the public. Shall I release to you Jesus or Barabbas?" the reverend told his congregation. "The people voted unanimously to free Barabbas and then to crucify Christ."
"Everybody had a vote," Samuel said, his voice so loud it vibrated through the pews. "And Jesus did not receive one vote."
With the November midterm elections next week, this past Sunday was the first time Reverend Samuel's congregation could go to the polls on a Sunday. Located in the town of Stone Mountain in DeKalb County, an Atlanta suburb with a high concentration of Democratic voters, Samuel's sermon built up to a call to head straight to the local polling place and vote right after church — a turnout effort known as Souls to the Polls.
Before urging his congregants at the Victory for the World church in Stone Mountain to join him at the polls, Samuel preached to them about the importance of voting — even if you're on the losing side.
In Samuel's sermon, the point of the Barabbas story was not that the crowd chose Barabbas over Jesus. It was that Jesus's followers did not speak up for him. For Samuel's mostly black congregation of about 2,000, the lesson was that every vote counts and that dissent matters.
"Seem like Jesus would have had at least 12 votes 'cause he had 12 disciples," he thundered. "OK, let's discount Judas 'cause he got confused and defected. How about 11? Seems like he would have got at least 11 votes."
Today, all eyes are on Georgia. With only eight days to go to the midterms, the state's razor tight Senate race between Democrat Michelle Nunn and Republican David Perdue could ultimately decide which party controls the U.S. Senate in January. Nunn and Perdue are virtually tied in the polls, with the race currently expected to result in a runoff. (If no candidate receives more than 50 per cent of the vote, a second ballot takes place in two months time.) Alongside the vote for senator, Georgians will also choose their next governor — incumbent Republican Nathan Deal or his challenger, Democratic state Senator Jason Carter.
The only reason Nunn and Carter have a chance in a state that has consistently elected Republicans to federal and statewide offices in the last decade is the growth of African American, Latino and Asian voters in the state. This year, the minority leader in the state House, Democratic Rep. Stacey Abrams, has lead a vigorous effort to register minority voters, collecting about 85,000 applications. Similar registration efforts collected another 120,000 forms, substantially growing the number of minority voters in Georgia.
These efforts have made Republicans nervous.
In September, state Senator Fran Millar lambasted the decision to create one day of Sunday voting in DeKalb County as a "blatantly partisan move" because it had the potential to drive up turnout in the heavily-African American area with several large black churches. He promised to try to end Sunday voting.
Meanwhile, Georgia Secretary of State Brian Kemp launched a voter fraud investigation into Abrams's voter registration group, the New Georgia Project. Although just 25 out of 85,000 registration forms contained erroneous information — Democrats saw Kemp's investigation as a blatant move to stymie registration efforts. Kemp's office has also failed to process registration forms of about 40,000 people that Abrams's group turned in this year. Any day now, a judge will decide the fate of those 40,000 potential voters.
"What's really fired up voters is overt attempts to suppress the vote," Samuels told Newsweek at the polling station. He had mentioned both Senator Millar and Secretary Kemp in his sermon Sunday.
Democrats have been working to curb the phenomenon of the Democratic midterm "drop-off" voters — disproportionately minority, female and young voters who vote for Democrats in presidential election years but lose interest in the off-years. Samuel is aware that turnout in his county, among the population he serves, drops dramatically in midterm years.
Election officials in DeKalb County are noticing more turnout this year than the last midterms. Maxine Daniels, Director of Registration and Elections in the county, said nearly 2,000 people voted in the first two hours of early voting Sunday. Daniels believes the closeness of the races at the top of the ballot is getting people to the polls because they believe this time they can make a difference.
In his sermon, Reverend Samuel said voting isn't about instant gratification — voting only in a presidential year isn't enough to effect change, that dissenting votes eventually become majority votes. He reminded his congregation that the South African civil rights leader Nelson Mandela spent 27 years in jail before apartheid was ended in South Africa. And that in the US in the Sixties, Martin Luther King Jr. formed the Southern Christian Leadership Conference after the existing Baptist leadership refused to support the civil rights movement — another example of a successful movement that began in failure.
"The only thing worse than voter suppression is voter apathy," Samuel told the crowd at church. "Even to fail to vote is a vote."
The Souls to the Polls tradition is a new phenomenon across the country and a first this year in Georgia where counties had never had Sunday voting before, but the spirit of the effort is old. "It does really reference and harken back to the role of the black church in the Civil Rights Movement," said Andra Gillespie, an expert in African American politics at Emory University in Atlanta.
With the issue of voting rights hanging over the election, for many in DeKalb County on Sunday civil rights was not far from their minds. At one of DeKalb's early voting spots Sunday, a poll worker told Newsweek she had volunteered because she grew up in Alabama in the 1960s. Another election worker recalled being one of the first black students to attend an integrated school in the county.
In Stone Mountain, the advent of Sunday voting is another step away from the city's racially violent past.
Not far from Samuel's Victory Church is Stone Mountain itself, a massive granite dome that for decades served as a meeting place for the Ku Klux Klan. To signify the resurgence of the Klan in 1915, members burned a cross atop the mountain. In the 1920s, images of Civil War Generals Robert E. Lee, Stonewall Jackson and Jefferson Davis, president of the Confederacy, were carved into the face of the rock — making it a Mount Rushmore-style monument to the breakaway South.
When Reverend Samuel came to Atlanta in the early 1980s to attend divinity school, the Klan was still active in the town of Stone Mountain. It was known as a dangerous place for blacks, Jews and other minorities and friends warned Samuel not to stay there after dark.
"I witnessed the burning of the crosses on Stone Mountain," said Angela Patrick, 66, a member of Samuel's church.
It's little wonder that Martin Luther King, Jr. chose to call out the name of Stone Mountain in the 1963 March on Washington with the line, "let freedom ring from Stone Mountain of Georgia."
But in the last 20 years, DeKalb County has transitioned from majority white to majority black population and the city of Stone Mountain has transitioned with it. Patrick now lives here. "I would have never thought I would come to Stone Mountain because of the terror," she said.
In the 1990s, when Samuel was looking for a new location for his church, it took a little convincing for him to come to Stone Mountain. "The first time I got a call about a piece of property there, I said, 'No, thank you,' and hung up," he recalled.
"It's quite significant that this hub of bigotry" has become a diverse community, said Samuel. "For [Dr. King] to say, 'Let freedom ring from Stone Mountain of Georgia,' it is really a testament to how far we've come."
"We have fought long and hard to get weekend voting back in DeKalb County. It was not an easy fight and everybody's not happy about it," Samuel said, urging his congregants to go straight to the polls after church.
"We had to march, bleed and die in order to get the right to vote," he reminded them. "This is a holy Sunday day of voting in DeKalb County."