Barack and Michelle Obama May Get Their Own Netflix Shows, but How Much Will They Earn?
Shonda Rhimes, Ryan Murphy…Barack and Michelle Obama?
The former president and first lady are in "advanced negotiations" with Netflix to produce a series of shows exclusively for the streaming service, The New York Times reports.
The Obamas would produce and star in shows that reflect inspirational stories and continue the work they advocated in the White House, said the report. One could see the former president "moderate conversations on topics that dominated his presidency—health care, voting rights, immigration, foreign policy, climate change." A show featuring Michelle Obama could focus on nutrition, a topic she championed as first lady.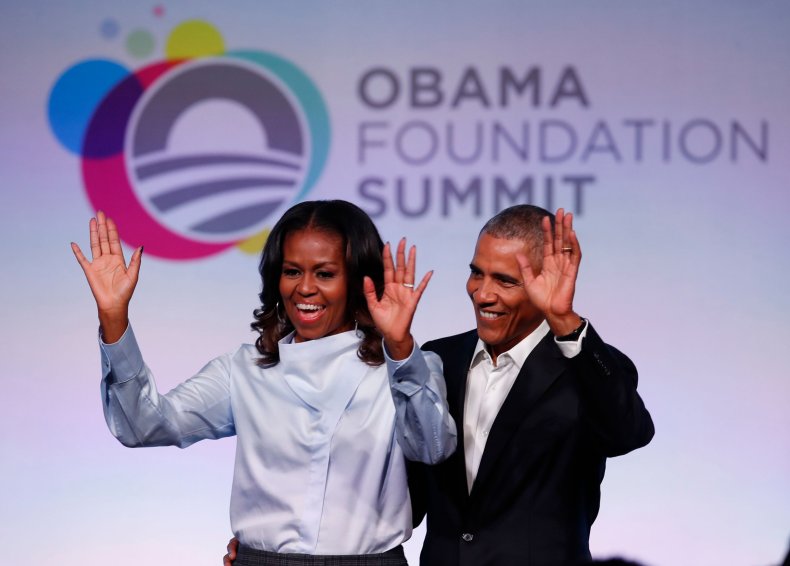 "President and Mrs. Obama have always believed in the power of storytelling to inspire. Throughout their lives, they have lifted up stories of people whose efforts to make a difference are quietly changing the world for the better. As they consider their future personal plans, they continue to explore new ways to help others tell and share their stories," said Eric Schultz, a senior adviser to the former president.
Netflix has 118 million subscribers globally, giving the Obamas a sizable platform to continue engaging with the public.
The deal also could be lucrative to the Obamas' post-White House careers and supplement the reported $65 million publishing deal they signed with Penguin Random House in 2017. Michelle Obama will be first to release her memoir, Becoming, November 13.
The Times report said it's unclear how much money Netflix is willing to spend on the Obamas, but in the past year the streaming service has been on a big spending spree to lock down some of TV's most powerful players.
Grey's Anatomy creator Shonda Rhimes jumped from ABC to Netflix in August 2017 in a deal estimated to be worth $100 million and spanning four years.
Ryan Murphy, the über-producer behind Glee, American Horror Story, American Crime Story and Feud, joined Rhimes at Netflix in February. He is reported to have signed a $300 million, five-year pact.
Mark Borkowski, a media analyst and PR strategist, tells Newsweek that the Obamas' deal could eclipse both of those. He says Netflix may offer the former first couple $500 million.
"Competition between streamers is so intense. We see money being flown at [creators]," says Borkowski. "It depends what it is, what that program is, what it becomes...is it [related] to a foundation or charity work? It could make it a less [expensive] deal. But it'll still be a big deal."
It's unlikely the Obamas will be producing fictional series for Netflix like Rhimes and Murphy, but if you're wondering what it might look like if they did, the former president is a noted fan of Game of Thrones and The Wire. Michelle, meanwhile, is a fan of Empire and Scandal.