Barack and Michelle Obama Want to Hear Your Stories About How Your Neighborhood Shaped You
Former President Barack Obama and former first lady Michelle Obama are asking supporters of the Obama Foundation to share their stories of how the neighborhoods they grew up in helped shape them.
In an email sent out to supporters, Michelle Obama shared how her own experiences growing up on the South Side of Chicago shaped her and her brother Craig.
Alongside a photo of the two siblings standing outside together, Obama wrote: "When I think back to some of the earliest days of my childhood, I remember moments like this—my brother Craig and I, smiling outside on the South Side of Chicago."
"It was there, in a diverse and changing neighborhood, that I began a journey that took me to settings I never could have imagined at that age. It's the place that made me who I am," she said.
Today, Obama is known around the world as a former first lady, an established lawyer and the author of a best-selling memoir, Becoming. Meanwhile, her brother, Craig Robinson, who is two years older than his sister, had built a career as a college basketball coach and broadcaster before landing his current role as the vice president of player and organizational development for the New York Knicks.
While both siblings have seen great success, for Obama, it was their early formative experiences growing up in the South Side of Chicago that set them down their individual paths.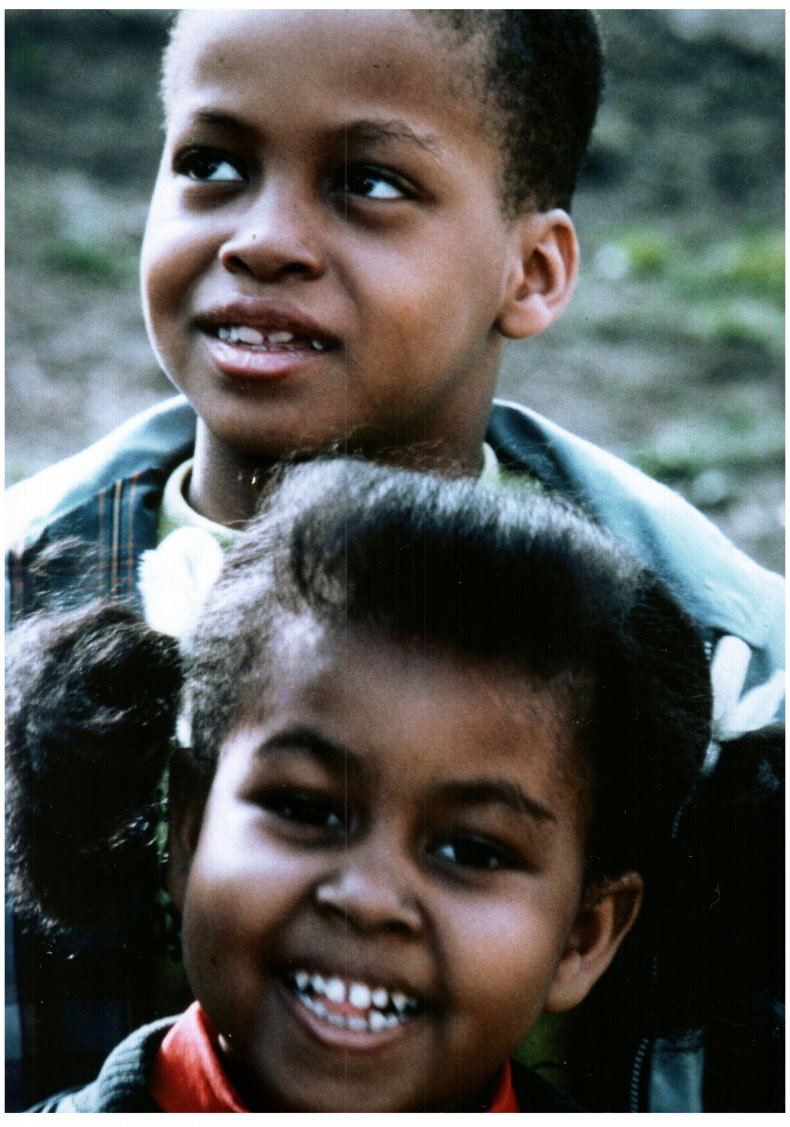 The South Side of Chicago is also where the Obamas first met—at a Chicago law firm in 1989—and fell in love.
In fact, a historical plaque can be found outside where the couple shared their first kiss at what was once a Baskin Robbins ice cream parlor at the Dorchester and East 53rd Street intersection in Chicago.
But what has got Michelle Obama reflecting on the memories of her upbringing in the Chicago neighborhood?
"I'm thinking about my neighborhood because in a few weeks, Barack and I will be joining changemakers from the South Side and around the world for our third Obama Foundation Summit," she said.
The Obama Foundation Summit takes place on October 28 and 29 and is expected to include "stories from authors and artists, luminaries and leaders, about how the places they've been made them the people they've become."
"And you'll hear how Chicago influenced both Barack and me—and how we hope the Obama Presidential Center will help shape the journeys of others," the former first lady said, referring to the planned facility that will be located in Jackson Park on the South Side of Chicago, near the University of Chicago Campus.
"This year the theme is a special one for me: Places reveal our purpose," Obama said.
Looking at photos like the one she shared of her and brother Craig, Obama said: "I'm struck by how much of the South Side I still carry with me today."
"It was the place where Craig and I developed our competitive edge, boxing in the kitchen and playing in the neighborhood parks. It's where we rode bikes down the street and spent summers hanging out with friends of all backgrounds—before white flight took hold and began to reshape our community," she said. "And it was there, on the second floor of a modest brick bungalow, that I saw my parents raise their children with integrity, dignity, and purpose—values that I carry with me every day."
"That's how my neighborhood shaped the person who I am today," Obama said. "But we want to hear your stories, too."
The former first lady then asks Obama Foundation supporters to "show us a place that shaped you" and "tell us how that place gives you purpose," providing a link to a form that supporters can fill out.
Submissions are expected to be featured at the Summit, as well as on Obama.org, Obama said, "so that guests can witness the stories of folks like you who help support the Obama Foundation and make our work possible."