Barack Obama and Joe Biden Order Ham and Cheese Sandwiches on Surprise Lunch Date at D.C. Bakery
Barack Obama and Joe Biden strengthened their bromance over ham and cheese sandwiches at a veteran-run bakery in Washington D.C. yesterday.
In a video, posted to the Dog tag Bakery's Facebook on Monday, the casually-dressed former president and his former vice president strolled up to the counter at the eatery in Georgetown and both ordered ham and cheese sandwiches.
As they were choosing from the menu, patrons can be seen taking photos with their phones behind the two friends.
After their meal, the Dog Tag Bakery posted a picture of Obama and Biden to Twitter, alongside a caption thanking both for "supporting our mission of empowering veterans with service-connected disabilities, military spouses, and military caregivers!"
As a waiter handed Biden a sandwich on a plate, the former vice president asked if he could have some mustard. Obama pointed to the sandwich and asked Biden what he ordered.
"Hold on, hold on, what'd you get here?" Obama said.
"I got one of these, whatever the hell they're called," Biden responds.
"Whatever the hell they're called?" Obama asks, before promptly deciding, "Yeah, that looks pretty good, I think I'm gonna have one of these too."
Biden then turns to the staff serving him and says, "give the boss one of those too," before pulling out some cash to pay for the meal.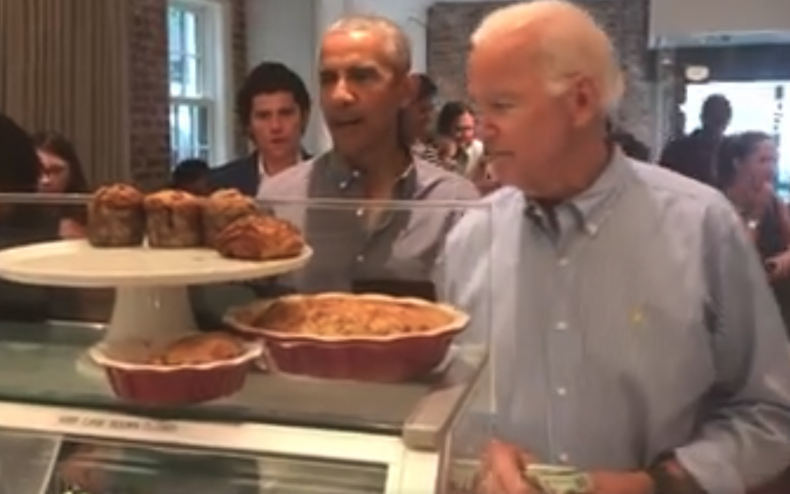 A crowd gathered outside as the two men took a seat and started eating their sandwiches. One Reddit user shared a selfie of himself with Obama and Biden eating at a booth in the background.
As the two men left the bakery—each carrying doggie bags—the two former politicians were greeted with applause by a group of people who were waiting for them outside.
Ashley Hart, who witnessed the event, posted a video to Instagram which captured the moment Joe Biden grabbed someone's phone and took a selfie of himself and Obama exiting the eatery. "Still in complete shock that I just shook President Obama's hand while he was hanging out with his buddy Joe! They were both so warm and funny, and not to mention… extremely handsome," Hart wrote.
Hart also posted pictures of the two standing by a black SUV, surrounded by men who appeared to be their bodyguards.
Lolly Rivas, the bakery's director of development, told Newsweek that the team at Dog Tag were "totally surprised" by the visit and didn't have any prior notice. "When they were about six minutes away, a member of their team grabbed our CEO," she said. "Before they ate, they really took time to say hello to all of our fellows and hear a little bit about what they're hoping to do once they leave our program."
Rivas said: "They shook hands with every single fellow, took a photo, took some selfies… they then made sure that they talked to every single member of our staff. Everyone from dish washers to stewards and then they grabbed some lunch."
According to their website, The Dog Tag Bakery empowers "service disabled veterans, military spouses and caregivers to discover personal and professional fulfillment in the civilian world."
"From the early hours of each morning, our bakery is mixing up batches of handmade baked goods while providing valuable work experience for veterans, military spouses and caregivers," their website reads.