Barack Obama's Fiery Anti-Trump Speech Sparks 'Beijing Barry' Memes
Former President Barack Obama made a speech at a campaign rally for presidential candidate Joe Biden in Philadelphia, Pennsylvania, on Wednesday, and his stand-out lines sparked memes and even a self-deprecating new nickname.
With less than two weeks to go until Election Day, Obama joined the campaign trail in support of his former VP, Biden, and to speak out against incumbent President Donald Trump
Obama discussed a New York Times story that found that Trump had paid more in taxes to China between 2013 and 2015 than he did in his first year as president. The Times found that Trump International Hotels Management (TIHM) paid $188,561 in taxes to China while pursuing potential licensing deals.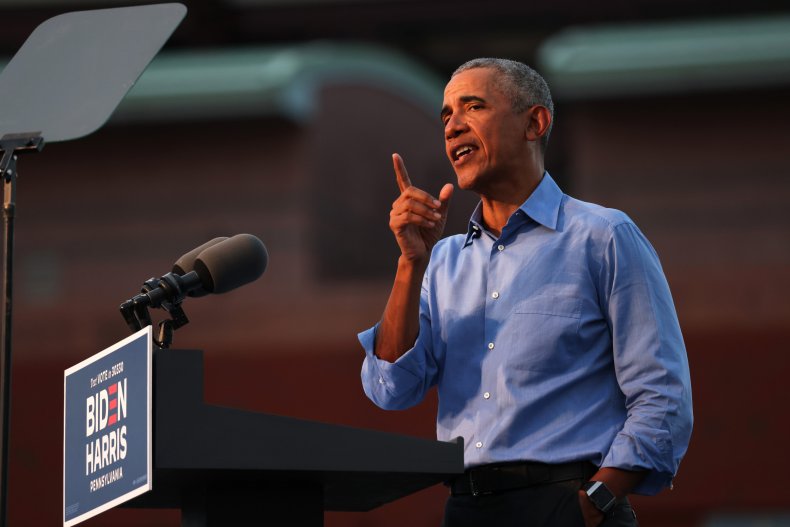 The former president brought this up in his speech, saying: "A secret Chinese bank account. Listen. Can imagine if I had had a secret Chinese bank account when I was running for reelection?
"You think Fox News might have been a little concerned about that? They would have called me 'Beijing Barry.'"
The "Beijing Barry" nickname joke stuck and is being used by both Democrats and Republicans alike on Twitter.
Obama's fiery attack on Trump also had Twitter users comparing his speech to Nas' infamous diss track attacking Jay-Z.
Twitter user @jasondotgov shared a video of Obama's speech layered over Nas' song "Ether," which is widely considered to be the best hip-hop diss track of all time, and said: "I've been waiting for this clap back for four years."
The Obama version of the diss features digs at Trump's promise of a healthcare plan better than Obamacare, his dealings with China and his Chinese bank account, saying at one point: "it is not a great idea to have a president who owes a bunch of money to people overseas—that's not a good idea," and suggests that Trump may have paid more in taxes to foreign governments than the U.S.
Obama's speech also struck a chord with many viewers, who are now using snippets from the rally to express how they feel toward Trump and his administration.
Twitter user Acyn Torabi said: "me for the past years" and attached a clip of Obama saying: "Why would we expect and accept this from the president of the United States and why are folks making excuses for that? 'Oh, that's just him.' No, no, there are consequences."
Torabi also shared a video, that has more than 50,000 views, of a dumbfounded Obama expressing his confusion at Trump's retweeting of a conspiracy theory. In the clip, Obama said: "Think about that. The president of the United States retweeted that Imagine. What? What?"
Obama's speech was his first live appearance in support of Biden's presidential campaign. Ahead of November 3, Obama is encouraging eligible voters to cast their ballots in what he has called the "most important election of our lifetimes."