What Did Barack Obama Say During His Top Secret Boston Conference Appearance?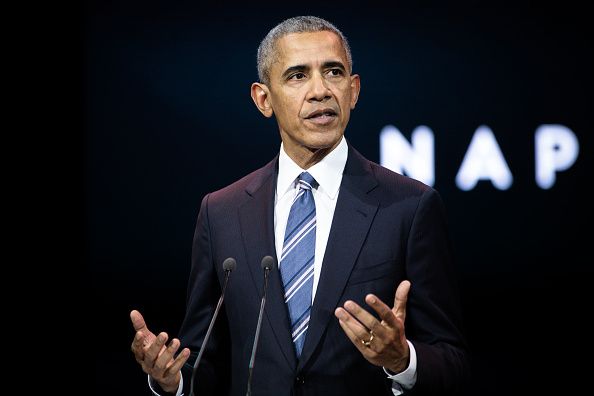 Former President Barack Obama discussed basketball at a secret appearance in Boston on Friday at the MIT Sloan Sports Analytics Conference, but the top-secret event shocked many journalists because they were threatened to be removed from the discussion for reporting on the conference.
MIT organizers at the event said they would remove and ban reporters for tweeting or reporting on the event, the Boston Herald reported.
"During President Obama's panel the following will not be permitted, without exception: photography, video recording, streaming, and social media posting—including the use of Twitter, Facebook, Instagram, Snapchat, and other platforms," read the warning from MIT conference organizers. "Following the panel, the sharing or reporting of its contents on public platforms, including news outlets and social media, will not be permitted. This policy applies to all attendees, credentialed media included."
During the talk, Obama mostly talked about basketball and did not mention politics or President Donald Trump. Reporters were granted access to the event weeks prior to the conference but did not know about the new rules until a day before the event.
MIT conference officials also threatened reporters "who fail to adhere to this policy will be subject to removal from the conference and denied tickets to future SSAC conferences."
"Everyone involved in this blanket coverage ban should be embarrassed," Ken Paulson, president of the First Amendment Center at the Newseum in Washington, D.C. told the Boston Herald. "I'm sure President Obama has his pick of lucrative speaking gigs. Why pick one that's the antithesis of transparency?"
University officials and other reporters in different parts of the U.S. slammed MIT for not allowing reporters to do their jobs during the conference.
"That @MIT is hosting a talk by Obama that prohibits photography, video streaming, and social media-posting during the event — and reporting of it after! — is absurd. Not the business a university should be in," tweeted Jay Rosen.
"Former presidents should be on the record when they're speaking at universities," tweeted Mike Madden.
Obama's administration has been called the "most transparent administration in history." In 2007, he said he would "take the blinders" off of the White House in an effort to keep the public informed.