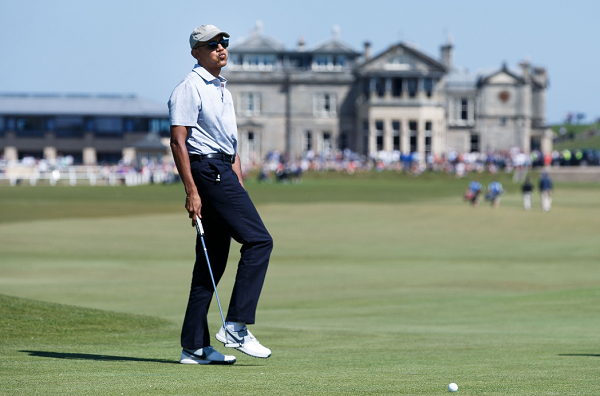 It's 196 days since President Barack Obama left the White House (but who's counting?) and became a public citizen. On Friday, he'll celebrate his first birthday since leaving office.
Plenty of Americans will probably spend Obama's birthday reminiscing about the good old days when he was doing the people's work—like establishing the Affordable Care Act, taking action to save the environment by signing the Paris Agreement and creating 11.3 million new jobs that caused the unemployment rate to drop to 4.6 percent, the lowest rate in almost a decade. As for the newly 56-year-old, he'll be enjoying life far away from Capitol Hill, and spending the weekend with his family, former first lady Michelle Obama and their daughters Malia and Sasha Obama, in Martha's Vineyard, according to Martha's Vineyard Times.
"They're coming in this weekend," Ann Crook, general manager of the Martha's Vineyard Airport, told the news site Tuesday. "I can't get any more specific than that."
It's not all that surprising that Obama would spend his birthday weekend relaxing on Martha's Vineyard instead of celebrating in Washington D.C., where he still lives. The 44th president has been making the most of his time as an everyday citizen since handing the key to the Oval Office over to President Donald Trump and has been on a few getaways.
However, he's been doing a lot more than just taking selfies with babies at Alaskan airports. Take a look of some of the thing's Obama's been up to since leaving the White House in the list below:
Working with the Obama Foundation: Built upon many of the same principals as his presidency, Obama and his wife started clocking more hours for the nonprofit corporation, established in 2014, aimed at developing the future leaders and active citizens that will one day impact the world.
Encouraging Americans to stand up for their rights: Although he's no longer in the business of politics, Obama hasn't refrained from commenting on the current political playing field. When Trump signed an executive order imposing a travel ban on folks from seven Muslim-majority counties and preventing Syrian refugees from entering the country indefinitely, Obama was among several leaders advocating for citizens to fight for their rights and protest. In a statement released just 10 days after he left office, Obama encouraged Americans to protest: "Citizens exercising their constitutional right to assemble, organize and have their voices heard by their elected officials is exactly what we expect to see when American values are at stake."
Kitesurfing with Sir Richard Branson: Obama said when his presidency ended he was going to go on a "very nice vacation." And that he did. Following Trump's inauguration, Obama and the former first lady hopped on a plane and headed off to Southern California, after which he visited Branson's luxurious Necker Island. He even participated in a sporting challenge to see which one of them could master their respective sport—Obama in kitesurfing or Branson in foilboarding; The former Illinois Senator won.
Playing golf in Hawaii: Obama surprised Hawaiians when he popped up in his home state unannounced back in March. He enjoyed some of his favorite things while traveling the island of Oahu, like playing golf and eating (twice) at his favorite Hawaiian restaurant, Buzz's Steakhouse. Just the day before he landed in Hawaii, Obama was spotted in Omaha, Nebraska, where he appeared at a charity event alongside billionaire investor, Warren Buffett.
Landing a book deal: According to the Financial Times, both Barack Obama and Michelle Obama signed a joint book deal for an impressive $65 million. They are reportedly penning their own individual memoirs to be published by Penguin Random House. No release date has been given as of yet, however, the books are rumored to hit shelves sometime in 2018.
Drinking wine in Tuscany with his wife: In the month of May, Obama traveled around the globe on official Obama Foundation business. He met with Germany's Chancellor Angela Merkel in Berlin, Prince Harry and Prime Minister David Cameron in England and he spoke at a charity event in Edinburgh, Scotland, where he also managed to squeeze in a few rounds of golf. In between his public events, Obama spent some quality time with Michelle Obama in Italy, where they were spotted wine tasting and dining at the famous Osteria Francescana.
Not speaking to Trump: Although Obama and Trump spoke following Trump's presidential win, in the four months after taking office, Trump and Obama hadn't communicated at all. In an interview with the Washington Times back in May, Trump said that he hadn't spoken to his predecessor since the inauguration. While other former presidents formed a brotherly bond with their predecessors, like the 42nd President Bill Clinton and his successor George Bush, Trump and Obama had not. However, he acknowledged the role he may have played in the lack of relationship, telling the news site: "I wouldn't say I've been exactly great to him either. It's too bad, but I'm not totally surprised."
Vacationing in Indonesia: It had been many years since Obama traveled to the archipelago where he lived for four years of his childhood, and in July, he finally got a chance to visit for the first time since he left in 1971. Obama vacationed in Indonesia with all of his family. Aside from white water rafting and visiting a number of Indonesia's most coveted landmarks, Obama also spoke to the Indonesia Diaspora Network Global during the 4th Indonesian Diaspora Congress.