Barack Obama Blames Trump for Mob at Capitol, Says 'Violent Crescendo' Not Surprising
Former President Barack Obama says that the "violent crescendo" of President Donald Trump's supporters rioting at the U.S. Capitol on Wednesday should not be seen as a "total surprise."
Obama issued a statement denouncing the violence hours after a mob of Trump supporters assaulted police and stormed into the Capitol building. Trump's predecessor accused the president of "inciting" the violence by spreading false claims that President-elect Joe Biden benefited from massive voter fraud, while also condemning Republicans and pro-Trump media for promoting a false narrative that may have encouraged the violence.
"History will rightly remember today's violence at the Capitol, incited by a sitting president who has continued to baselessly lie about the outcome of a lawful election, as a moment of great dishonor and shame for our nation," Obama said. "But we'd be kidding ourselves if we treated it as a total surprise."
"For two months now, a political party and its accompanying media ecosystem has too often been unwilling to tell their followers the truth – that this was not a particularly close election and that President-Elect Biden will be inaugurated on January 20," he continued. "Their fantasy narrative has spiraled further and further from reality, and it builds upon years of sown resentments. Now we're seeing the consequences, whipped into a violent crescendo."
The Capitol building was cleared of rioters hours after being breached. The incident began when Congress met to officially certify Biden's victory. After the incident took place, multiple Republicans who had planned to object to the certification reversed course and said they would vote to recognize the president-elect's win.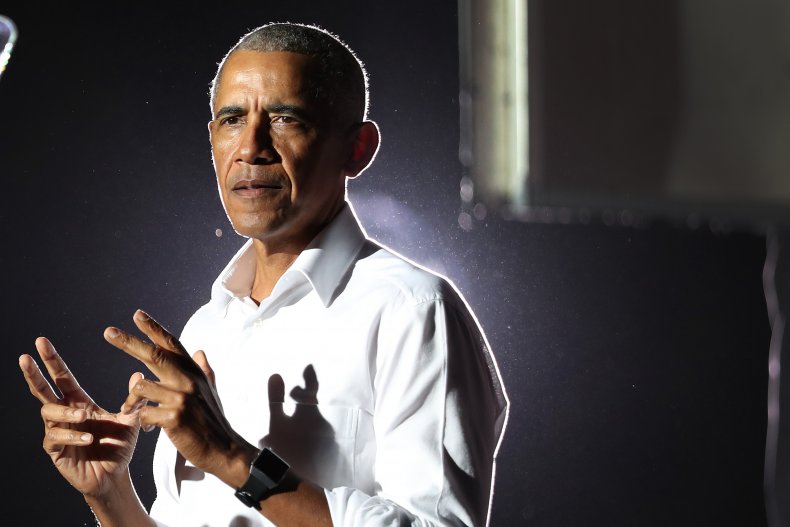 Obama praised those who condemned the violence, saying he was "heartened to see many members of the President's party speak up forcefully today." He added that GOP leaders now have a choice to either "continue down this road and keep stoking the raging fires" or to "choose reality and take the first steps toward extinguishing the flames."
Trump himself has not appeared eager to calm divisions, calling the rioters "great patriots" while urging them to "go home" but "remember this day forever" while continuing to claim the election was "stolen" in tweets that were later deleted by Twitter.
Biden won the election by 306 votes to 232 votes in the Electoral College, the same advantage that Trump had over former Secretary of State Hillary Clinton in the 2016 election. He also received 7 million more votes than Trump in the national popular vote.
Despite Biden's clear win, the president and some of his supporters have continued to claim without evidence that Trump really won in a "landslide" due to massive voter fraud. There is no credible evidence of massive fraud that would overturn results in even one state.
Newsweek reached out to the White House for comment.