Obama Book Coming Post-Election Saves Former President Overshadowing Biden
Barack Obama's upcoming book, A Promised Land, will be released after the US election, preventing the highly-anticipated release from overshadowing his former Vice President Joe Biden's run for the White House.
The 768-page book, the first of two volumes from the former president's upcoming memoir, will be available to purchase November 17—two weeks after voters head to the polls on November 3.
Obama has thrown himself into backing Biden of late and the release date appears to be "carefully orchestrated," Thomas Gift, a political science professor and founding director of the Centre on U.S. Politics at University College London, told Newsweek.
"The timing of the book's release seems carefully orchestrated not to distract from Biden's candidacy. Obama is an important asset to Biden's campaign, but there's also a flip side to his enormous popularity within the Democratic Party—the possibility of overshadowing his former VP," he said.
"By delaying the book's publication until after November 3, Obama will ensure that the attention stays rightly focused on Biden during his crucial political moment."
David Maraniss, author of Barack Obama: The Story, agreed the date appears to be chosen with the election in mind.
"It is tactical in two ways, one political one, purposely not wanting to distract from the Biden campaign. Second, marketing strategy," he told Newsweek.
"Even though Obama's book will be a huge bestseller whenever it comes out, there is still a sense that it will have a cleaner shot at public attention if it comes out after the campaign. Although in this new Trumpworld where everything seems upside down, who knows."
The New York Times reported that an Obama spokeswoman said there had been no consideration of pre-election publication due to the former president wanting to focus on backing Biden.
Newsweek has contacted Obama's office and the Biden campaign for comment.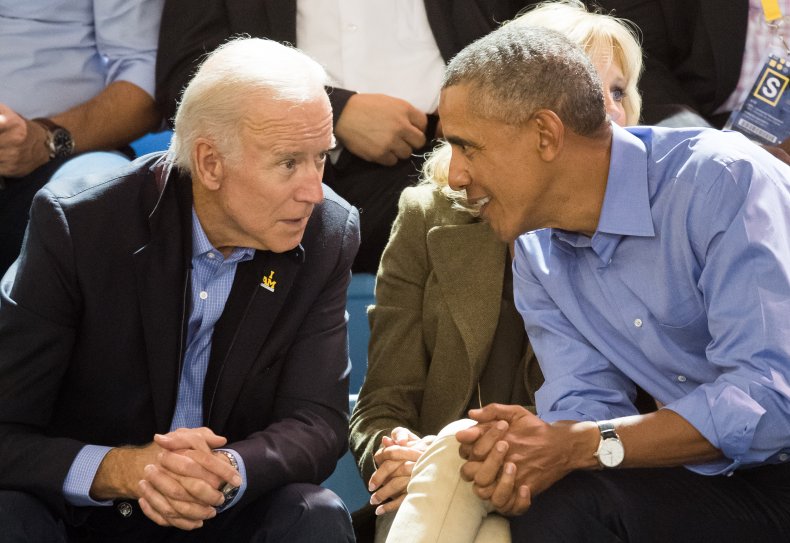 Having previously refrained from many pointed attacks upon the president in the past, Obama has targeted Trump several times of late, including a damning critique of his presidency issued during his speech at the Democratic National Convention.
According to YouGov ratings data, Obama remains more popular than both Biden and Trump.
Its tracker, compiled using interviews from August 2019 to August 2020, showed 55 percent of those asked have a positive opinion of Obama.
This compares with 40 percent for Biden and 38 percent for Trump.
He also fairs best in terms of negative opinion. Around a third, 33 percent, had a negative opinion of Obama, compared to 39 percent for Biden and 52 percent for Trump.
Obama's ratings were based off 7,615 interviews, Biden's 7,692 and Trump's 7,636.
As reported by Newsweek, this popularity could potentially energize Democratic voters ahead of November's vote.
Tim Miller, political director for Republican Voters Against Trump, previously told Newsweek: "Polls show Obama is more popular than Trump or Biden.
"So while that might not be totally transferable as we saw in 2016, it is still a net plus to have him out there."
Obama Book Coming Post-Election Saves Former President Overshadowing Biden | Politics