Barack Obama Calls Donald Trump's Attempts to Restrict Census 'Disturbing'
Former Democratic President Barack Obama has called Republican President Donald Trump's effort to interfere with the 2020 Census "disturbing" and said that the Republican efforts to restrict voter access are based on a belief that "democracy is for some people and not everybody."
Obama made his comments while speaking alongside former U.S. Attorney General Eric Holder during a live-streamed event for All on the Line, a campaign to fight gerrymandering and restore fairness in U.S. democracy.
In the nearly hour-long event, Obama referenced comments tweeted on Wednesday by Republican Utah Senator Mike Lee who wrote that "democracy isn't the objective" of America's political system. Lee also wrote that Democracy can thwart "liberty, peace, and prospefity," misspelling the word "prosperity."
Obama said that Lee was "indicating a spirit that we've been seeing in one of our major political parties," meaning the Republican party. Generally speaking, the party has been the major force behind pushes for increased voter ID laws, the decrease of polling places and opposition to mail-in voting.
While Obama urged viewers to vote, assist with get-out-the-vote efforts and participate in the 2020 Census, he added, "We're gonna have a lot of work to do post-election to sustain our efforts to ensure nonpartisan districting, fair districting, voter protections, ballot access we create a system that everybody should want."
"This shouldn't be a partisan issue, by the way," Obama said. "It has become a partisan issue, only because you've got one major party in this country that has made no bones about the fact that they want to make it harder for some people to vote and they want to dilute the impact of some people's votes. And they say it explicitly and they act on it explicitly across the country."
"And frankly," he continued, "we right now have a president and a Senate Majority Leader [Republican Mitch McConnell of Kentucky] who have said as much and we've got a bunch of folks at the state level who are saying the same."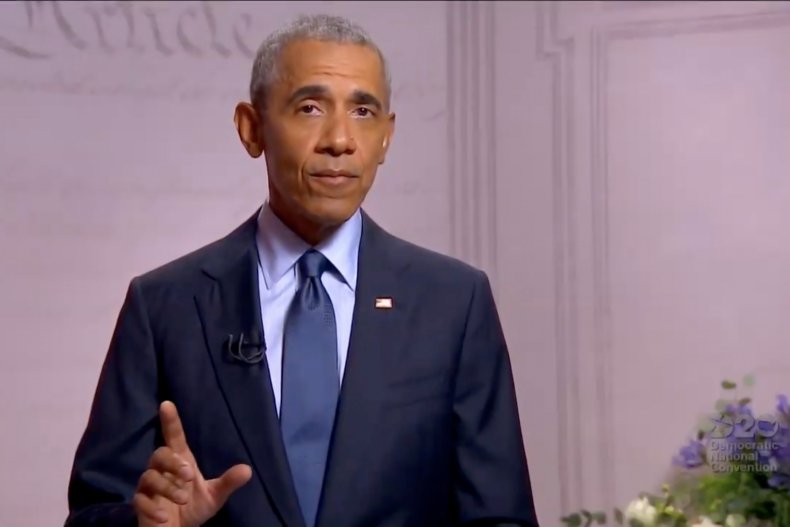 "Frankly, and disturbingly," Obama said later on, referring to the 2020 Census, "we have a president and an administration that seems to be doing it's best not to count people who need to be counted, but who they prefer not being counted, particularly people of color, and lower-income folks."
In 2019, Trump tried to add a question about U.S. citizenship to the Census which experts said would have discouraged undocumented immigrants from responding, even though the Census is supposed to count everyone residing in the country and not just citizens.
On Wednesday, the Trump administration also asked the Supreme Court to allow it to cut short the time to conduct the Census, something that could ensure that millions of citizens, particularly in Democratic-learning urban areas, remain uncounted, depriving those areas of millions in population-dependent government funding.
During the question-and-answer segment of the live-stream, Obama urged voters to pay attention to local and state elections—state representatives, state senators, governors and secretaries of state—since redistricting maps and election policies are determined on the state level. Obama also mentioned that attorneys general ensure that police are held accountable for misconduct, if police reform is important to voters.
He also advocated for grassroots initiatives to get non-partisan districting boards of unbiased professionals drawing objective and non-biased maps.
"There's a reason why folks try to suppress the vote," Obama said. "Even if you're cynical about your own power and voting, think about it: Why would folks go to so much trouble to make it hard for you to vote if it weren't for the fact that they knew if you did vote, things would change?"
Newsweek reached out to the Republican National Committee for comment.