Barack Obama Commends 'Powerful and Transformative' Urgency for Change Seen During Protests After George Floyd's Death
Former President Barack Obama addressed the death of George Floyd and the days of protests that have followed during a town hall event Wednesday evening.
The event, called "Reimagining Policing in the Wake of Continued Police Violence," was organized by My Brother's Keeper (MBK) and also featured appearances by former Attorney General Eric Holder, Minneapolis City Council Member Phillipe Cunningham, a former member of the 21st Century Policing Task Force Obama launched while in office, the executive director of Color of Change and a MBK youth leader from Columbus, Ohio.
Obama opened his address by recognizing the families of Floyd, Ahmaud Arbery, Breonna Taylor and the families of others who have lost their lives due to violence against black Americans in recent days.
"To those families who have been directly affected by tragedy, please know that Michelle and I and the nation grieve with you, hold you in our prayers," Obama said. "We're committed to the fight of creating a more just nation in memory of your sons and daughters."
Floyd died while in police custody on May 25 in Minneapolis, Minnesota. In video shared to social media, Floyd could be heard saying, "I can't breathe" as one Minneapolis police officer placed his knee on Floyd's neck. The incident sparked a wave of protests that have traveled throughout the country, resulting in curfews and National Guard deployments in many cities as some interactions between protesters and police grew violent.
In his remarks, Obama said Floyd's death and others like it are the result of larger problems within American society.
"They are the outcomes not just of the immediate moments in time, but they're the result of a long history of slavery and Jim Crow and redlining and institutionalized racism that too often have been the plague, the original sin, of our society," he said.
"In some ways, as tragic as these past few weeks have been, as difficult and scary and uncertain as they've been, they've also been an incredible opportunity for people to be awakened to some of these underlying trends," Obama continued.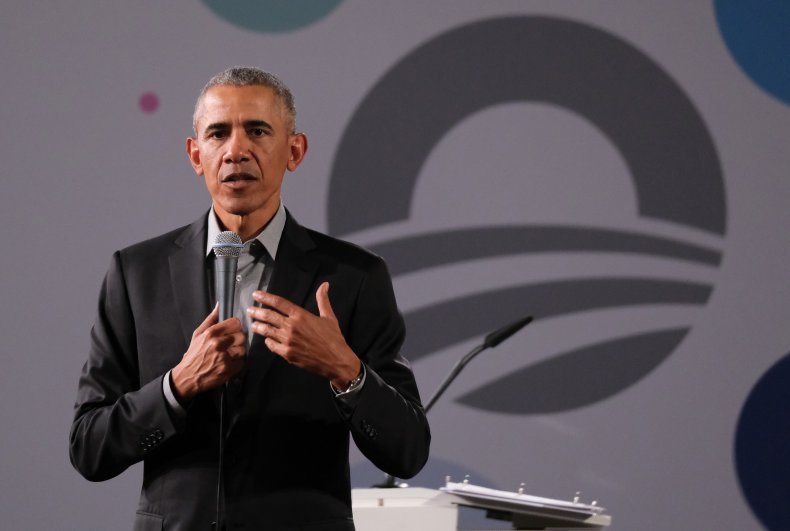 Speaking directly to the black American community, Obama said the engagement of young citizens in discussions about race in the U.S. gave him hope.
"You should be able to learn and make mistakes and live a life of joy without having to worry about what's going to happen when you walk to the store or go for a jog or are driving down the street or are looking at some birds in a park," he said. "I hope that you also feel hopeful, even as you feel angry. Because you have the power to make things better, and you have helped to make the entire country feel as if this is something that's got to change.
"You've communicated a sense of urgency that is as powerful and transformative as anything I've seen in recent years," he said.
Though Wednesday's town hall event marked the first time Obama discussed Floyd's death and the resulting protests on camera, the former president shared an initial response to the events on social media last week and published additional comments Monday on Medium.
"This shouldn't be 'normal' in 2020 America," Obama said in a statement last week. "It can't be 'normal.' If we want our children to grow up in a nation that lives up to its highest ideals, we can and must be better."
Obama added it is up to officials in Minnesota to carry out investigations into Floyd's death, but in his Medium post he reminded citizens of the importance of local leaders in changing trends in policing and other social issues. Demonstrating in support of change was important, Obama wrote, but so was voting.
"We have to mobilize to raise awareness, and we have to organize and cast our ballots to make sure that we elect candidates who will act on reform," he wrote.
On Tuesday, former President George W. Bush also released a statement about Floyd's death in which he acknowledged the "systemic racism" in the U.S. and called the bigotry that exists in the country "stains on our character."
"Many doubt the justice of our country, and with good reason," Bush wrote. "Black people see the repeated violation of their rights without an urgent and adequate response from American institutions."
While both former presidents applauded peaceful demonstration efforts and warned that neither looting nor violence would deliver desired solutions, President Donald Trump took a stronger stance against rioters during a meeting with governors earlier this week.
"They're terrorists," Trump told the state leaders, who he later called "weak" for what he said was their inability to respond adequately to episodes of violence during the protests. "You have to arrest those people and you have to try them."
According to a tracker that gauges the president's approval ratings, Trump's disapproval rating on Wednesday reached its highest point since discussions surrounding his impeachment were heating up in mid-November. Recent polling also indicated voters are more likely to vote for former Vice President Joe Biden in light of Floyd's death and the resulting protests.
The White House did not respond to Newsweek's request for comment in time for publication.