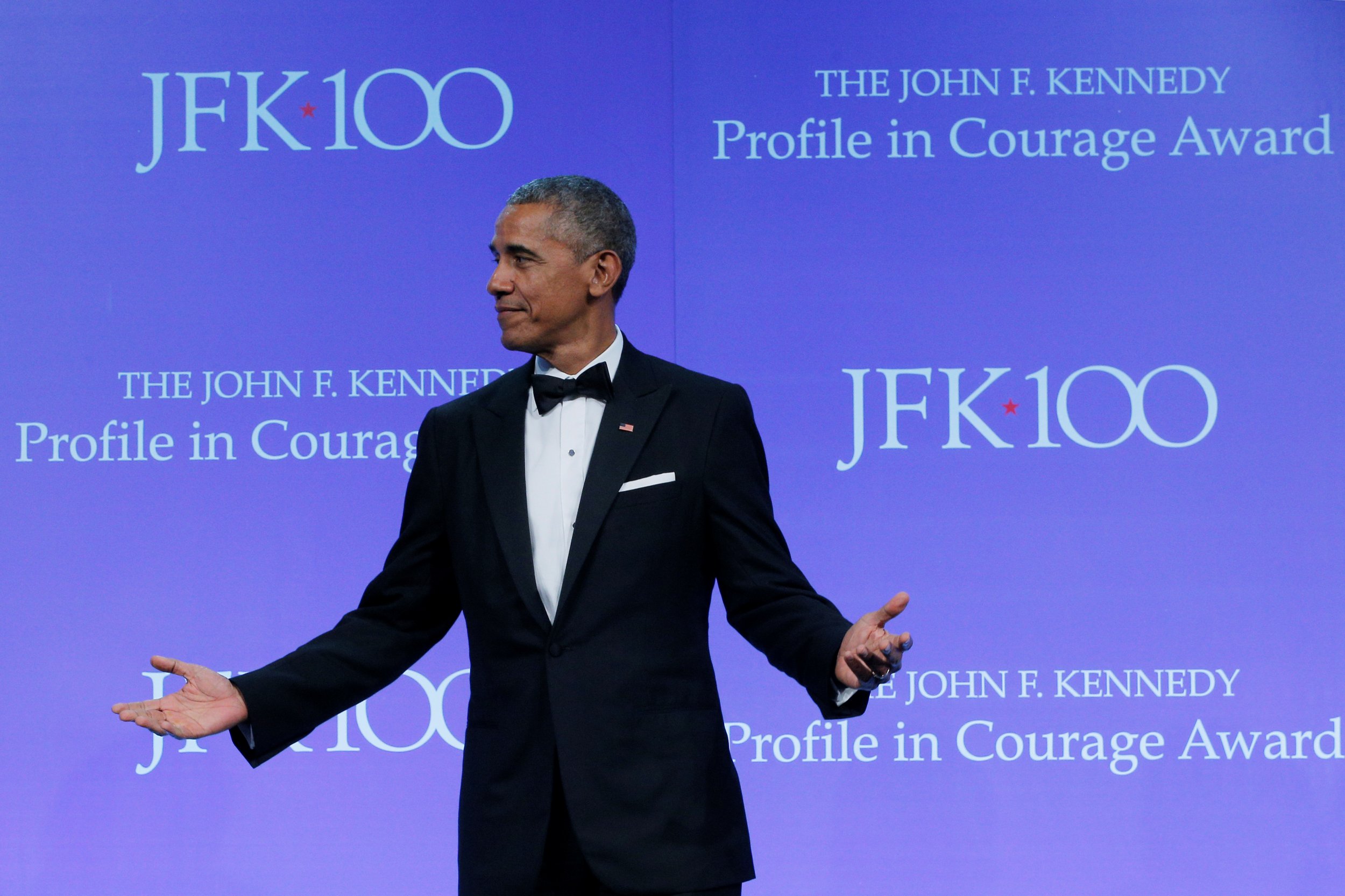 Former President Barack Obama has criticized a majority of Republicans for lacking the courage to protect vulnerable Americans after the House voted to replace Obamacare on Thursday.
"I hope that current members of Congress recall that it actually doesn't take a lot of courage to aid those who are already powerful, already comfortable, already influential," Obama said as he accepted the Profile in Courage Award at the John F. Kennedy Library on Sunday. "But it does require some courage to champion the vulnerable and the sick and the infirm," he added.
Obama highlighted that 20 million people got health insurance because of his Affordable Care Act (ACA) currently being dismantled by Republicans.
Last Thursday the House voted 217-213 to repeal large parts of the ACA by passing a new bill known as the American Health Care Act (AHCA). All 193 House Democrats and 20 Republicans voted against it.
Related: Why did 20 Republicans vote against the American Health Care Act?
The latest version of the Republican bill is set to be evaluated by the Congressional Budget Office (CBO) early this week before it goes to the Senate. Initial estimates show it will deliver a $880 billion tax cut over the next decade, with at least $274 billion going into the pockets of the richest 2 percent of Americans.
That $880 billion tax cut will come out of Medicaid, a government program to give health insurance coverage to low-income and older Americans. The CBO estimated the cuts to Medicaid will leave 14 million more people uninsured by 2018.
President Donald Trump argued over the weekend that Obamacare is failing. "ObamaCare premiums and deductibles are way up," he said on Twitter Sunday. Insurance premiums have increased an average of 25 percent over 2016 across the 50 U.S. states. However, in its March report, the CBO said the market will stabilize after those increases.
Read more: Republican health care bill will kill people, says Bernie Sanders
Of the 20 Republicans also voted against the AHCA, several opposed the bill because it would open the door for insurers to discriminate against people with pre-existing conditions like cancer or depression.
Obama said that he hopes "today's members of Congress, regardless of party, are willing to look at the facts." While the Democrats' health care plan is being dismantled, "this great debate is not settled, but continues," he said.
Obama's health care plan received fierce opposition from Republicans before and after it passed in 2010, with many criticizing it as government intervention in the free-market and because it forces people to pay into insurance. On Sunday Obama acknowledged that passing the bill cost many Democratic Congressmen and women their political careers after they arrived in Washington for the first time in 2008.
"They had a chance to insure millions and prevent untold worry and suffering, and bankruptcy, and even death," he said, adding they knew "that this same vote would likely cost them their new seats, and perhaps end their political careers."
"These men and women did the right thing. They did the hard thing," Obama said. "Theirs was a profile in courage."