Trumpcare? Barack Obama Says He told Donald Trump to Rename Obamacare and Take Credit For It: Report
Former President Barack Obama reportedly said Thursday that he suggested to then-incoming President Donald Trump to rename Obamacare and take credit for the past and future success it would have, rather than repealing it.
"I said to the incoming president, 'Just change the name and claim that you made these wonderful changes and I would be like, "You go,'" Obama told donors Thursday at a fundraiser Democratic National Committee event in Los Angeles, according to CNN. "Because I didn't have pride of authorship, I just wanted people to have health care."
Obama said at an event back in 2016 that Republicans could "even change the name of the law to Reagancare. Or they can call it Paul Ryancare," he said. "I don't care about credit. I just want it to work."
Obama added on Thursday that he tried to tell Trump before he took office that despite controlling both houses of Congress and the White House, he could not repeal Obamacare "because we had actually thought it through and it's a hard thing to do."
When Obama left office at the beginning of 2017, the health care law's favorability rating was up from past years, at 48 percent. The popularity has continued to rise since, with its unfavorability now at 42 percent, according to a Kaiser Family Foundation poll from May.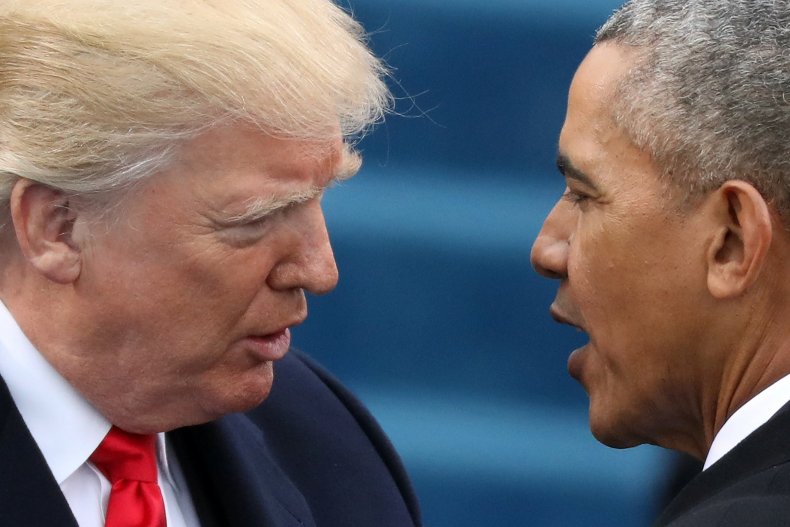 Specific components within Obamacare that were viewed as overwhelmingly favorable in the past continue to be so now.
When asked this month about keeping the provisions that require insurance companies to accept pre-existing conditions and prohibits them from charging more for sick people, more than 70 percent of respondents said it was "very important" to them. Shortly after taking office, a large majority of voters wanted Trump to fix Obamacare instead of repealing it.
Obama's idea that the name could be changed and the policy still be celebrated may have some merit. More than one-third of Americans did not know that Obamacare was just another name for the Affordable Care Act in February 2017, according to a poll published by The New York Times.
But Trump did not take his predecessor's advice.
Instead, he celebrated the repeal of the individual mandate, which required the purchase of health insurance in order to avoid paying a penalty, included in December's congressional tax package. Prior to that, Newsweek found at least 70 Republican-led attempts to repeal, modify or otherwise stop the Affordable Care Act since its beginning on March 23, 2010.
Trump said the repeal of the individual mandate "essentially repealed Obamacare because we got rid of the individual mandate ... and that was a primary source of funding of Obamacare." PolitiFact rated that claim "False" because while the repeal of the mandate was "disruptive," it was not "terminal."
The nonpartisan Congressional Budget Office estimated that by doing away with the individual mandate, it would result in higher premiums and millions fewer people with health insurance but would slightly reduce the deficit.
Obama reiterated Thursday that he did not take up the issue of health care because he wanted to preserve his legacy or receive credit.
"The idea that I somehow took on health care just because I thought it was fun or it would somehow burnish my legacy is nuts," he said. "Because we knew going [into] 2008 that every president since Teddy Roosevelt had failed to do what every other advanced democracy in the world has done."