Barack Obama Throws Shade at Donald Trump: 'Unlike Some, I Actually Try to State Facts'
Former President Barack launched a thinly veiled attack on his successor, Donald Trump, Monday, stating that "unlike some, I actually try to state facts." Obama, who did not mention Trump by name, was speaking at a rally in Las Vegas for Senate candidate Jacky Rosen and other Democratic candidates from Nevada.
Obama stayed largely silent on politics in the months following his exit from office in January 2017. But ahead of all-important midterm elections next month, the Democrat has jumped back into the political arena as his party attempts to win back at least one chamber of Congress and apply some checks to the Trump presidency.
At one point during Monday's rally, Obama took an almost direct shot for Trump's much-criticized habit of uttering misleading or outright false information.
"Unlike some, I actually try to state facts. I believe in facts," Obama said. "I believe in a fact-based reality and a fact-based politics. I don't believe in just making stuff up. I think you should, like, actually say to people what's true. So here's what's true: They handed out $1.5 trillion in tax cuts aimed at billionaires and corporations. It was not done for you. They didn't even pretend to pay for it."
As of last month, Trump had uttered more than 5,000 false or misleading statements, according to a Washington Post count, with the rate of those statements continuing to increase.
Infamously, on the very first day of the Trump administration, then–press secretary Sean Spicer falsely claimed that Trump's inauguration was the best attended of any in history. Responding to the controversy, White House counselor Kellyanne Conway called the Trump administration's interpretation "alternative facts."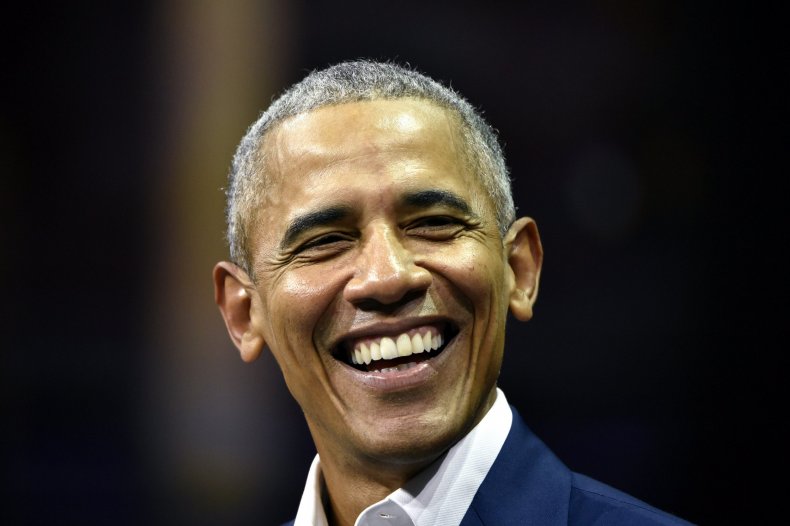 Democrats are favored to gain control of the House of Representatives in the midterms but Republicans look set to maintain their narrow edge in the Senate. Obama claimed that there was no excuse for voters to remain home on November 6.
"This November's elections are more important than any I can remember in my lifetime, and that includes when I was on the ballot," said Obama, who claimed victory in the 2008 election and won re-election four years later. "The consequences of you staying home would be profoundly dangerous to this country, to our democracy."
Rosen is trying to unseat Republican Senator Dean Heller, who criticized Trump during the 2016 campaign but has since firmly aligned himself with the president amid the threat of losing his seat.
"He doesn't seem to be willing to stand up to this," Obama said of Heller. "He goes along, even though you might get a sense he knows it's not right. He goes along."