Barack Obama Offers Apparent Rebuke of Trump, Slams Detached Wealthy Elites and Rise of 'Strongman Politics'
In one of his most high-profile speeches since leaving the Oval Office, former President Barack Obama publicly criticized wealthy elites and the rise of "strongman politics" in the age of President Donald Trump.
"The politics of fear and resentment and retrenchment began to appear. And that kind of politics is now on the move. It's on the move at a pace that would have seemed unimaginable just a few years ago," he told the crowd of around 15,000 people in South Africa gathered for the annual Nelson Mandela Lecture. "I am not being alarmist, I'm simply stating the facts."
Without ever mentioning Trump by name, Obama added that populist movements were on the rise in the United States and abroad because they are "cynically funded by right-wing billionaires" as wealthy elites in power seek to "undermine institutions that give democracy meaning."
The 44th president further slammed "titans of industry and finance" by stating that they are "increasingly detached from any single locale or nation-state" and ultimately lead lives completely isolated from their fellow countrymen.
As a result, he said, these leaders take action without a basic, ground-level understanding of the consequences that might be felt from, for example, minimizing their tax bills or taking advantage of lower immigrant labor costs.
"From their boardrooms or retreats, global decision-makers don't get a chance to see sometimes the pain in the faces of laid-off workers. Their kids don't suffer when cuts in public education and healthcare result as a consequence of a reduced tax base because of tax avoidance," Obama added.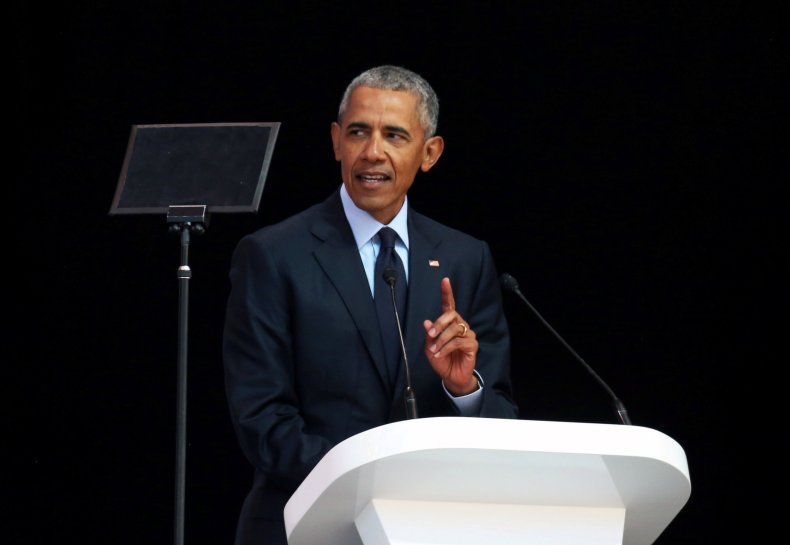 As well as offering criticism of CEOs of multinational companies, Obama's comments appear to be another subtle rebuke of Trump, the real estate billionaire who ascended to the presidency by touting that he would "make America great again" by reinvesting in policies that would benefit the working middle class.
But the president's 2017 tax bill didn't quite alleviate the financial burdens of the middle class, and instead will disproportionately benefit large corporations and wealthier taxpayers.
In recent weeks Trump has launched a trade war with major U.S. trading partners like China, Canada, and Mexico that has been speculated to do even more damage to American farmers and manufacturers.
On top of neglecting to keep his promise to the American middle class who served as the voter base for his 2016 presidential election win, Trump has been accused of hypocrisy over his immigration stance. While he has railed against immigration, his Florida Mar-a-Lago resort has requested permission to hire upwards of 80 foreign workers for the hotel's winter season.
Obama has remained largely silent on the Trump administration's policies, but took the opportunity during Tuesday's speech to criticize his successor's blind eye when it comes to the realities of working people, mostly because financial elites will never feel the "discomfort and displacement" that their fellow citizens do.
Other criticisms of Trump focused on his handling of foreign policy. Obama reminded the crowd of China and Russia's penchant for going on the defensive when it comes to their human rights records. He celebrated the success of organizations like NATO and the United Nations and noted that if issues like climate change and mass migration are going to be solved it will be through increased international cooperation, not less—another apparent jab to Trump's "America first" agenda.
To conclude the lecture, which celebrated what would have been the 100th birthday of the former South African president, Obama quoted the anti-apartheid leader.
"No one is born hating another person because of the color of his skin, or his background, or his religion. People must learn to hate, and if they can learn to hate, they can be taught to love, for love comes more naturally to the human heart than its opposite," Obama said.
Obama famously tweeted the same quote in response to the Charlottesville riots of 2017. The social media post became the most liked tweet in Twitter's history.