Barack Obama Has Kind Words for a Teen Who Registered People to Vote While They Waited for a Popeye's Chicken Sandwich
Former president Barack Obama had some kind words for a teenager who took advantage of the long lines for the new Popeye's chicken sandwich to make sure people are registered to vote. Obama praised David Ledbetter, 17, and his initiative in getting people involved in democracy.
This weekend, Ledbetter, despite being not old enough to vote yet himself, used the long lines for the new Popeye's sandwich to register his fellow citizens to vote.
"I decided to register people to vote after I saw there was a lack of young people politically involved," he told WCNC. "I believe that it is our duty to vote as American citizens and it would be wrong not to exercise our political voice."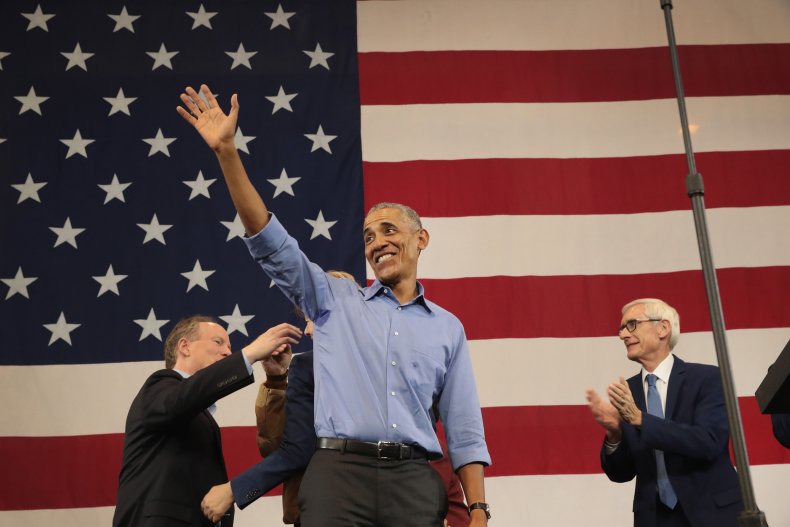 Ledbetter handed out voter registration forms and sample ballots to get people engaged in the political process. Though he said that many of the people in line were already registered to vote, he was still able to register 16 people on Saturday alone.
"I'm real big on especially young people going out and getting involved in local politics," Ledbetter told Business Insider. "I think that's the best way to engage in the community."
His efforts were appreciated by the folks in line, too.
"Wrapped around a fast food building, what about being wrapped around your country and knowing who's running it," one Popeyes customer told the station.
Photos of the impromptu registration drive went viral on Instagram, and the story was widely reported. So widely, in fact, that it eventually came before the eyes of Barack Obama.
In a tweet Wednesday afternoon, Obama wrote, "Saw this story of a young person doing great work and wanted to share it—keep it up, David! That's some creative organizing."
Just like the original story, Obama's comment also went viral, with over 3,000 retweets and just shy of 20,000 likes. Many people commented to praise both Obama and Ledbetter.
"Thank you Mr. President@BarackObama for always inspiring young people to get involved in their communities if they want change. Congratulations David Ledbetter! #TheYoungPeopleWillWin," @PatriotsGirlUSA tweeted.
Though Ledbetter hasn't weighed in yet on getting praised by the former president, his activism is not limited to this one incident. In addition to taking the initiative to register people to vote, he is also the cofounder of Imagine This. According to Teen Vogue, Imagine This helps high school students get ready for college and the working world.
The Popeye's registration drive also involved local Charlotte, North Carolina school board candidate Stephanie Sneed, and two other volunteers for her campaign.