What Is Barack Obama Doing Now? Former President Plays Golf in Hawaii with Minimal Security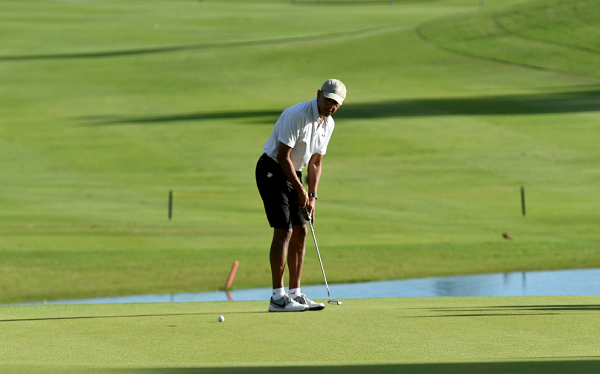 Former President Barack Obama surprised Hawaii residents when he popped up in the islands unannounced with minimal security.
Obama, who grew up in Hawaii, arrived in Oahu Monday night, according to reports. The 44th U.S. president was seen at Buzz's Steakhouse in Kailua, a restaurant Obama is known to frequent when in Hawaii. Just three months ago when the former president and his family were in Hawaii celebrating the Christmas season, Obama reportedly dined at Buzz's twice.
The former president made time for a few rounds of golf Tuesday at the Mid Pacific Country Club, where he has played on previous visits to Hawaii. The country club's Director of Golf Mark Sousa told local media Obama's latest visit was unlike any previous trip, noting the lack of security personnel.
"It's totally different from last year," Sousa said to Hawaii News Now. "We had about 34 golf carts that we gave to the Secret Service last year and the years before. This year they only took five. There were no weapons seen."
During Obama's tenure in the White House, he and his family—former first lady Michelle Obama and daughters Malia and Sasha—would often spend the holidays in Hawaii.
It is unclear why Obama is in Hawaii nor how long he will be in the islands. He reportedly met with tech executives earlier Monday in Silicon Valley before traveling to Hawaii.
Just the day before, Obama made a brief stop in Omaha, Nebraska, where he reportedly made an appearance at a charity event at the Happy Hollow Golf Course, after which he met with Nebraska native, billionaire investor Warren Buffett and his daughter Susie Buffett.
Susie Buffett told NBC's Omaha affiliate WOWT-6 News Sunday that she and her father had lunch with Obama and spent more than two hours chatting in a private room at the country club. She did not share any details of their conversation but said the event was not politically motivated.