Barack Obama Hits Trump: How Hard Can It Be to Say 'Nazis Are Bad?'
President Donald Trump's predecessor Barack Obama took a shot at the 45th president Friday during his first big political speech since leaving office, in reference to Trump's reluctance to criticize people who espouse Nazi beliefs.
"We are Americans, we're supposed to stand up to bullies. Not follow them. We're supposed to stand up to discrimination, and we're sure as heck supposed to stand up clearly and unequivocally to Nazi sympathizers," Obama said at the University of Illinois, drawing claps.
"How hard can that be?" Obama continued. "Saying that Nazis are bad?"
Some audience members laughed, and others clapped.
Obama's remark seems to hit on Trump's delayed condemnation of people behind a white nationalist rally in Charlottesville, Virginia, in which one counterprotester was killed.
Trump initially blamed both sides for the clash, in which neo-Nazis yelled, "Jews will not replace us." Trump in a statement later denounced neo-Nazis as well as the KKK. However, in another press conference, he again tried to equate the white nationalists and the counter-protesters, saying, "I think there is blame on both sides," and that both sides had "very fine people."
Obama on Friday leading up to his comment directed at Trump said: "It shouldn't be Democratic or Republican to say we don't target certain groups of people based on what they look like or how they pray."
The 44th president also said that "it should not be a partisan issue to say that we do not pressure the attorney general or the FBI to use the criminal justice system as a cudgel to punish our political opponents."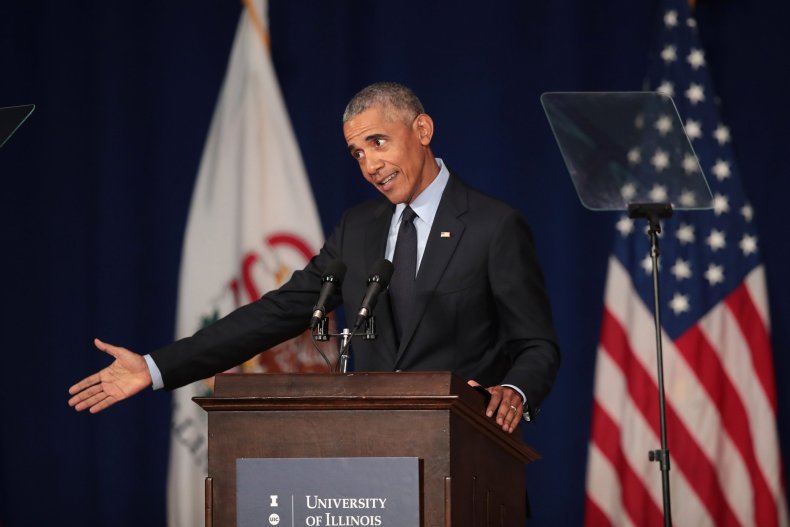 Trump has sparked some comparisons to Nazi Germany leader Adolf Hitler, including by New York Times columnist Charles Blow, who last October wrote that Trump is a liar, like Hitler. Like Trump, Hitler threatened the press.
"It shouldn't be Democratic or Republican to say that we don't threaten the freedom of the press because they say things or publish stories we don't like," Obama said, to claps.
"I complained plenty about Fox News," Obama added about Trump's favorite news station, drawing laughs. "But you never heard me threaten to shut them down or call them 'enemies of the people.'"
Besides criticizing Trump, Obama emphasized the importance of voting in the November midterm elections and said the Republican Party had a serious problem.
Trump has been outspoken in his dislike of Obama and has continued to bash his predecessor as well as undo his policies.