Obama Says 'Status Quo Needs Fixing' in Virtual Commencement Address to HBCU Grads
In a virtual commencement ceremony that aired Saturday afternoon, former President Barack Obama offered encouragement to HBCU graduates while also criticizing U.S. leaders in their response to the coronavirus crisis.
Obama participated as part of Chase's "Show Me Your Walk" live stream to celebrate students graduating from Historically Black Colleges and Universities on Saturday afternoon.
In his address, Obama said that while the coronavirus may have dampened some graduates' final semester, they should all still be proud.
"So, even if half this semester was spent at Zoom University, you've earned this moment. You should be very proud," he said. "Now look, I know this isn't the commencement any of you really imagined, because while our HBCUs are mostly known for an education rooted in academic rigor, community, higher purpose, they also know how to turn up. Nobody shines quite like a senior on the yard in springtime."
The former president said that the disproportionate impact of COVID-19 on black communities was similar to other issues already faced by the community and demonstrates a need for change.
"Injustice like this isn't new. What is new is that so much of your generation has woken up to the fact that the status quo needs fixing; that the old ways of doing things don't work; that it doesn't matter how much money you make if everyone around you is hungry and sick; and that our society and democracy only works when we think not just about ourselves, but about each other," he said.
Obama also critiqued U.S. leaders' handling of the coronavirus pandemic, but used it as an opportunity to show graduates that they could achieve change.
"More than anything, this pandemic has fully, finally torn back the curtain on the idea that so many of the folks in charge know what they're doing. A lot of them aren't even pretending to be in charge," the former president said. "If the world's gonna get better, it's gonna be up to you. With everything suddenly feeling like it's up for grabs, this is your time to seize the initiative. Nobody can tell you anymore that you should be waiting your turn. Nobody can tell you anymore, 'This is how it's always been done.' More than ever, this is your moment, your generation's world to shape. In taking on this responsibility, I hope you are bold."
Obama concluded his address with encouraging words for the class of 2020.
"That's the power you hold. The power to shine brightly for justice, for equality, and for joy. You've earned your degree. And it's up to you to use it," he said. "So many of us believe in you. I'm so proud of you. And as you set out to change the world, we'll be the wind at your back. Congratulations Class of 2020, and God bless you all."
The virtual ceremony also boasted appearances by other celebrities, politicians, and moguls like actress Vivica A. Fox; California Senator Kamala Harris; guitar virtuoso Gary Clark Jr.; ActOne Group CEO Janice Bryant Howroyd; comedian Keenan Ivory Wayans, and more. The event was hosted by comic Kevin Hart.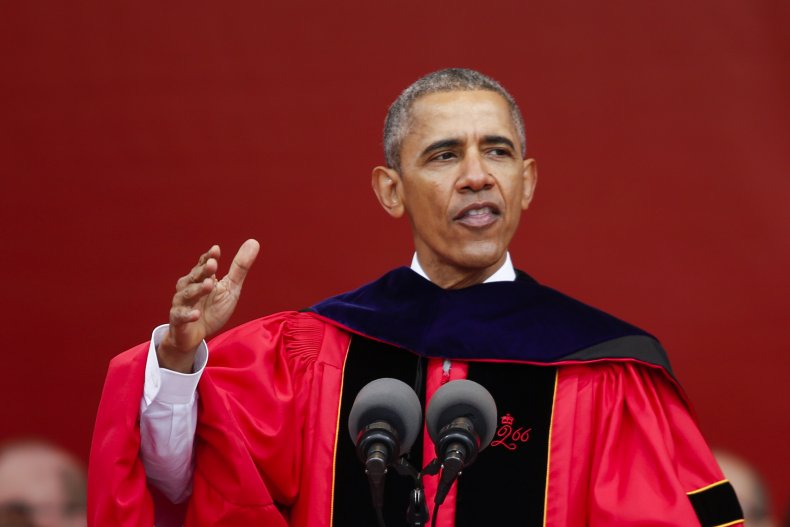 Obama will also participate in two more virtual commencements. He'll also participate in the high school class of 2020 celebration "Graduate Together," which is produced by NBA star Lebron James with appearances by Alicia Keys, the Jonas Brothers, Timothée Chalamet, Kevin Hart, and more. "Graduate Together" will stream on a number of platforms at 8 p.m. EST.
Obama and former first lady Michelle Obama will also headline YouTube's "Dear Class of 2020" virtual ceremony on June 6 at 12 p.m. PST. "Dear Class of 2020" also boasts appearances by Lady Gaga, k-pop superstars BTS, actress Zendaya, and more.