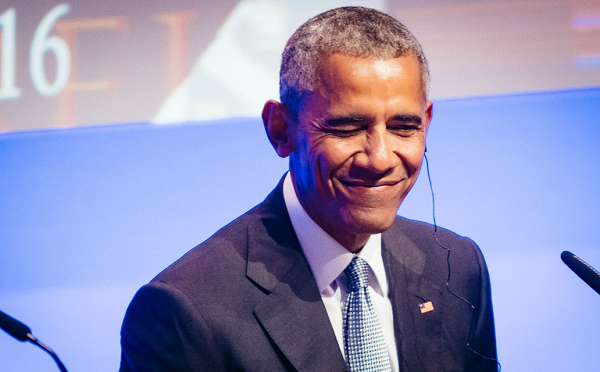 After enjoying a post-presidential European tour, Barack Obama is set to head to Indonesia in early July, The Jarkarta Post reported on Wednesday.
Although Obama will reportedly enjoy some time vacationing in the archipelago, he is scheduled to address the Indonesia Diaspora Network Global during the 4th Indonesian Diaspora Congress, which takes place on July 1. The 44th president is also slated to visit the Bogor Palace in West Java ahead of the event, following a personal invitation from Indonesian President Joko Widodo.
The trip marks Obama's first time visiting Indonesia since leaving the White House in January. He visited the country during his presidency, in 2010, and was greeted warmly, thanks to his longstanding history with Indonesia.
Obama spent four years of his childhood living in Indonesia with his mother and stepfather, an Indonesian geographer. He even attended Indonesian-language schools from 1967 to 1971.
So, when Obama first won the presidency in 2008, Indonesians were happy to have ties to the White House, prompting the Indonesian approval rating of the U.S. to spike up to 70 percent after he won the election, according to Pew Research Center data. Before Obama, the U.S. only had a 30 percent Indonesian approval rating.
Indonesia's Tourism Ministry is hoping to use Obama's return to the archipelago to drive more visitors to the country. Tourism Minister Arief Yahya told The Jakarta Post that the ministry is planning to unveil a round of new promotional material in New York City's Time Square around the time Obama arrives in Indonesia.
In May, three billboards advertising Indonesia tourism were put up in Times Square, but Arief said Obama's vacation could be an even more effective way to build momentum around the country. Ahead of Saudi King Salman bin Abdulaziz Al Saud's recent visit to Indonesia, the ministry spent 50 percent of its tourism promotion budget to drive more visitors to the country.
In addition to speaking engagements, Obama most likely will visit some of his "favorite places" in Indonesia, Arief told Indonesian news site Kompas.com, including a stop at Menteng in Central Jakarta—where Obama attended a public elementary school when he lived in the country—and Borobudur Temple.
It is unclear if Michelle Obama will accompany him during his Indonesia travels, as she did in Italy during the last leg of his recent European tour.