Barack Obama Gets Coffee With Jerry Seinfeld
"Usually the only reason I do these things is 'cause I'm promoting healthcare."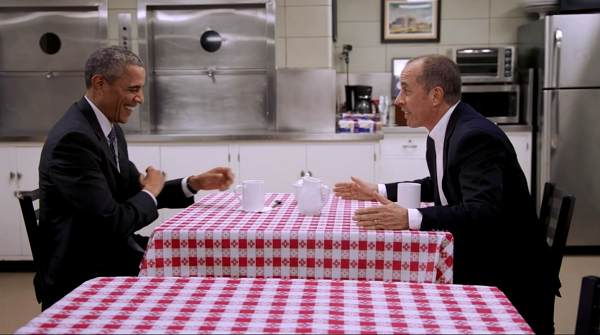 "Usually, the only reason I do these things is 'cause I'm promoting health care," said President Barack Obama when he appeared on comedian Jerry Seinfeld's new Web series, Comedians in Cars Getting Coffee. "I didn't work in Obamacare," he lamented.
Obama is the latest celebrity to appear on the series. Other guests have included Stephen Colbert, Jimmy Fallon, Amy Schumer, Jon Stewart, Aziz Ansari, Tina Fey and Larry David (who wears too much sunscreen, they agreed: "It's caked white all over," Obama said. "It's dripping," Seinfeld agreed). But the president of the United States is easily Seinfeld's biggest get yet.
Obama and Seinfeld discussed a number of topics, from the general to the personal. Asked what he would like to do that he can't, Obama lamented his loss of privacy. "Anonymity's not something you think about as being valuable," he said. "I remember very well not being famous," Seinfeld replied. "It wasn't that great."
Are Congress a bunch of idiots? "It varies," Obama said. "There are going to be some folks there that are foolish. Just like there are in comedy," he said. "Well, everyone in comedy is foolish," Seinfeld responded.
Obama didn't go easy on other world leaders, either. "How many world leaders do you think are just completely out of their mind?" Seinfeld asked. "A pretty sizeable percentage," Obama said. "Some of these guys, the longer they stay in office, the more likely that is to happen. At a certain point, your feet hurt, you're having trouble peeing, you have absolute power.… "
Seinfeld arrived at the White House in a 1963 Corvette Stingray, a car the president agreed was very cool. Also cool: cussing. Obama said he loves to cuss.
Watch the interview here.