Will Barack Obama Endorse Joe Biden? Former President Praises Former VP but Has Talked Up Other 2020 Candidates
Former Vice President Joe Biden, who has finally announced his 2020 candidacy, seems like a shoo-in to receive Barack Obama's highly coveted endorsement. But the former president spent a lot of time talking up other Democratic candidates before Biden entered the race.
Biden threw his hat into the crowded 2020 field after months of speculation on Thursday morning, becoming the 20th Democrat to enter the race to challenge Donald Trump. In his announcement video, which was released across social media, the former vice president said that the upcoming election is a "battle for the soul of this nation."
Hours after his announcement, Biden told reportersthat he had specially asked Obama not to endorse him, saying that "whoever wins this nomination should win it on their own merits."
In response to the former vice president's bid, Obama spokeswoman Katie Hill said that the former president "has long said that selecting Joe Biden as his running mate in 2008 was one of the best decisions he ever made."
Hill added that Obama "relied on the vice president's knowledge, insight and judgment, throughout both campaigns and the entire presidency. The two forged a special bond over the last 10 years and remain close today."
But that doesn't necessarily mean that Biden is going to get an explicit endorsement, particularly anytime soon, especially since other Democratic candidates have also received support from Obama. Plus, it is not customary for former presidents to make an endorsement during a presidential primary race.
Obama has reportedly either met with or has offered advice to nearly half of the 2020 candidates, mostly in secret, including Elizabeth Warren, Cory Booker, Kamala Harris and Pete Buttigieg.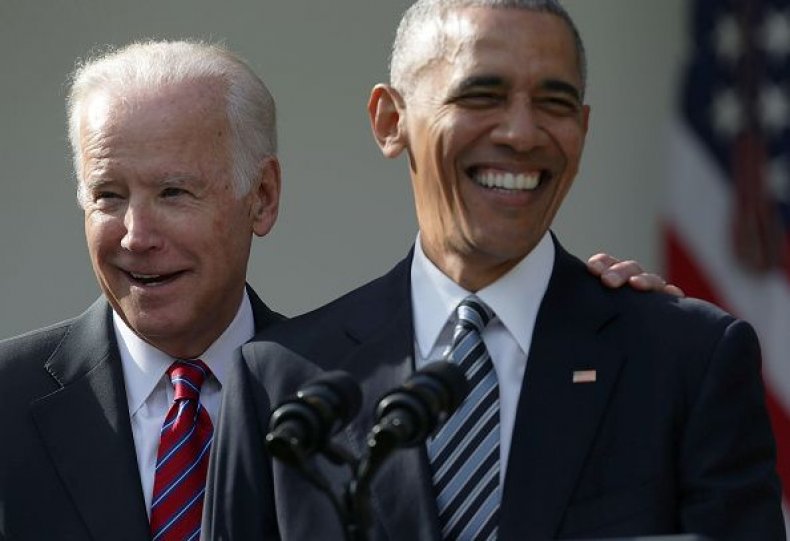 Eric Schultz, a senior adviser to Obama, told The New York Times in February that the former president was "happy to speak privately with candidates seeking his guidance on the best way to lead the country" and was encouraged by the growing field of "diverse, experienced and principled" candidates.
Obama has offered praise to many of the 2020 candidates throughout their political careers.
Just after the 2018 midterm elections, Obama said that Texas' Beto O'Rourke was an "impressive young man who ran a terrific race" against Republican Ted Cruz. He added that O'Rourke was the kind of authentic politician who could connect with people all over the country.
During Sanders' 2016 presidential bid, Obama praised the senator's small-dollar fundraising operation. It wasn't the only time Obama commended Sanders during the campaign, even though he eventually endorsed Hillary Clinton.
Plus, before they became national sensations, Obama had highlighted Buttigieg and Harris on a list of young, gifted Democratic politicians during an interview with The New Yorker in 2016.
Obama played a big role during the 2018 midterm election, campaigning on behalf of candidates across the country in the Democratic Party's effort to regain majority control in Congress. A post-election study by the Brookings Institution found that Obama's endorsements were much more valuable than Trump's during the midterm cycle.
After that election, Obama highlighted the historic wins that took place across the country.
"Even more important than what we won is how we won: by competing in places we haven't been competitive in a long time, and by electing record numbers of women and young veterans of Iraq and Afghanistan, a surge of minority candidates, and a host of outstanding young leaders," Obama wrote on Twitter. "The more Americans who vote, the more our elected leaders look like America."
Following his early morning announcement, Biden will attend a fundraiser in Philadelphia later on Thursday. A lot of attention will be placed on how much money the former vice president raises in the first 24 hours of his campaign.
President Trump mocked Biden in a tweet shortly after the campaign announcement on Thursday morning.
"Welcome to the race Sleepy Joe," Trump tweeted. "I only hope you have the intelligence, long in doubt, to wage a successful primary campaign. It will be nasty - you will be dealing with people who truly have some very sick & demented ideas. But if you make it, I will see you at the Starting Gate!"
Update (04/25/19, 12:15 p.m.): This article has been updated to include Biden's comment to reporters that he asked Obama not to endorse him in the Democratic primary for president.