Barack Obama Predicts Joe Biden Success Won't 'Override' Identity Politics
Former President Barack Obama has predicted that President Joe Biden and his administration would "probably not" override identity politics during his first term, even if his policies prove successful.
Obama, a Democrat, told The New York Times in a podcast released Monday that his former vice president was unlikely to override "that sort of identity politics that has come to dominate Twitter, and the media" while in office.
But he hinted that the White House could shift thinking on the margins, and said changing the minds of even 5 percent of the electorate "makes a difference" politically.
Speaking to The Ezra Klein Show podcast, Obama said: "If they're successful over the next four years, as I think they will be, I think that will have an impact. Does it override that sort of identity politics that has come to dominate Twitter, and the media, and that has seeped into how people think about politics?
"Probably not completely. But at the margins, if you're changing 5 percent of the electorate, that makes a difference."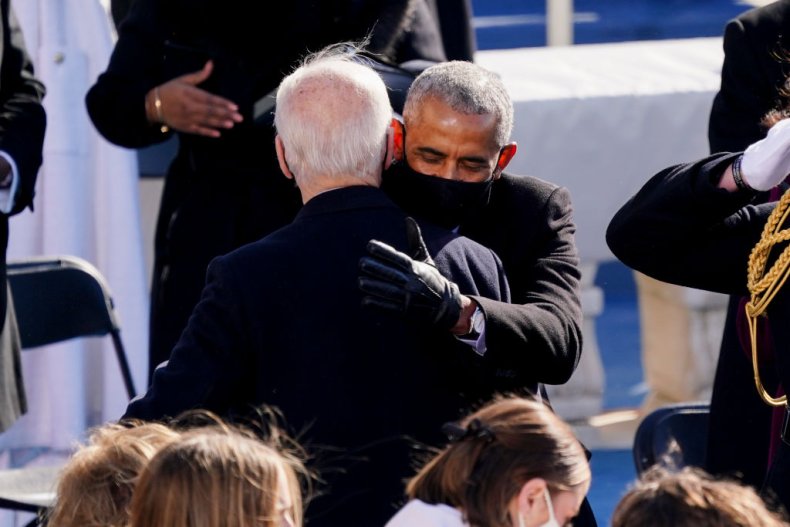 Obama has previously complained about growing tribalism in U.S. politics, reportedly telling an audience in 2018 that the "media environment" led Fox News viewers and The New York Times readers to have different realities.
The 59-year-old also lashed out against aspects of "call-out" culture and "woke" politics at an Obama Foundation summit in 2019.
"This idea of purity and you're never compromised and you're always politically woke and all that stuff—you should get over that quickly," Obama told his Chicago audience at the time. "I do get a sense sometimes now among certain young people, and this is accelerated by social media, that the way of me making change is to be as judgmental as possible about other people and that's enough."
He later added that the world was full of ambiguities and "messy" as he argued that cancel culture was "not activism" or an effective means of bringing about change.
Newsweek has contacted the former president's office for further comment
Speaking about the Biden administration, Obama told The Ezra Klein Show that the White House was "finishing the job" that was started by his own administration. "Ninety percent of the folks who are there were there in my administration," he said.
"They are continuing and building on the policies we talked about, whether it's the affordable care act or our climate change agenda, and Paris [Climate] Accords, and figuring out how do we improve the ladders to mobility through things like community colleges."