Barack Obama Handled a Fly on TV Very Differently to Mike Pence
The vice presidential debate of Election 2020 will forever be remembered for fly-gate as America watched an actual fly land on Vice President Mike Pence's head and stay there for around two minutes.
Pence seemed oblivious to the fact that the insect was chilling out on his head, with viewers completely distracted by the silly moment which has since spawned endless memes, jokes and hot takes.
However, the internet has been reminded of how former President Barack Obama once dealt with a fly on television—and it's completely different from Pence's reaction (or lack thereof.)
One Twitter user tweeted following the debate: "Occupying the White House requires situational awareness. Obama vs. fly. Never forget..."
The interview in question is from Obama's talk with CNBC's John Harwood in 2009.
The then-president displayed some impressive hand-eye coordination when he became distracted by a fly buzzing around his head. He then watched the fly in silence as it landed on top of his hand before swatting it and swiftly killing it with his other hand.
After killing the fly, he declared: "That was pretty impressive, wasn't it? I got the sucker."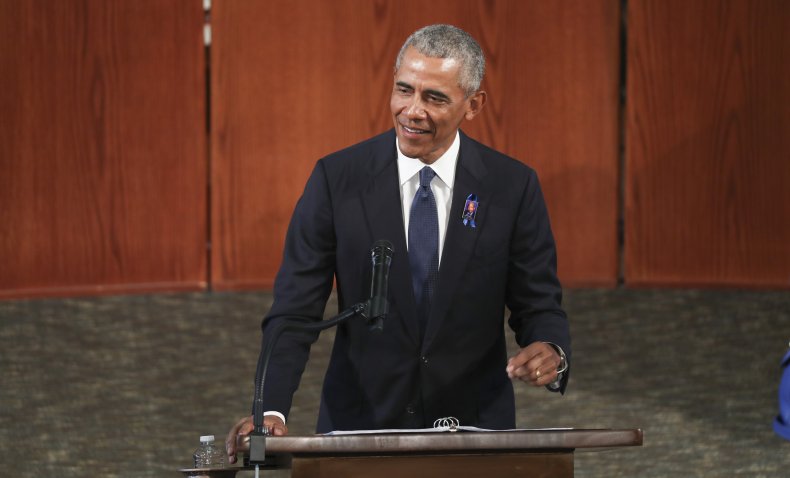 Pointing to the dead fly on the floor, Obama joked "You wanna film that. There it is."
The fly incident has also led to actor Jeff Goldblum to trend as fans demand that he take part in this week's Saturday Night Live to recreate the moment for a comic skit.
The much-loved Jurassic Park actor (who is not a twitter user) is the star of the 1986 sci-fi/horror remake The Fly, where he played an eccentric scientist who starts turning into a fly due to a botched experiment.
Meanwhile, another meme born out of the VP debate is Kamala Harris telling Pence: "I'm speaking," as he interrupted her.
Pence continuously interrupted Harris throughout the debate. But Harris said would not allow it, and challenged Pence multiple times, like when she said: "Mr. Vice President, I'm speaking. I'm speaking." Pence continued to talk, until Harris said: "If you don't mind letting me finish, then we can have a conversation."
Many viewers pointed out that it was reminiscent of Biden's "will you shut up, man?" which came as Trump kept interrupting the presidential candidate.
Harris' meme-able expressions were a highlight of the event for many as many applauded her approach to the debate and dealing with her opponent.
James Bland tweeted: "James Bland who said: 'Let me tell y'all how it lifts my spirits to see this brilliant black woman sit on this debate stage and tell this white man 'I'M SPEAKING.'"