President Barack Obama called for new leadership in a speech in Hawaii over the weekend, saying "new blood" was needed.
"People cling to power instead of seeing the power in other people," Obama said at an event for the Obama Foundation over the weekend, according to Honolulu Civil Beat.
Obama added that after his tenure in office, he wanted to inspire new leaders, according to HawaiiNewsNow, "so that they have the platform, the opportunity to channel their amazing energy and passion and imagination, in order to bring a whole new set of eyes and ideas and possibilities to the world. We have a deficit of leadership, and we need new blood."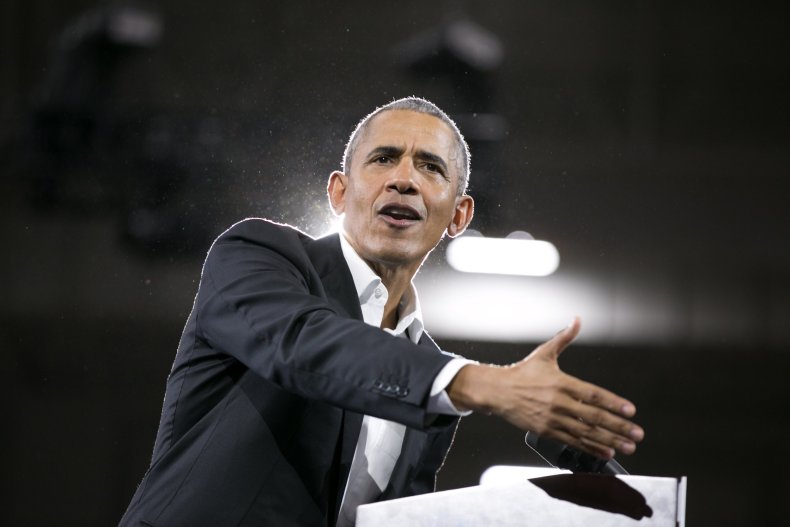 Obama did not directly address the elephant in seemingly every American room: President Donald Trump. Instead, he focused on his foundation and moved to inspire the people attending the private event.
"We are, once again, going to change the world for the better," he said, per Honolulu Civil Beat.
While Obama didn't mention Trump over the weekend, members of the former first family have increasingly been willing to speak out after initially withdrawing from public life after the former reality TV star was elected.
Former first lady Michelle Obama, for instance, threw a bit of shade at the Trump administration last month.
"Oftentimes, when you're the first or the only, the bar shifts a lot, right? The bar gets set, you meet it, exceed it, they move the bar, and we're watching that right now—the bar's just swinging and swinging," she said of Obama's presidency and Trump's turn in office during a sold-out public event in New York. "It's a totally new bar—never seen this bar before, ever. But when we were in office, our bar was very different—not getting indicted, and telling the truth."
As a former president popular among Democrats, Obama could prove to be a significant force in the 2020 presidential race. He has met with Beto O'Rourke, who narrowly lost his recent bid to unseat Texas Republican Senator Ted Cruz. Obama's former Vice President Joe Biden is expected to soon make his decision on running.
"If you can persuade me there is somebody better who can win, I'm happy not to do it," Biden told a Democratic ally, according to The New York Times. "But I don't see the candidate who can clearly do what has to be done to win."