Barack Obama Says, 'Men Have Been Getting on My Nerves Lately,' Asks, 'What's Wrong With Us?'
Former President Barack Obama on Wednesday encouraged more women to get involved in politics and social movements in a town hall event in Johannesburg.
"Women in particular, by the way, I want you to get more involved," he said. "Because men have been getting on my nerves lately."
Obama made the remark during a speech to the African Leadership Academy. "Every day I read the newspaper and just think like, 'Brothers, what's wrong with you guys? What's wrong with us? We're violent, we're bullying. Just not handling our business," he said.
Obama's comments came a day after he railed against "strongman politics" following President Donald Trump's meeting with Russian President Vladimir Putin that saw Trump seemingly side with the Russian leader in opposition to U.S. intelligence over Russian interference in the 2016 presidential election.
"Look around," Obama said Tuesday in a speech at the 2018 Nelson Mandela Annual Lecture. "Strongman politics are ascendant, suddenly, whereby elections and some pretense of democracy are maintained, the form of it, where those in power seek to undermine every institution or norm that gives democracy meaning."
Before his speech Tuesday, and his town hall on Wednesday, Obama had remained largely silent since Trump took office, in January 2017. "This has been a difficult thing for him, and for me, to see what this administration has done to the policy initiatives that we put in place and that were proving to be successful," former Attorney General Eric Holder told New York Magazine last month of Obama. "But I think it's really been true—we've had conversations about this—he's been encouraged by the amount of progressive energy he's seen around the country."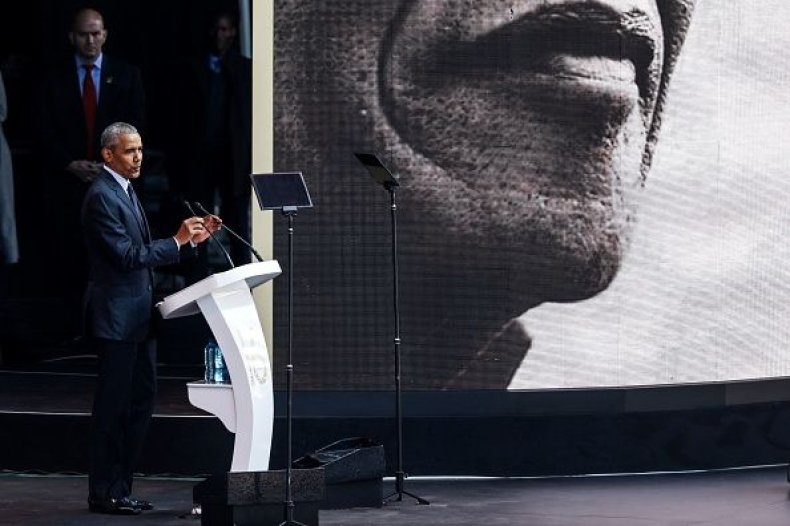 Two months after taking office, Trump tweeted that he had "tremendous respect for women and the many roles they serve that are vital to the fabric of our society and economy." The statement, however, stands in contrast with the accusations of more than a dozen women who have accused him of sexual harassment or sexual assault, all of which he has denied.
During his campaign for president, The Washington Post published a video of Trump from 2005 that recorded him bragging about sexually assaulting women. "You know, I'm automatically attracted to beautiful, I just start kissing them. It's like a magnet. Just kiss. I don't even wait. And when you're a star, they let you do it. You can do anything," Trump said on camera. "Grab 'em by the pussy. You can do anything."
Obama added Wednesday that "empowering more women" will "lead to some better policies."