Barack Obama Pays Tribute to Parkland Activists While Donald Trump Hails 'Tremendous Strides' His Admin Has Made
Former President Barack Obama paid tribute to Parkland student activists on Thursday, the first anniversary of the school shooting that left 17 people at the Marjory Stoneman Douglas High School dead.
"In the year since their friends were killed, the students of Parkland refused to settle for the way things are and marched, organized, and pushed for the way things should be—helping pass meaningful new gun violence laws in states across the country. I'm proud of all of them," Obama wrote Thursday morning.
In a statement released Thursday, President Donald Trump gave his response to the shooting, touting what his administration had done on gun control:
"We have made tremendous strides. One month after that important meeting, I signed the STOP School Violence Act and Fix NICS Act into law. The Departments of Education and Health and Human Services began the process of expanding health and other services to low-income public elementary and secondary schools," the statement said. "On December 18, 2018, the Federal Commission on School Safety released a compelling 180-page report directly addressing many of the ideas exchanged last February at the White House and in listening sessions, panel discussions, and field visits held all across the country."
Student survivors of the Parkland shooting have fought for more stringent gun control laws. They have held public demonstrations and meetings to raise awareness about gun violence and maintained a prominent media presence.
I
The president held a meeting with families of affected by school shootings shortly after the rampage at Parkland.
In comments following the shooting, he focused on mental health, tweeting that there were "so many signs that the Florida shooter was mentally disturbed." He also expressed support for arming teachers.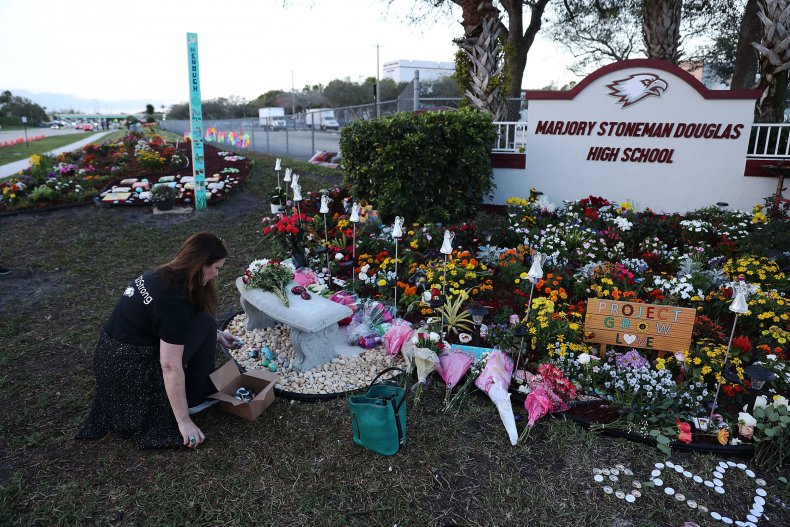 Trump's focus on mental health aligned with comments made after other mass shootings.
In remarks about the mass shooting in Las Vegas in October 2017, he described shooter Stephen Paddock as a "very sick man" and a "demented person." After the November 2017 shooting in Sutherland Springs, Texas, Trump said, "I think that mental health is your problem here."
The New York Times reported that state legislatures approved 76 gun control laws in 2018. The Florida government passed a bill raising the gun-purchasing age to 21.
But gun control legislation has stalled at the federal level.
House Democrats have prioritized such legislation since gaining control of the lower chamber in January. On Wednesday, the House Judiciary Committee approved two bills to expand federal background checks for firearm sales. Gun-control legislation will face a tougher fight in the Republican-controlled Senate.