Obama Is Back to Fight Trump in the Race for Virginia Governor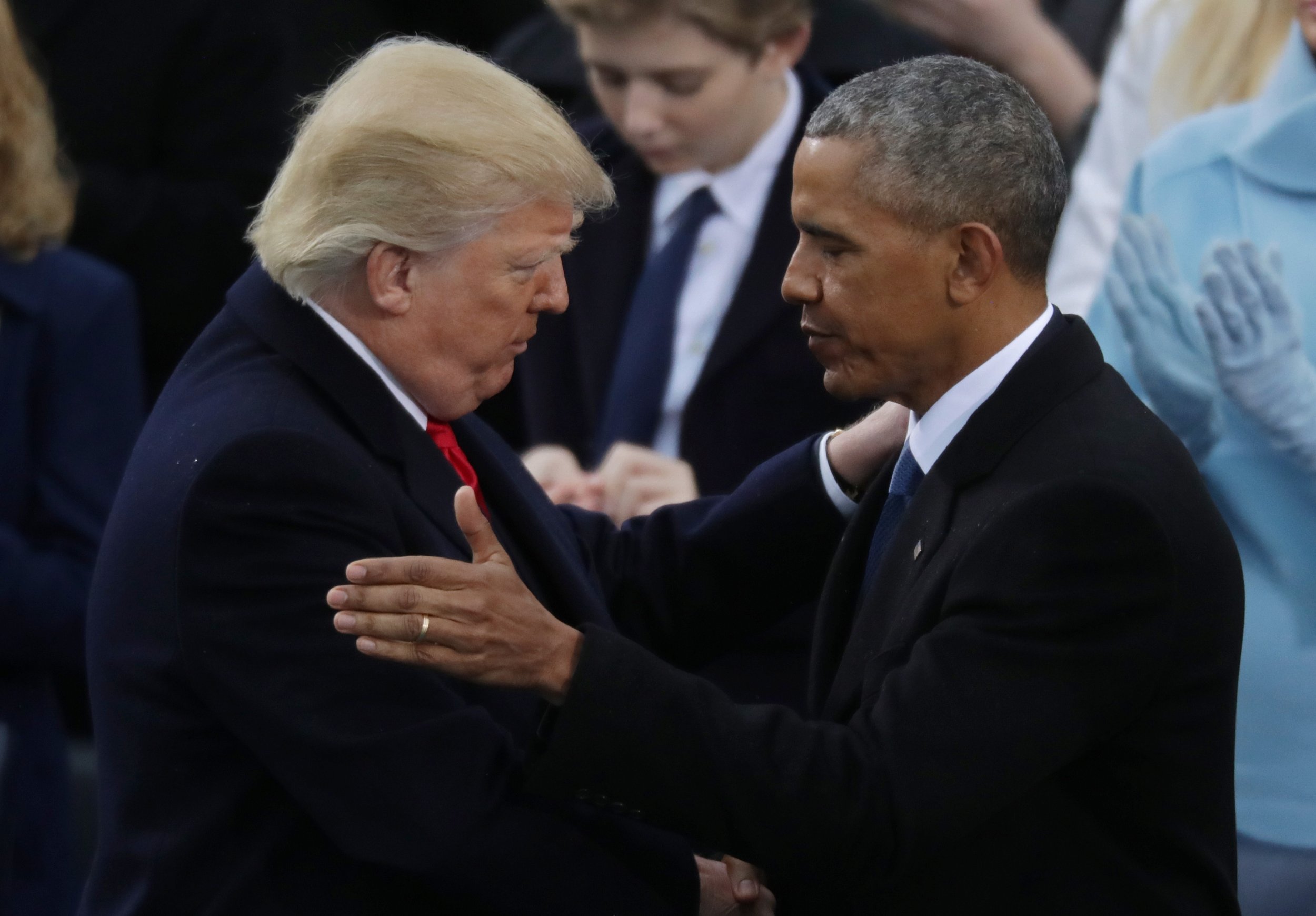 Virginia's gubernatorial election is fast morphing from a run-of-the-mill state vote into a battle of presidential brands: former President Barack Obama vs. President Donald Trump.
Obama is due to make his long-awaited return to national politics at a campaign rally in the state capital, Richmond, on October 19. Obama is backing the Democratic candidate, Ralph Northam, to succeed his party colleague Terry McAuliffe, who is barred from seeking a second consecutive term under state law.
Obama's intervention will come weeks after Trump threw his hat into the race behind Republican challenger Ed Gillespie. Trump tweeted an endorsement of Gillespie on Friday, which included the claim that Northam was "fighting for the violent MS-13 killer gangs & sanctuary cities."
(Gillespie's campaign has run attack advertisements that try to tie Northam's support for sanctuary cities for illegal immigrants to gang violence by MS-13, which consists largely of Central Americans. One of these advertisements showed images of Northam interspersed with tattooed faces of men who were not MS-13 members but members of a rival gang photographed in an El Salvador prison.)
Related: Obama's letter to Trump on his inauguration offered four pieces of advice. Has the president taken them?
The presence of Obama—who left office with an approval rating of almost 60 percent, according to Gallup —on the campaign trail is likely to boost Northam's chances of success in the November 7 election.
Virginia has proved to be a happy hunting ground for Democrats in recent years. It was the only Southern state to be won by Hillary Clinton in the 2016 election. She took almost 50 percent of the vote there and won the state capital, Richmond, by more than 65,000 votes over Trump. Democrats have won three of the past four gubernatorial elections, with McAuliffe beating Republican opponent Ken Cuccinelli by a slim margin in 2013.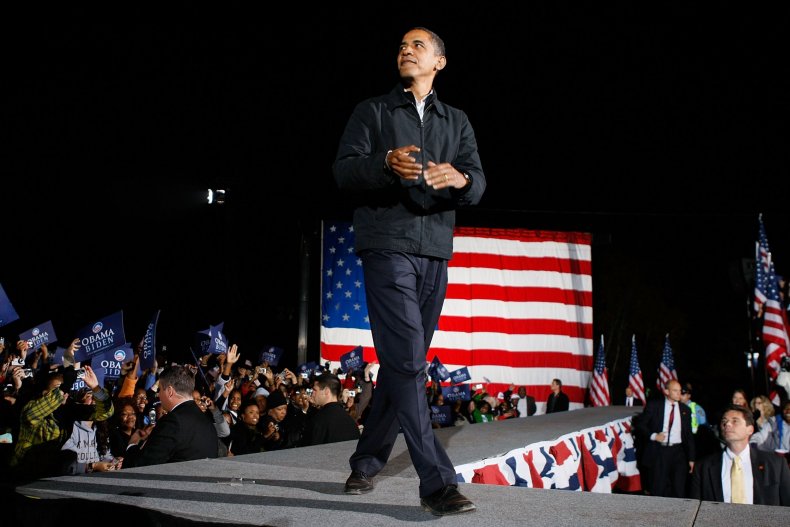 Obama is also relatively popular in the state, having won Virginia in both his 2008 and 2012 campaigns. In a December 2016 Quinnipiac University poll before he left office, almost six in 10 Virginia voters approved of the job Obama was doing. The poll's assistant director, Peter Brown, said Obama may be the most important figure in history in transforming Virginia from "solid Republican to a swing state with a Democratic lean in presidential elections."
Popularity is not something that Trump has found easy to come by in Virginia. A survey of almost half a million Americans by Morning Consult found that Trump's approval rating dropped almost 20 percentage points between January and September. (More broadly, the poll found that Trump had failed to improve his approval rating in any of the 50 states and Washington, D.C., since coming to office.)
Perhaps aware of the president's capacity to divide voters, the Republican candidate has sought to keep the election as a state issue. Gillespie claimed that he had not sought a Twitter endorsement from the president and did not retweet Trump's message of support. It's not clear if Trump will visit Virginia ahead of the election, but Vice President Mike Pence will appear alongside Gillespie at a Saturday rally in Abingdon.
But whether or not Trump goes to Virginia, the president is casting a long shadow over the Virginia election. Almost 40 percent of voters said that Trump was a factor in their choice between Northam and Gillespie in a September poll by the Wason Center for Public Policy at Christopher Newport University. The so-called Trump effect is likely to sway Democratic voters more than Republicans, with Northam voters saying that their vote was intended to send a message to the president and Republicans in Congress.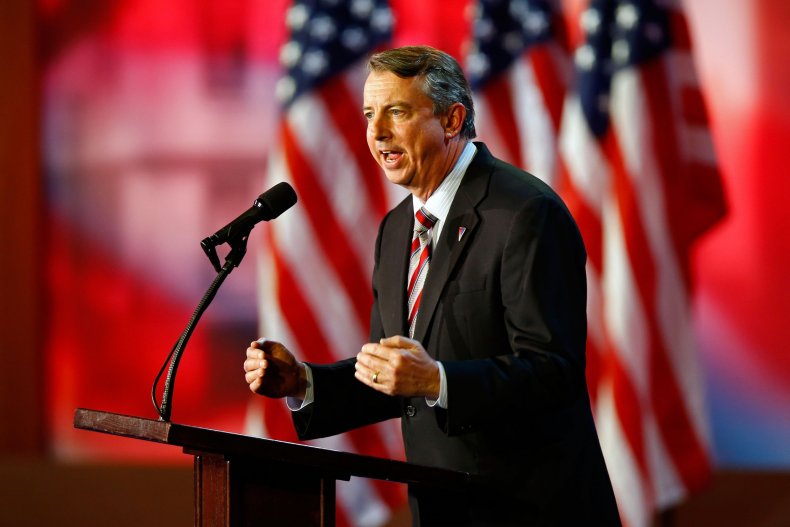 There are clearly other issues at stake in the Virginia election, including the possible removal of Confederate monuments in the state. Virginia was the site of violent rallies in Charlottesville in August, which saw white supremacists clash with counterdemonstrators over the proposed takedown of a statue of Confederate general Robert E. Lee. One counterprotester, Heather Heyer, died after a car was driven into a crowd of people protesting the rally.
Northam voters are 62 percent in favor of removal, while Gillespie voters are 86 percent opposed, according to the Wason Center poll.
Obama Is Back to Fight Trump in the Race for Virginia Governor | U.S.