In Iowa, Obama Criticizes GOP on Education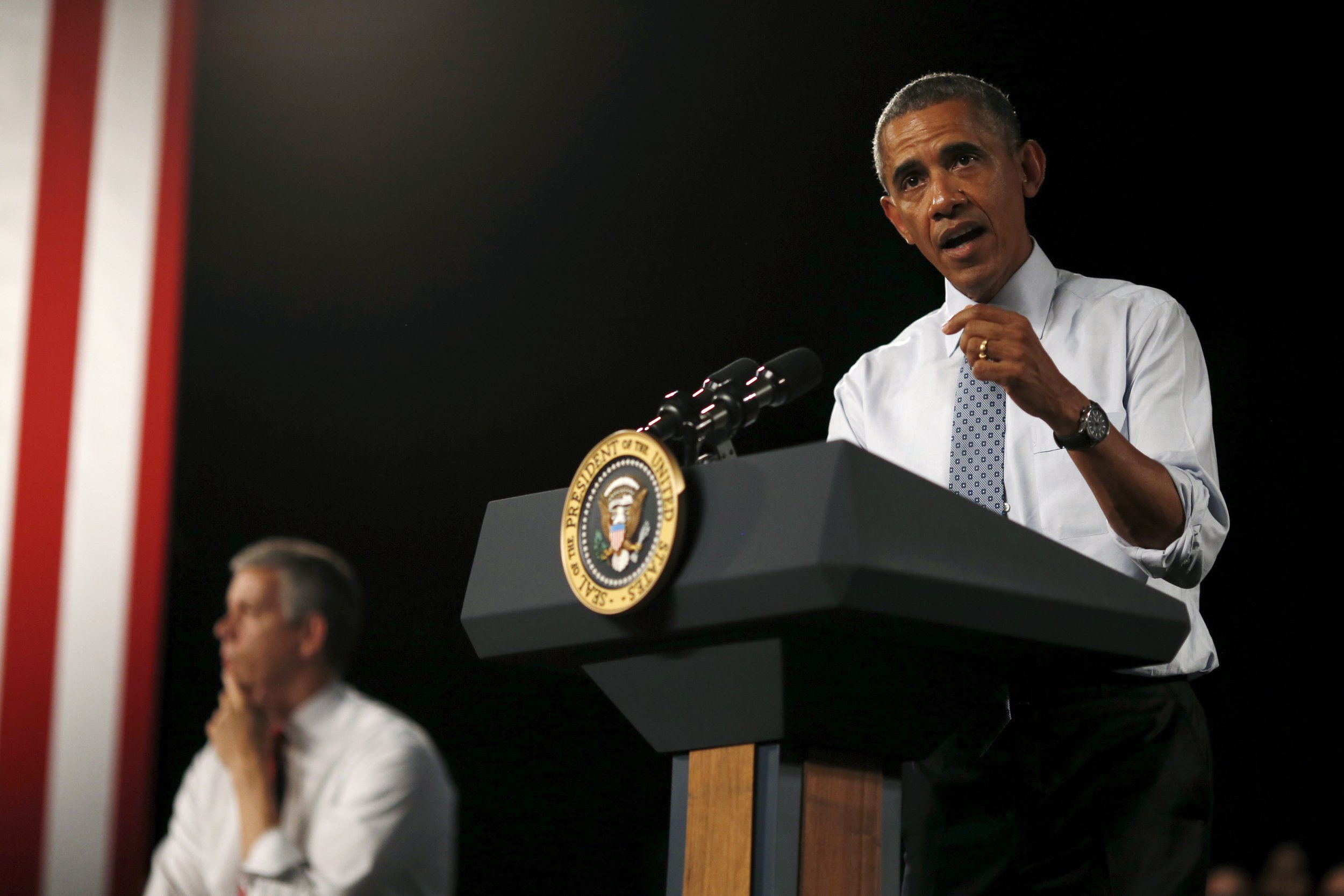 President Barack Obama jumped on Secretary of Education Arne Duncan's sixth annual "Back-to-School" bus tour Monday, visiting a high school in Des Moines, Iowa. Facing a possible government shutdown, the president criticized congressional Republicans for delaying the federal budget, which has to pass by September 30 to avoid a government shutdown.
"A society's values are reflected in where we put our time, our effort, our money. It is not sufficient to say we care about education, if we aren't actually putting resources into education," he said.
He said that a sequester would result in significant cuts to federal funding for education.
The event, a town hall attended by high schoolers and their families, focused on college access and affordability. The Obama administration has recently started a public campaign to drum up support for changes to federal policy on higher education. The president has traveled to stump for universal free community college, and the administration recently launched College Scorecard, a website that compiles statistics about the costs and offerings of some 7,000 American colleges.
Obama also implored high schoolers and parents to fill out the newly simplified Free Application for Federal Student Aid (FAFSA) form, which allows prospective college students to draw from a pool of $150 billion in federal financial aid.
During his opening remarks Obama introduced "Scorecard" to the audience, encouraging students to use the tool to find information on the affordability of different colleges. Initially, the administration had planned on using the platform as a ranking system for colleges, but that idea died when met with criticism from university presidents, who feared rankings would unfairly shame certain schools.
The president's stop in Iowa comes less than five months before the state's important presidential caucuses. One participant directly asked him which candidate in the 2016 presidential field has the best education policy, but Obama demurred, saying that he will wait until the field has narrowed down to support a candidate.
"If you hear a candidate say the big problem with education is teachers, you should not vote for that person," he said.
Answering another question, Obama also indirectly criticized Ben Carson, who said in June that the Department of Education should monitor certain institutions of higher education for political bias.
"The idea that you'd have somebody in government making a decision about what you should think...runs contrary to what we believe about education," the president said, admitting that he did not know who had made the statement. He encouraged students to treat college as an opportunity to be exposed to different points of view, also criticizing schools for banning conservative speakers.
"I don't agree that when you become students at colleges that you have to be coddled and protected from different points of view," he said. Censorship on college campuses has become a hotly debated issue. A recent essay published in The Atlantic, "The Coddling of the American Mind," detailed the rise of restrictions on speech deemed insensitive or intolerant on campuses in recent years.
In closing, the president addressed statements made on the Republican side of the campaign about illegal immigration, still declining to name any presidential candidates but saying that "This whole anti-immigrant sentiment that's out there in our politics right now is contrary to who we are."
Speaking about the children of illegal immigrants, he said, "They are America's kids by every other criteria except a piece of paper."
"Don't pretend that somehow 100 years ago the immigration process was all smooth and strict," he added.