What Barack Obama Said About Donald Trump, Joe Biden in Frank 'Colbert' Interview
Barack Obama has lashed out at Donald Trump's presidency in a wide-ranging and frank interview on late-night television.
Speaking to Stephen Colbert and without mentioning Trump by name, the former president hit out the current administration's handling of the coronavirus pandemic and how his concerns were "exceeded" by his successor's spell in office.
"This would have been hard for anyone," Obama said of the pandemic, but explained that some aspects of responding to the crisis were not "rocket science."
"We're not talking about inventing vaccines, which are now coming on board," he said and noted that science should be "respected."
Seemingly lashing out at Trump, Obama railed against an individual for "undermining the leading epidemiologist in the country and saying he's an idiot, [not] being consistent in terms of masks and social distancing.... suggesting that this is some act of oppression, [instead of] a common sense thing to prevent people from getting sick."
"Had we just taken those steps, there is no doubt that we would have saved some lives, and, ironically, the economy would be better because we would not be swinging back and forth in the way we have, and people would have more confidence about making day-to-day decisions about shopping," he continued.
Obama said he was worried that Trump would abuse the "dignity of the office" upon his election in 2016. When Colbert asked if those concerns were "borne out," Obama said, "exceedingly."
The former president also spoke about Joe Biden's victory during his appearance on The Late Show Tuesday night, expressing hope for the next four years despite the challenges that lay ahead.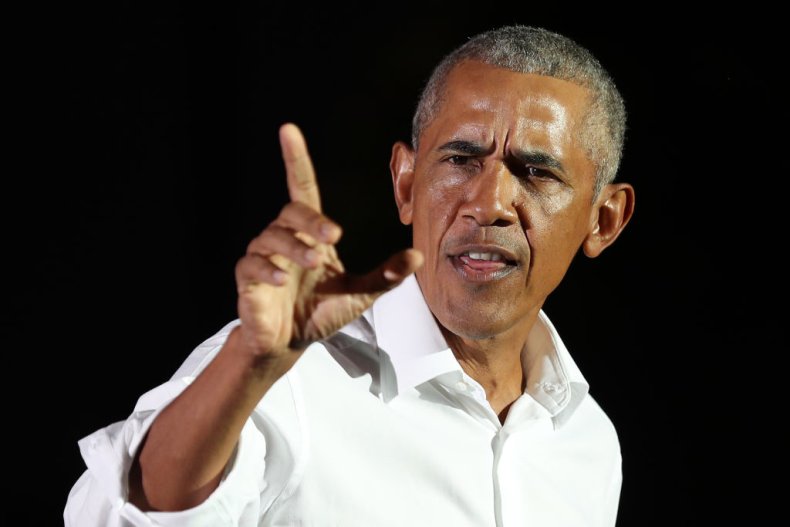 "They are going to have big challenges ahead," Obama said of both President-elect Biden and Vice President-elect Kamla Harris.
"The fact that he won is indicative of the message he sent of wanting to unify the country," Obama continued. "I do think people are exhausted of just this constant cage match. People just want to feel like a day passes without it being dominated by something crazy coming out of the White House."
He also shared that he was looking forward to an incoming president "that's actually paying attention."
Obama took part in the interview to promote his new memoir, A Promised Land.
Elsewhere in the wide-ranging discussion, Obama said he will never fully be let out of the doghouse by his wife Michelle for running for president.
He admitted: "What is absolutely true is that I put her and our kids through an extraordinary, stressful, difficult sequence in deciding to run for president right after I went through a tough race."