Barack Obama Says Biden 'Nailed It' With Kamala Harris VP Pick
Former President Barack Obama said Tuesday that his former Vice President Joe Biden had "nailed it" when choosing Senator Kamala Harris to be his running mate.
Obama issued a statement on Twitter shortly after news broke that Harris would be on Biden's ticket for the November election. He said that choosing a vice president has "the first important decision a president makes," before complimenting the decision making of the man he chose to be his running mate in 2008.
"Joe Biden nailed this decision," Obama said. "By choosing Kamala Harris as America's next vice president he's underscored his own judgement and character. Reality shows us that these attributes are not optional in a president. They're requirements of the job. And now Joe has an ideal partner to help him tackle the very real challenges America faces right now and in the years ahead."
"Michelle and I couldn't be more thrilled for Kamala, Doug, Cole, and Ella," Obama added, referring to Harris' husband and their shared children. "This is a good day for our country. Now let's go win this thing."
Obama also said he had known Harris "for a long time" and insisted that "she is more than prepared for the job," while going on to defend her career as a senator and prosecutor as "defending our Constitution and fighting for folks who need a fair shake."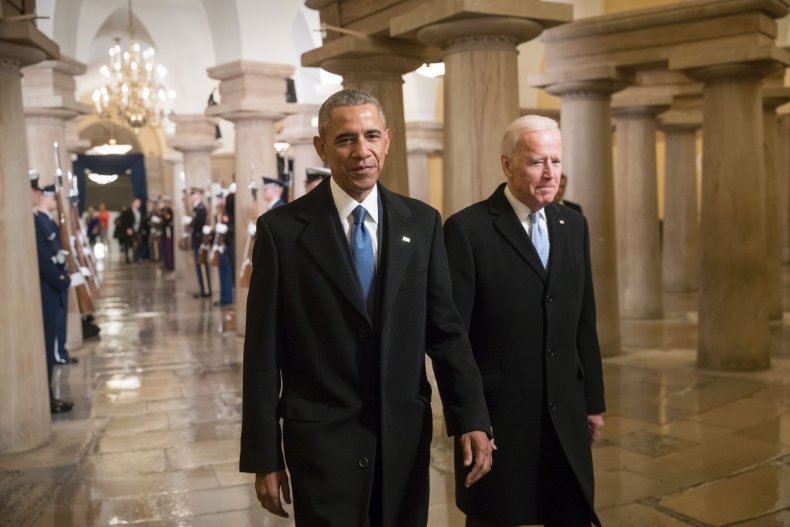 Biden tweeted that choosing Harris had been "a great honor," saying that the senator is "a fearless fighter for the little guy, and one of the country's finest public servants." Biden also retweeted Harris' own reaction to the news.
"@JoeBiden can unify the American people because he's spent his life fighting for us. And as president, he'll build an America that lives up to our ideals," Harris tweeted. "I'm honored to join him as our party's nominee for Vice President and do what it takes to make him our Commander-in-Chief."
There had been considerable speculation that Biden could choose Harris since before he pledged to choose a woman as his running mate during his final debate with Senator Bernie Sanders in March. Harris had been a clear frontrunner for the job in recent months as many called for Biden to choose a Black woman.
However, a host of other strong contenders who fit the bill remained possibilities until Tuesday's announcement. Most of those believed to have been on Biden's shortlist quickly reacted to the news by applauding the pick and congratulating Harris, while offering to do whatever they can to help the pair defeat President Donald Trump and Vice President Mike Pence in November.