Barack Obama Says We Shouldn't Tolerate Trump Like He's Our 'Crazy Uncle' Who 'Retweets Conspiracy Theories'
In his Biden campaign debut, former President Barack Obama on Wednesday urged Americans to stop tolerating President Donald Trump's behavior in his most scathing rebuke of the president to date.
If Democratic Presidential Nominee Joe Biden wins on November 3, Obama said, "We're not going to have a president that goes out of his way to insult anybody who doesn't support him or threaten them with jail. That's not normal presidential behavior."
"You'll be able to go about your lives knowing that the President is not going to retweet conspiracy theories about secret commands running the world or, or that Navy SEALs didn't actually kill Bin Laden," the former Democratic president continued. "It just won't be so exhausting. You might be able to have a Thanksgiving dinner without having an argument."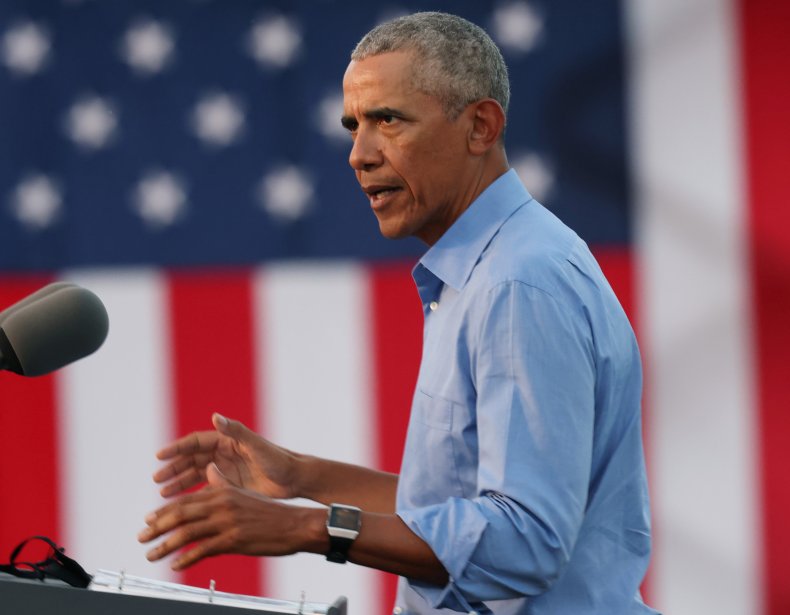 The Democrat insisted that no one would tolerate that kind of behavior from a high school principal.
"We wouldn't tolerate it from a coach, we wouldn't tolerate it from a coworker," he added. "We wouldn't tolerate it from our family—except for maybe our crazy uncle."
Obama went on to describe the alleged consequences of Trump's actions in the White House.
"They embolden other people to be cruel and vicious and racist, and it frays the fabric of our society. And it affects how our children see things," he said. "It affects the ways that our families get along. It affects how the world looks at America. That behavior matters."
When he wasn't attacking Trump, the former president staunchly made the case for Biden's campaign. He also cautioned anti-Trump voters not to assume Biden will win on Election Day because he's been leading in the polls.
"We cannot leave any doubt in this election," Obama said. "We can't be complacent. I don't care about the polls. There were a whole bunch of polls last time [that] didn't work out."
With less than two weeks until Election Day, Trump has trailed behind Biden in every national poll released this month. A series of statewide surveys have also indicated that the Democrat may be on track to flip historically red states. Today's Quinnipiac University poll showed Biden tying with Trump among likely voters in Texas, a state that the Democratic Party has not won since 1976.
"A whole bunch of folks stayed at home [in 2016], and got lazy and complacent," Obama said. "Not this time. Not in this election."
Newsweek reached out to the Biden and Trump campaigns for comment.