How Kathy Griffin, Kirstie Alley and Other Celebrities Reacted to Barack Obama's Speech
Former President Barack Obama returned to the campaign trail Wednesday launching a scathing attack on Donald Trump's handling of the coronavirus pandemic labeling the president a "crazy uncle."
Obama was on hand to campaign for Joe Biden as just less than two weeks remain until election day on November 3.
Speaking at a drive-in rally in Philadelphia, PA, the last Democratic president also took aim at Trump's track record in the Oval Office and his penchant for retweeting conspiracy theories.
Obama urged that no one would tolerate that kind of behavior from a high school principal.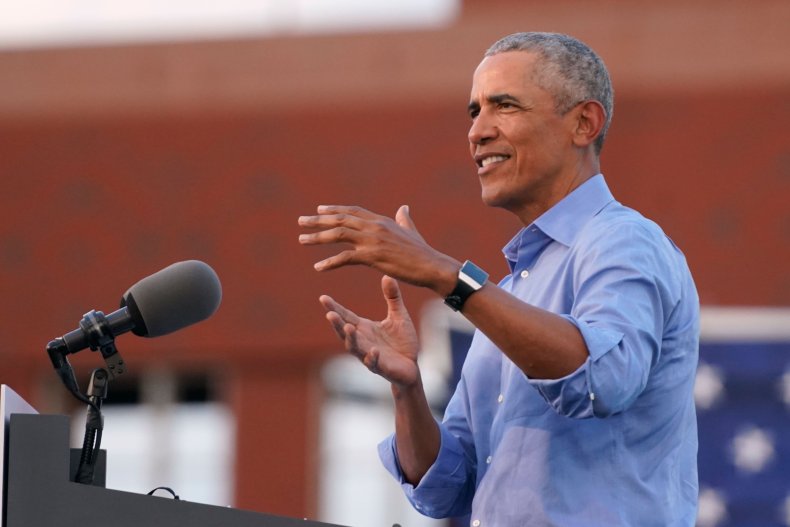 "We wouldn't tolerate it from a coach, we wouldn't tolerate it from a co-worker," he added. "We wouldn't tolerate it from our family—except for maybe our crazy uncle."
He said if Biden tops the polls, "We're not going to have a president that goes out of his way to insult anybody who doesn't support him or threaten them with jail. That's not normal presidential behavior."
Hollywood has been reacting to Obama's event with everyone from Kathy Griffin to Kirstie Alley getting their two cents in.
"When you can't tell if Obama is truly absolutely transcendent right now or you've just been listening to a basket case for the past 4 years," comedian Sarah Cooper said.
Actress Kirstie Alley, who this week made headlines when she declared her support for Trump tweeted: "If Obama thought Biden was a stellar candidate to be the President of the United States he would've come out a lot sooner and shouted his ENDORSMENTS, not in The final hour. ALSO you're not voting for Obama, you're voting for his wing man who's having a hard time flying."
"And in comes the closer! President Barack Obama throwing heat. Love it!" actor Rob Reiner tweeted.
"President @BarackObama is my forever President," author Don Winslow wrote. "He is SO GREAT today!"
The View's Joy Behar added: "I hope everyone is watching Obama on CNN right now."
MSNBC national correspondent Joe Reid tweeted: "I hope y'all are watching Barack Obama right now. He is going OFF. This man has been holding this in for four long years and now he's just out here dropping bombs..."
Trump supporter James Woods tweeted: "Yes, this is Barack Obama speaking to a stadium full of Biden supporters. Just kidding! It IS Obama, but he's speaking to a few hapless souls on a sidewalk. #ButThePolls..."
Trump critic Alyssa Milano shared a clip of the speech and said This whole speech was [fire emoji."
Star Wars legend Mark Hamill shared a link to Obama's speech and simply captioned it: "#HOPE."
Controversial comedian Kathy Griffin added: "I loved President Obama's speech. It makes me optimistic and fired up to know Biden/Harris will return Obama's best talent to the administration with new members who are always looking to do better and go forward."