Barack Obama Thanks Himself for Success of American Economy Since Donald Trump Became President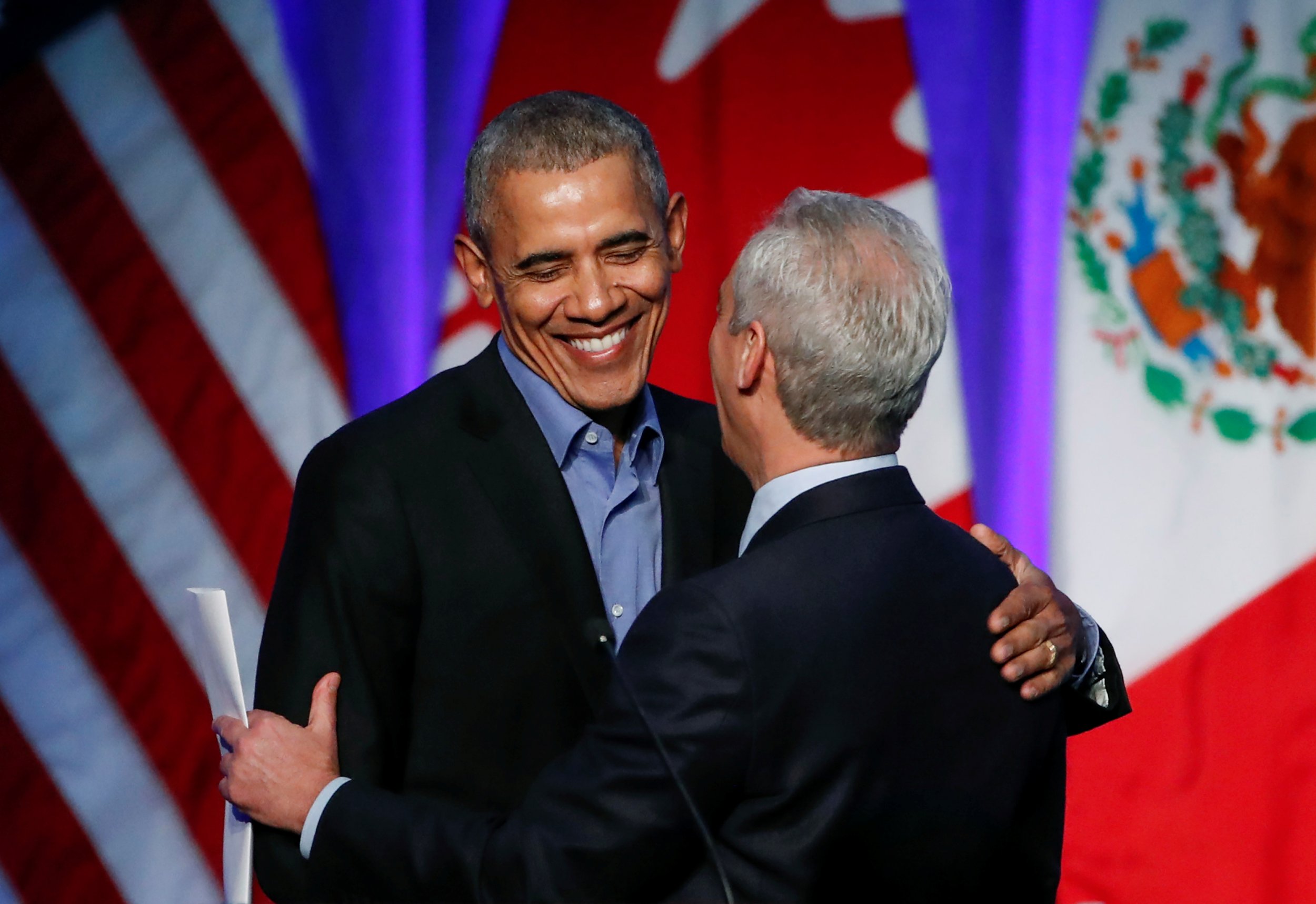 The American economy's success comes down to environmental policies put in place during the Obama administration, said former President Barack Obama during a speech Tuesday as he jokingly thanked himself.
Obama pointed out that after his administration took steps to cut carbon emissions and signed on to the Paris climate accord "we saw the U.S. economy grow consistently."
"We saw the longest streak of job creation in American history by far," Obama said during his speech at the North American Climate Summit in Chicago. "A streak that still continues by the way. 'Thanks, Obama.'"
The "thanks, Obama" line drew laughs and applause from the audience. Obama and Democrats have spun the long-running sarcastic joke to upended criticism from conservatives who blamed the president for problems that had little to do with his policies.
Job creation under both Democrat President Bill Clinton and Republican Ronald Reagan, however, was by far larger than the gains made under Obama.
Nevertheless, Obama suggested tough environmental policies are not "job killing" as President Donald Trump argued during his rollback of Obama-era regulations early this year.
President Trump's announcement on June 1 that the U.S. will withdraw from the Paris climate agreement is "difficult to defend," Obama said, indicating membership would spur growth rather than stifle it.
Read more: Obama should be detained for making fun of Trump, says Fox host
Between July and September, the U.S. GDP, a gauge of economic output, grew at 3 percent—continuing similar growth reported in the previous quarter. Under Obama, the U.S. economy grew at an average of 2.1 percent, though some quarters saw 3 percent growth. Trump has attributed the economic growth to his policies, touting the number of jobs he has created and the performance of the stock market, which has reached record highs.
In 2017, however, cumulative job growth has struggled to match previous years.
"America's trade deficit with the world swung out to $48.7 billion in October from $44.9 billion in September, which will take some steam out the recent trend of stronger economic growth," said Chris Rupkey, the chief financial economist at the MUFG Union Bank, in a note to investors Tuesday. Rupkey predicts the trend of GDP growth will not continue.
Obama suggested Tuesday that forward-thinking environmental policies lead to economic growth. He said the U.S. is in an "unusual" position as the only country that hasn't signed on to the Paris Agreement after Syria signed last month.
"The good news is that the Paris Agreement was never going to solve the climate crisis on its own. It was going to be up to all of us," Obama told the gathering of mayors from around the world who were there to sign the Chicago Climate Charter. The agreement, modeled on the Paris Agreement, commits individual cities to bringing down their carbon emissions.
Cities from across the U.S.—including New York City, Chicago, San Francisco and Washington, D.C.—have all said they will commit to lowering their carbon footprint and take action on their own without President Trump.
"Ultimately the work is done on the ground," Obama said. "Cities and states and businesses and universities and nonprofits have emerged as the new face of American leadership on climate change."